10 Better Spare Room Ideas For Your Empty Bedroom
Reading Time:
4
minutes
You know that spare room of yours that never gets used? You know the one I'm talking about, the one that just sits there collecting dust, aside from when your great aunt comes to town every other year? That space is valuable, you paid big bucks to get that extra room, but its just sitting there.
Instead, why not use it for something that you and your family can actually enjoy and get some use out of?
Before You Start
If you're reinventing your spare room, the first thing you're going to want to do is clean it. By tidying it up and getting rid of some of the junk that has been sitting at the back of your closet for years, it lets you start your room remodel with a fresh canvas.
Here are ways to reinvent your spare room to reach its full potential:
1. Puzzle room
What you need are comfy chairs, a decent table, good lighting, a magnifying glass, and a bunch of boxes of puzzles. The ultimate puzzle fan's room! Get yourself a wide puzzle rack, or have one made, like those you see in kindergarten classes.
This way, you can work on up to a couple dozen puzzles at a time! Perfect to while away the upcoming winter, and a great way to keep your mind sharp while you relax.
2. Nerd room
Here's where you own who you are and celebrate it. From your D&D book collection to your painted figurines and whatever else gets your nerdy little heart afire, a nerd kingdom gives you one giddy room of greatness to enjoy everything you love. That way, the rest of your home looks like a functioning adult lives there.
3. Library
Hardly an original idea, and for good reason. If you've ever loved to read, you've had a secret wish to have your own library. We book-lovers are a rare breed and owning your own books never gets old. A couple good chairs, good light, side tables, maybe a writing desk, and you're off. Now all you need are ceiling-height bookshelves, a ladder, a long-haired cat in the corner, and maybe a ghost.
Browse for sound-dampening cork flooring.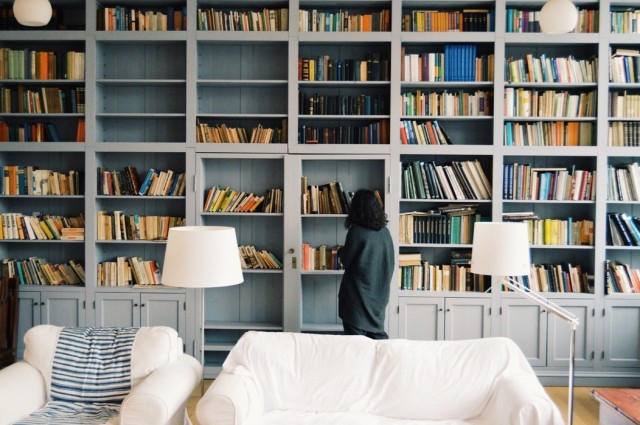 4. Study
I've always felt like a study was a cross between a British pub and a library, but for one person. Freud might have a field day with me, though. Like chess, darts, the occasional cigar, a work desk, a library, and a place to show art and other objects you love? A study is a perfect way to blend it all while looking like a smarty-pants who oozes culture.
5. Rec room
Sometimes I think the world would be a better place if we all played more foosball and air-hockey. Instead of just having a video game and movie chamber, throw in some board games and people games, like pool, foosball, darts, and more.
Spending money to set up a good rec room saves money over the long-haul if it helps you become more social while staying in and having others over to play. Fun and keeps your money in your wallet? Not too shabby!
6. Pet room
If furry friends are some of your favourite people, why not outfit a room with everything they need? Stick a lockable pet entrance in the door and enjoy a home where the hair and noise might be a little more manageable for entertaining your human friends who could have allergies or just not deal well with pets.
Browse for water-resistant and pet friendly vinyl flooring.
7. Movie room
Again, this is not a wildly original suggestion, but that's because we've had over a century of loving our movies. You'll want adjustable lighting, a couple classic movie posters, a mini-fridge, and comfy seating, if you really want to rock a theatre room.
8. Distillery and bar
These days, it's all the rage to make your own booze, from wine to whiskey. Craft at-home brewers and distillers are popping up everywhere. Why not have a room that does double duty? Odds are more than a few of your friends would be interested in following your brewing adventures. Make it a comfortable place with
9. Meditation chamber and yoga room
Some things require a different kind of vibe. Yoga and meditation are great for the soul. Why not set some space aside so you rock the mindframe while you're in it? If it's got a door and can keep the cat or dog away from you so you can fit a 20-minute routine in, your body will thank you.
Think calming tones and colors, a sound system, possibly a TV for when using guided meditation videos or yoga videos. Think soft, flowing fabrics, floor cushions, Eastern art, candles, good lighting, and much, much more.
10. Culture club
If you're like me, you don't just love books, you love music and painting and photography and movies too. Here's where you put everything visceral that gets your heart pitter-pattering. Comfy chairs, audio system, art wall, painting easel, and anything else you'll find enjoyment using in the months and years to come.
But Wait, There's More
There's no end to what you can do. Want an aquarium room? Go for it. Want a truly tropical get away filled with plants and a hammock? Sure!
This room should be 100% about you loving where you live, because the room speaks to who you are and what you enjoy. Aside from what your home insurance will cover, there pretty much are no rules.
---
---