10 Organization Ideas To Help Keep New Year's Resolutions
Reading Time:
5
minutes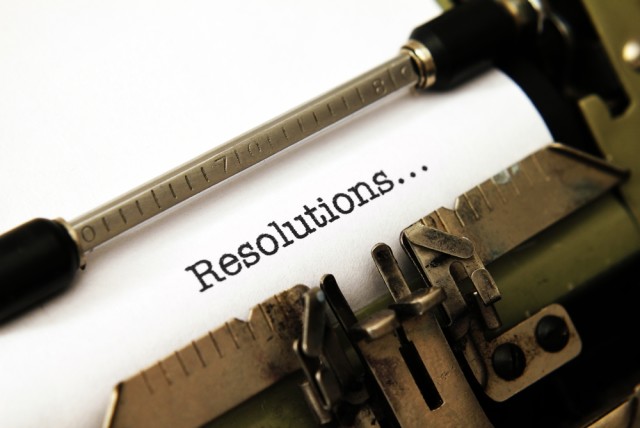 New year's resolutions when it comes to home organization are often well-intentioned. Here are some ideas to help you really follow through.
***
Every January, the start of a new year inspires people to pledge to clean up their routines and get organized. New Year's resolutions can be remarkably tough to carry out throughout the year, though, especially if they're overly vague or complex. Keep your New Year's resolution all year long with these simple and straightforward home organization ideas.
1. Sort through the junk drawer
We put this one off all the time, don't we? New Year's is a good time to stop doing that. Often the catchall for the entire house, the junk drawer can quickly go from zero to messy in a matter of days. Fortunately, you can turn it back into an organized drawer that works for you with a few easy steps.
Start by emptying out the drawer completely and discarding trash, like expired coupons and old pens. Next, set aside items that belong somewhere else, like tools, makeup, and hair ties. Finally, add containers to the drawer to keep small items organized, and put everything back into its place.
2. Create drawer dividers
A good New Year's resolution is to bring order to chaos, which is what you'd be doing when rearranging and organizing your drawers. Because drawer woes don't stop with the junk drawer, and in many kitchens it carries over to the utensil drawer. If you've ever searched for a whisk or a garlic press and given up in frustration, this tip will change your kitchen game.
Take all of the utensils out of the drawer, and install a set of plastic or wooden dividers in the drawer. In a pinch, you can even create your own DIY set with cardboard. Make sure the sections are large enough for your utensils, and rehome every serving spoon and spatula in an easy-to-find spot in the drawer.
3. Build a pegboard
Maybe you've resolved to create a central space in key areas of your home to make the tasks you do easier on yourself by having the tools you need more directly to hand when you need them. If your kitchen is in a constant state of disarray that no drawer can fix, a pegboard is an ideal solution.
Purchase a pegboard, essentially a thin board peppered with pre-drilled holes, at your local home improvement store and paint it. Add hooks for spoons, scoops, and spatulas, and hang them within easy reach. Make your pegboard even more useful by hanging canisters for utensils or small wire shelves for measuring cups or spices.
4. Label spice and ingredients jars
You've been tired of playing "guess that spice" long enough, and you're resolved to change the game. When your spice count is far too high for a simple wire rack, it's time to take your jar organization to the next level.
Make spices easy to find in a hurry by creating consistent spice jar labels and arrange the jars in alphabetical order, by cuisine type, or in another way that makes sense for your cooking flow. Store your spice jars on easy-to-reach shelves, in a DIY rack, or even in a drawer so you can locate them quickly while cooking.
5. Install glass-front cabinets
A common New Year's resolution when it comes to organization at home is to balance orderliness with presentation. In the kitchen, dining room, or hallway closet, glass cabinets are an attractive way to display your favorite things. They also provide inspiration to stay organized, since you won't want to stash dishes or linens in a jumbled mess.
Glass cabinet doors are easy to install in just about any preexisting built-in or standalone cabinet, and they allow for all kinds of design potential. Store seasonal items, your best china, or even antiques behind glass-front cabinets for an extra touch of tidiness and visual appeal.
6. Organize the linen closet
If you're tired of carefully opening the linen closet to quickly grab a pillow case or clean sheet, only to have to close the door again before the closet explodes into the hallway, try this smart organization idea on for size. Most sheets come in sets and you can easily keep the sheet sets together by folding them and tucking them into the matching pillowcase.
Not only does this keep sheet sets together and prevent you from tearing the entire closet apart to find one lone sheet, but it also looks neat and clean, too.
7. Elevate toiletries
Whether your nail polish collection has gotten out of hand or you have one too many hair-styling tools, it's easy for the bathroom to turn into a jumble of makeup, skin care products, and electrical cords.
Keep your toiletries and tools organized by giving them some height. Hang up hair dryers and straightening irons inside your bathroom vanity cabinet using a removable hook system. On the wall, install shallow shelves for nail polish supplies and other makeup tools.
8. Stash toys away
You're over the chaos of the holiday season and you've resolved to regain control when it comes to kid's toys. If you're trying to maintain a clean look in the family room or living room, stray toys can quickly compromise any sense of tidiness. One of the easiest and best-looking ways to keep them under control is to create a toy storage system with large bins or other storage containers.
Claim a spot on the built-in shelves, and set up one, two, or a dozen colorful bins for toys. Choose colors that match or complement the room's décor for an even more stylish solution.
9. Archive paper files
Controlling paper clutter is worthy New Year's resolution. Whether you have a home office or you're just storing everyday items, mail, receipts, and files tend to accumulate as the year goes on. Stay on top of the mess by establishing a bin to hold mail and other items that are still on your to-do list.
Create a color-coded filing system for different categories of paperwork, like financial documents, insurance paperwork, and other important household items. Keep up the organization throughout the year by filing away paperwork once a week.
10. Establish a cleaning schedule
The key to any resolution is making sure you stay the course. Once you've put in the work to get your home on the road toward organization, you'll want to make sure it stays on the right track. This is easiest when you set up a weekly cleaning schedule. Assign appropriate jobs to everyone in the household, from kids to adults, and try to schedule the cleaning session so that everyone can pitch in at the same time.
Keeping the house neat and clean might not be easy for everyone, but the job is infinitely more manageable when you work as a team. If you're cleaning solo, stay on a regular weekly schedule so your organization efforts don't miss a beat.
Perfect time to turn over a new leaf
Whether you want to tackle a few home organization ideas or your whole house is due for a makeover, New Year's is the perfect time to turn over a new leaf. This year, streamline your life with a new approach to home organization.
***
Resources:
http://www.babble.com/home/25-totally-clever-organization-tips-and-tricks-for-the-new-year/
http://www.iheartnaptime.net/ideas-for-organizing/
http://www.realsimple.com/home-organizing/organizing/make-over-junk-drawer
http://www.realsimple.com/home-organizing/organizing/smart-home-organizing-ideas/on-page-91
http://www.parents.com/parenting/moms/housekeeping/toy-storage-ideas/
http://www.goodhousekeeping.com/home/tips/g1310/home-organizing-hacks/
http://www.hgtv.com/design/decorating/clean-and-organize/set-up-a-household-filing-system
http://www.hgtv.com/design/decorating/clean-and-organize/5-new-years-resolutions-for-your-home
http://www.popsugar.com/smart-living/How-Get-Organized-36367042
http://www.realsimple.com/home-organizing/organizing/cheap-organizing-ideas/tension-rod-cleaning-products
http://www.goodhousekeeping.com/home/tips/g1310/home-organizing-hacks/
http://www.goodhousekeeping.com/home/cleaning/tips/a25905/best-cleaning-organizing-tips-2014/
http://www.popsugar.com/smart-living/Organization-Tips-DIYs-34385347?stream_view=1#photo-34385475
http://www.theidearoom.net/2015/01/printable-kitchen-organization-labels.html
***
What's your organization New Year's resolution? What home organization tips can you give to readers that don't appear on this list? Tell us all about it in the comments section of this post!
---
---