10 Tips for Creating Your Very Own "She Shed"
Most people have heard of a man cave, which is a home-based retreat designed for men. You can find these "caves" in the basement, den, or even in the garage. But women deserve a place of their own too, hence the she shed trend. Find out what the big deal is about she sheds and how to build your own backyard getaway with these 11 tips.
What Is a She Shed?
In the midst of hectic lifestyles, more women are seeking a peaceful retreat without having to leave their property. Think of it as a female haven or woman cave that's separate from the house. Women can transform these sanctuaries into whatever they want, from a backyard oasis to a high-tech workspace to anything in between.
1. Define Your She Shed's Purpose
Whether you use the shed for yoga, meditation, reading, or working, you need to maximize its potential, especially since it's a small space. If you want more of an oasis, think about including some higher-end pieces such as a stunning chandelier. For a more tranquil environment, consider incorporating throw pillows and comfortable furniture. If you want a she shed office, think about adding a sturdy work desk. Check out this blog post for other ideas.
2. Investigate Building Code Restrictions
Certain cities and neighborhoods have building restrictions, so make sure you have the proper permits before building your she shed. Some codes may point out size, color, and where you place the shed. If you opt for electricity, you may also need a permit for electrical wiring.
3. Determine the She Shed Structure
You can choose to renovate an existing shed, buy a DIY kit, or construct your own design to create the she shed of your dreams. If a reason in your decision is she shed cost, consider using an existing shed. However, there are many kit options available.
Tip: In addition to taking budget into account, think about how much space you need and your level of ability in construction. While purchasing pieces separately might be more cost-effective, if you don't have the time or the experience putting something that large together, it might make more sense to buy a pre-fab kit.
4. Level the Foundation
Whether you use a pre-existing shed or build your own, you should find a part of your property that's close to level. This can decrease the work you'll need to do when you either set the foundation or move the shed into the spot. You can use a concrete slab or 4x4s on top of masonry bricks. If you live in an area that freezes, set the 4x4s on concrete footers below the freeze line.
5. Erect the Walls
The basic installation of a new she shed involves forming walls. If you have a DIY kit, follow the instructions. Otherwise, frame the walls to the foundation. Make sure to take into account space for the door and any windows you want.
6. Finish the She Shed's Exterior and Interior
Once you have the walls in place, you can install the doors, windows, and roof. Add a skylight or two if you're seeking extra light, or opt for French doors.
After the exterior is complete, you need to finish the interior. If you live in a cooler part of the country, you may want to add insulation to keep the temperature stable and limit moisture buildup. Add drywall to the walls, but avoid placing any on the ceiling if the shed doesn't have vents to prevent mold.
7. Install Electricity
You may consider running an extension cord from your house to your shed since it's the easiest option. However, you're putting yourself at risk, especially if inclement weather occurs. Nonetheless, putting electricity in your she shed can help you to optimize your space even further. Not only can you use the electricity to cool your sanctuary via fans or an air conditioner, but you can put a laptop out there, connect your phone, or play music.
Tip: Even if you deem yourself handy, consider hiring a professional to do this task. The professional electrician can make sure your space is up to code and can install the outlets correctly.
8. Spruce up the Space With Fresh Paint
Paint the inside and outside of your she shed to help define its new purpose. Although you may find many she sheds with white walls, since this helps to illuminate the walls during the day, you want the shed to best represent you and what's important to you. Don't be afraid to throw a little color on the walls. Use a paint and primer in one for both the walls and ceiling. Since the floors experience a lot of foot traffic, prime the area first and then use floor paint.
Tip: Add an accent wall or apply fabric to the walls. Be bolder than you would in your own home since this is a retreat specifically for you.
9. Embrace Your Inner Decorator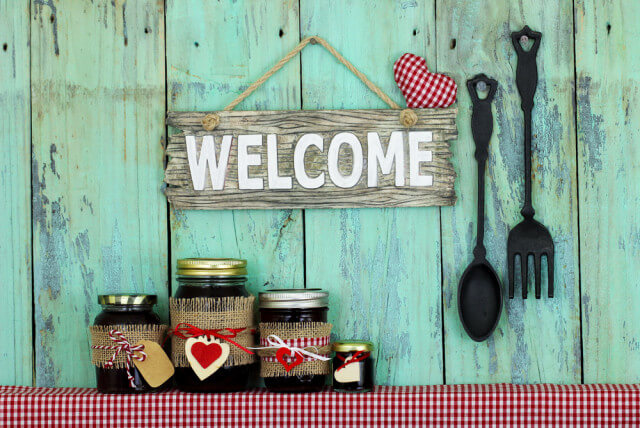 Check out local flea markets and antique shops to find trinkets for your walls, particularly if you're seeking a relaxed and cozy feel. You're likely to find hidden treasures at these locations, and you won't need to spend a fortune. Most she sheds feature comfort over functionality, so get creative and find items that make you feel stress-free.
10. Give Your She Shed Some Personality
Since your she shed reflects your style, give it some personality. Construct a patio or deck near the front door. Add some outdoor furniture, planters, or accessories to spruce up the area. Plant vines to climb a trellis adorning the shed's exterior. Whatever you choose, customize your shed to your needs. Remember what the purpose of the shed is, and then find accessories to complement the area.
Tip: Consider using minimal decor in she shed interiors due to lack of space. You don't want to overcrowd the area.
Now that you have your mini retreat customized, make sure you find the time to use it. Leave your responsibilities and cares outside, and relax and spend some quality time in your very own she shed.
Resources:
http://www.countryliving.com/home-design/g3163/she-shed-inspiration/?slide=1
http://www.countryliving.com/gardening/garden-ideas/a35458/how-to-make-your-own-she-shed/
http://www.hgtv.com/design-blog/outdoors/fall-outdoor-pillow-guide
http://www.huffingtonpost.com/purewow/she-sheds-are-the-new-man_b_7739302.html
http://info.cookstuff.com/blog/how-to-create-the-perfect-she-shed-for-you
http://info.cookstuff.com/blog/what-to-consider-before-adding-electricity-to-your-shed
It Was Just A Shabby Little Shed Out Back, Until Wife Transforms It Into Her Private Escape
https://www.lowes.com/projects/utility-and-storage/she-shed/article
https://www.lowes.com/projects/utility-and-storage/she-shed-room-ideas/article
https://outdoorlivingtoday.com/she-sheds/
https://plantcaretoday.com/garden-shed-plans-she-sheds.html
http://www.purewow.com/home/She-Sheds-Are-the-New-Man-Caves?utm_source=huffpo&utm_medium=syndication&utm_campaign=shesheds&utm_content=pubexchange_article&utm_term=pubexchange_article-purewow-huffpost_lifestyle
https://www.thisoldhouse.com/ideas/8-she-shed-design-ideas-staying-power
http://www.today.com/home/she-shed-what-it-how-you-can-make-one-t20601
---
---