Now that you have a feel for some of the benefits of travertine as a building material, the applications below may spark some ideas to enable you to transform your space.
In the last of our mini-series about travertine, I've compiled 10 applications for travertine.
Take a look!
1. Foyers and Hallways
Travertine adds a touch of class to the proceedings.  This can help you secure a very important asset, particularly when you're installing in offices and other commercial spaces; the first impression.
2. Bathroom Vanity Tops
Travertine is an immensely popular surface for this application, often complemented by the choice of travertine sinks.
3. Tub Surrounds and Shower Cladding
Travertine for bathing fixtures evokes the classical look of the Roman spa, popular in modern spas as well.  There is something that is intrinsically relaxing about travertine tile in places like this.  And a high-end effect almost goes without saying.
4. Main Living Areas
A less common application possibly is the travertine tile floor in a living area.  But, in warmer regions, it's the perfect flooring surface, calming and cool underfoot.
5. Bedrooms
Similarly applicable in warmer climates, a cooler floor on hot summer nights is just the ticket.  And let's not forget the subtle decorative advantages that go along with installing travertine tile in a bedroom, with earthy tones that seem to naturally help occupants to unwind after busy days.
6. Kitchens
Often the hub of family life, or even office interaction, a comfortable and earthy kitchen setting can make all the difference to the whole property.  Enter the unique color range and sense of permanence that travertine can deliver.
7. Courtyards
As with a foyer application, first impressions count.  Make sure you secure yours with travertine as early as possible, in a tastefully bedecked courtyard, perfect for outdoor soireés too after that great first impression has been secured.
8. Driveways
Who says function can't be striking to look at too? Travertine pavers add that something extra to an exterior space on your property that not many people pay attention to, but rely on heavily.
9. Patios and Decking Areas
Celebrate the great outdoors with natural stone underfoot.  The subtle patterns and neutral colors are perfect for contrasting deck furniture.  And travertine is highly suitable for surfacing your outdoor summer kitchens and barbecuing areas, too.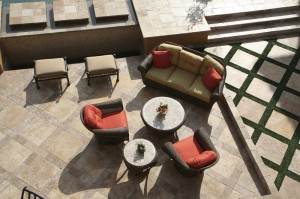 10. Pool Surrounds Perfect for the Imperial look that you've achieved in your bath areas inside, travertine is also applicable outside.  Put on your water wings and take the plunge!
Some of these may seem pretty standard, and others kind of off the
beaten track.  Some of them are climate-specific.  Ask your seller
about what to consider for use in your specific region – very
important, especially when looking at outdoor applications.  Even with
these important considerations in mind, the versatility of travertine
is undeniable.
Cheers!
Rob.
---
---