17 Home Remodeling Ideas To Consider Instead Of Moving
Reading Time:
3
minutes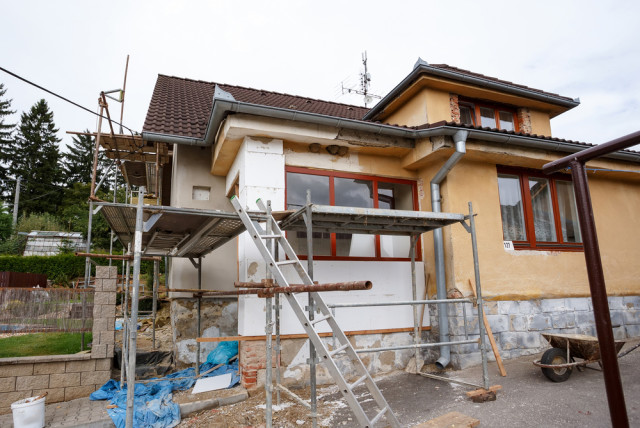 Home remodeling can be the best answer to creating a dream home instead of trying to buy a new house. Here are 17 projects to help you get there.
***
I recently wrote about 31 ways to freshen up your home or apartment instead of moving. Solutions were quick and inexpensive, and some were DIY projects.
If you have a larger budget and want to do more than 'freshen up', here are some ideas for major remodeling projects.
Before calling a contractor
1. Call a real estate agent. Ask for comps — comparable sales of sold homes in the area. This will give you a general idea of the value of your home and that of the neighborhood, without spending hundreds of dollars on an appraisal.
2. Never plan to overbuild for the neighborhood. If homes around you are worth 200,000, you do not want to do a 100,000 remodel. You will never recover the cost.
3. Decide how you will pay for a remodel, no matter how small. Can you afford to do the work? Do you have cash? Can you get a home equity loan? If the market in your area is still shaky, you don't want to borrow more than the house is worth or may be worth in the future.
4. Find out what your town zoning and neighborhood covenants will allow. There might be maximum footprint, square footage, and height requirements. Most likely there are setback minimums, too. There will be strict guidelines if you live in a historic district.
Now you're ready to start planning
5. Start with simple kitchen and bathroom remodels. Kitchen and bath remodels are the most popular, but maybe don't have the highest ROI. A simple and economical kitchen update would include new cabinets doors and drawer fronts, new fixtures and appliances, and a fresh coat of paint. An economical bathroom remodel would include a new vanity with a new sink and fixtures, new shower fixtures, a new, low-flow toilet, and a fresh paint job.
6. Consider bigger kitchen and bath projects. A bigger project with a lower ROI would include new cabinets and countertops, new flooring, new fixtures and appliances, new lighting, and maybe opening the room into the dining and living area. A larger bathroom project might include replacing the floors, and the tub and shower, including the surrounding wall, and a new vanity with two sinks.
7. Consider another bathroom entirely. An even bigger project would be to build a new bathroom. If your family is expanding, you may need a second full bath. The alternative for a smaller family is a half bath near the entryway.
Browse for kitchen and bath home improvement products.
Exterior projects
8. Replace your exterior doors. Replacing the front door and the garage door are not every expensive projects, but they do have a high return. Steel exterior doors are very energy efficient with a high R-value.
9. Replace your windows. Speaking of energy efficient, today's windows are better at reducing energy bills than ever. Consider replacing your windows.
10. Install new siding. New siding materials are durable, and insect and weather resistant. That and a new roof will protect your investment for decades.
11. Create a living space that extends outside. Expand your living space to the outdoors with a deck or patio off the kitchen and/or living room. This can be as simple as a wooden deck with a grill on it, to a large covered portal with a full kitchen, tile flooring, and a hot tub.
Landscaping
12. Plant new trees and shrubs. New plantings are always uplifting, especially if they are low-maintenance native plants. This could be some simple flowering shrubs, shade trees, or a completely new foundation planting. Update your irrigation system at the same time.
13. Repair, replace, or add walkways. Consider hardscaping products like pavers.
14. Resurface the driveway.
Browse for landscaping products.
Indoors
If you have maxed out your square footage, work with the space you have.
15. Finish the basement. If it's not prone to flooding this is a good investment. If not, check for moisture, and deal with problems outside with grading, drainage, and possibly new gutters. Install a moisture barrier under the floor.
16. Build dormers upstairs. This increases headroom and can create enough space to make a bedroom more livable. It will also let in more natural light.
17. Remodel the attic. Finishing an attic is not very expensive and certainly not as disruptive as other projects. Turn it into an extra bedroom, a woman cave, a home office, a library, or a playroom or tv room.
Be prepared
Remodeling is disruptive. Contractors show up at your house every morning for months. The make dirt, dust, and noise. Depending on the extent of the work, you may have to take your furniture out of the room, rooms, or house. You might even have to temporarily move out yourself!
Remodeling also might dig up other problems. Once a wall is opened, there might be some structural or mold or animal issues that you were unaware of. That was my very first remodeling and homeowner experience 30 years ago. A $50 fix turned into a $500 project. Prepare yourself and your budget. Be flexible.
And most of all, be prepared to enjoy a 'new' home with a 'new' yard for years to come!
---
---