Flooring Trends to Watch Out for in 2020
The world of home design is constantly changing, and today's flooring choices are no exception. Whether you're buying a brand-new home or you're thinking of doing some renovations, it's always a good idea to keep up to date on the latest trends. From the living room to the bathrooms and kitchen, let's explore some of the latest 2020 flooring trends so you can create the most beautiful home possible.
2020 Flooring Trends
Environmentally Responsible Floors
Being eco-friendly is more than just a fad. Today's modern homeowner is looking for products that are sustainable and leave a smaller carbon footprint. When it comes to 2020 flooring trends, products like bamboo are quite a popular option. This material is sustainable, renewable, and beautiful to look at. Bamboo is also very durable, which makes it an excellent choice for busy households who still want their homes to have a modern look. Anything that is renewable is a good choice for an eco-friendly home. Look for flooring materials made in North America so you know you're getting something that is manufactured in a responsible way.
Reclaimed wood flooring is another trendy choice that gives your home a rustic look and your floors some durability. This wood is taken from old barns and other buildings, giving it a new life in your home. Another environmentally friendly flooring choice is laminate. This material gives your home the look of real wood without the need to cut down trees or worry about deforestation. Laminate comes in a wide range of color choices and gives any room a warm, inviting touch without the high maintenance of real hardwood.
Large Format Tiles
To give your home the "wow" factor, try large-format tiles that come in sizes like 12 x 24 and 24 x 28. These impressive tiles will add a bold element to the home and work well for houses with big, open floor plans. Try a gorgeous porcelain tile in a large size to elevate the look of a living room. It's also a stunning choice for master bathrooms. One benefit of using large format tiles is that they offer better coverage, feature fewer grout lines, and have a sleek high-end look. They're also a great choice for tiling shower walls to give the bathroom a contemporary look and feel.
Low Maintenance Options
For the ultimate in 2020 flooring trends, try something that provides your home with a stunning look along with low maintenance. This flooring is easy to keep clean, resists scratches and stains, and doesn't require extra work like sanding, staining, or sealing. Wood-look tile is a beautiful way to enjoy the same look you'd get with hardwood but without the extra fuss. These tiles mimic wood but feature durable materials that make cleanup easy. They also come in a wide range of finishes so you can get the look of wood in modern colorways like gray, or you can go with something in a natural wood tone.
Vinyl flooring is another excellent choice for low-maintenance floors. This material is available in a huge range of colors and styles, and it's easy to take care of since spills wipe right off. You can install vinyl floors in a bathroom, kitchen, or throughout the home and enjoy the beauty of wood without the extra worry of it getting stained or scratched. For households with kids and pets, vinyl flooring is a fantastic choice. Anything that is an alternative to traditional hardwood, such as engineered wood, can make maintenance easy without having to sacrifice aesthetics.
Extremes of Dark and Light
For true visual impact, installing flooring in shades of very dark or light colors can add drama and boldness to a room. This flooring trend features things like extremely light-colored hardwoods such as a blond oak hardwood that can make a small room appear larger. Light-colored flooring makes a space feel open, and it offers a nice neutral base for the rest of the room. On the opposite end of the spectrum, black tile can be installed to give any room of the home a modern edge. Each of these extreme styles has seen a major surge in popularity, and there's no doubt that very dark or light flooring will continue to be on-trend through 2020 and perhaps beyond.
Radiant Heat Flooring
If you want to avoid stepping on a cold floor, radiant heat flooring is the way to go. This process involves installing special tubes or wiring underneath the flooring before you install it that will radiate a nice, warm heat whenever you need it. You can install radiant heat flooring alongside virtually anything including tile, engineered wood, laminate, and more. It's a great choice for the bathroom so you don't have to step out of the shower onto an ice-cold floor. Many homeowners also opt to install radiant heat flooring in their bedroom so they wake up to a toasty surface as soon as their toes hit the floor. If you choose this option, make sure you select a reputable installer who knows how to include the radiant heat with the flooring installation itself.
Shopping from Home
From groceries and takeout to home goods, most people today prefer to shop from home, and flooring is no exception. At BuildDirect, you can order free flooring samples and have them sent straight to your door. Samples will allow you to feel the product and look at various colors in your home before you make a decision. The convenience of shopping from home saves you time, and it makes the selection process a lot easier. When it comes to 2020 flooring trends, the ability to shop for your favorite choices from home is a definite perk. From eco-friendly bamboo to durable vinyl or trendy black tile, BuildDirect has a wide array of beautiful options to choose from.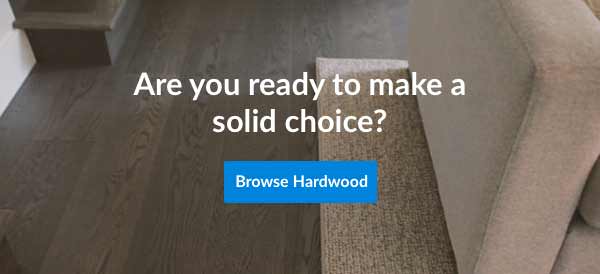 ---
---