5 Easy, Inexpensive Ways To Keep Warm This Winter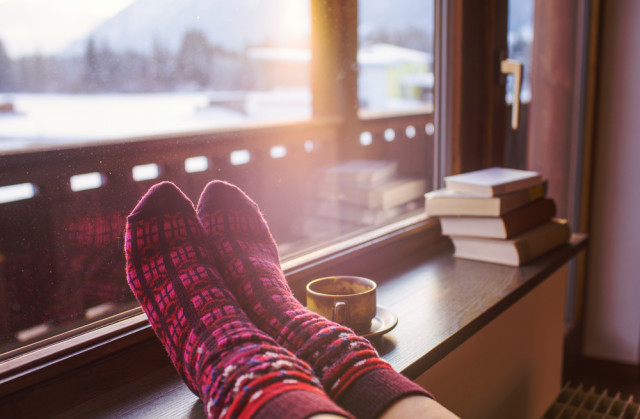 Are you shocked at how much it costs to heat your home in the winter? You need to look at other ways to keep warm. Read on for 5 easy tips.
***
Brrrr – It's that time of year when we know for sure winter is here! It's tempting to crank up the thermometer in your home, but that can end up costing you a fortune. The cost of oil heating and hydro has more than tripled in the last 10 years in most of the country! So next time you are tempted to crank up the heat – stop, and try one of these instead:
1. Seal any cracks in your doors and windows
This is the best place to start as it is what will help the most! No matter how you choose to heat your home, if you have bad seals on your windows or doors, the cold will seep in, and some heat will rush out – leaving you cold and with a higher heating bill.
If your doors and windows are in need of more than a few pieces of inexpensive weather stripping, try covering them with insulated curtains. Switch up your curtains to thick thermal options or attach a flannel or fleece blanket to the curtains you already have. Blankets can be hung over doors to trap in the heat while you are inside if your door is the problem.
2. Shut off any unused areas of your home
If you only venture into your spare room or formal dining room on rare occasions then there is no need to heat these areas. Turn the heat off in these rooms while they are unused. Keep the doors to these areas closed, or hang a blanket or thick curtain to block off the area from sucking in the heat from the rest of the house.
3. Get your fireplace started
It's amazing how quickly a medium sized room can heat up from the warmth of a fireplace. You should get it cleaned and tended to once a year professionally, and you do have to acquire and chop the wood, but all in all this is a fairly cheap way to heat your home.
If you have more than one fireplace that's a true bonus – but if you don't then try to center the majority of your family's activities around the room that does.
4. Set up some space heaters
I hesitated to add this one since they do tend to draw a lot of power – thus higher heat bills – but they are generally more cost effective in heating a small area than turning up your heat. They work quickly so that is another benefit. But avoid heating your whole home, or larger areas, with space heaters – and turn them off once the room gets toasty to avoid a huge energy draw.
5. Bury yourself in blankets
I'm not saying to keep your heat off completely – but if you are feeling a bit chilled putting on a thicker sweater or pulling a blanket over your shoulders or across your lap is a better solution than cranking up the heat.
Sometimes a thick pair of socks is all you need to warm up! I know someone who slept all winter in flannel pyjamas, thick socks and a wool cap instead of turning on the heat in her bedroom! You may think that sounds crazy but she said she was always cozy – and her heat bill wasn't bankrupting her.
How do you make the most of heat in your home?
What's your favorite money-saving energy efficient way to stay warm at home? Share your tips with us in the comments.
---
---