5 Unique Ways To Hang And Style Curtains

As the season moves towards winter, you may be changing your curtains. Here are 5 new and unique ways to hang them that add some pizazz as well as practicality.
***

One of the easiest ways to change the look of a room is to buy new curtains. When you're hanging your new curtains, you don't have to stick with a plain curtain rod. Consider some of these unique ways to style and hang your curtains.
1. Go for a nautical look with rope
Whether you're styling your beach house or you simply have a room with a nautical theme, sisal rope is a great way to hang curtains and bring in that maritime flair. You can buy the rope at any home improvement store. You'll also need to buy some large eye hooks to hold the rope on the wall.
If your eye hooks are silver and you're going for a more weathered look, you can spray paint them bronze. Push the rope through the top curtain pocket and attach the eye hooks on the wall above your window. Then, tie one large knot on the end and slide the rope through the eye hooks.
2. Go whimsical in a child's room
Styling curtains in a child's room can be both fun and whimsical. Rather than hooks or plain fabric, use a stuffed animal to hold curtains open. To hold the curtain back, you can either use a stuffed animal with long arms that wrap around each other or take one and attach Velcro to the hands.
3. Turn to Mother Nature for inspiration
If you're going for a rustic or natural look in your house, tree branches are an unexpected yet perfect way to hang your curtains. For this look, you'll need to find a tree branch that's the appropriate length and thickness to hold your curtains.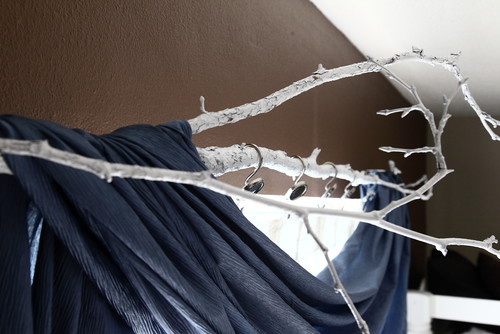 If you need the ability to open and close your curtains, make sure you pick out branches that are smooth. Sand down any places where twigs might have poked out and apply a clear varnish to help the curtain rings move smoothly. Also, if you're designing around a specific color in your room, you can paint your tree branches to match.
4. Hang with nails
For curtains that you have no need to move, nails are an industrial way to hang them up. First, attach a strip of 2×4 wood on the wall above the window where you want to hang the curtains.
For a cohesive look, paint this strip the same shade as your wall. Next, make a mark where you would like each nail to go. Choose a thick nail and hammer one into each mark you made. To hang the curtains, simply hook each curtain ring over the nail.
5. Change curtains with the seasons
There's no reason you have to stick with the same curtains all year. In the fall, switch out your curtains to ones in shades of red or orange to reflect the beautiful leaves outside. In the winter, go for stylish thermal curtains that will not only look great but also help you keep heat inside your house.
If the standard curtains and curtain rod don't have enough style for you, consider some of these unique ideas to hang and style your curtains.
***
Resources:
http://myhomephilosophy.com/10-creative-ways-to-display-curtains/
http://motherhood.modernmom.com/cute-ways-hang-curtains-rod-13415.html
---
---