5 Variations On The Flower Pot
Reading Time:
3
minutes

Make your plants more interesting by planting them in pots that have design–as well as practical–appeal.
***
Sometimes a flower pot is just a flower pot–something to hold your various and colorful flowers and plants.
But what if you could make your flower pots part of your indoor decor and outdoor landscape? Because there is more than your typical terracotta pot (or plastic imitation thereof) for growing flowers and plants around your home.
So in the interest of bringing you interesting options if you like your flowers better dressed than their usual terracotta, here are some interesting variations and ideas I've found scouring the web. Let's have a look!
Variation #1: The Milk Jug
I'm too young to ever have known the milkman coming at your door with fresh milk, but some of our readers might remember them from when they were kids. The big jugs milk used to come in are a staple of farmhouse-style decorating, and they make perfect flower pots too.
Milk jugs have interesting details to bring the eye down from the flower: handles and spouts, even markings that tell how many gallons it contains. If you want to bring a nice rustic, farmhouse style to your front porch or backyard, think about putting some plants in milk jugs along with other items.
Variation #2: The tree planter… literally
This one is a great DIY project I found on Houzz. Well, I'm not sure if it's DIY, but it sure seems like a great way to spend a summer weekend if you want to add an eclectic touch to your backyard.
A tree with flower pots hanging from its trunk? What a great idea! It's a perfect way to keep a dead tree in the yard alive in another way. Get rid of all the branches and keep just the trunk and a few big sections, paint it a great color, and then nail some flower pots along the trunk. Why not hang some lights around it too? It makes for an amazing backyard feature.
Variation #3: A metal cart
You know those cute metal carts filled with flowers you see at outdoor markets and in typical pictures of Paris? Well, they're just as cute in your backyard or your front porch.
It's not a flower pot per se–but it can contain many smaller flower pots.
The cart has a traditional, shabby-chic appeal that's perfect for farmhouse-style decors and backyards. Paint it a bright color for some funky pop, or keep it in its original, distressed hue for something more authentic.
Variation #4: Mosaic pots
This Etsy seller makes mosaic flower pots in all kinds of colors and designs. The colors are bright and cheerful, and they are just that much different from a typical flower pot to spark interest.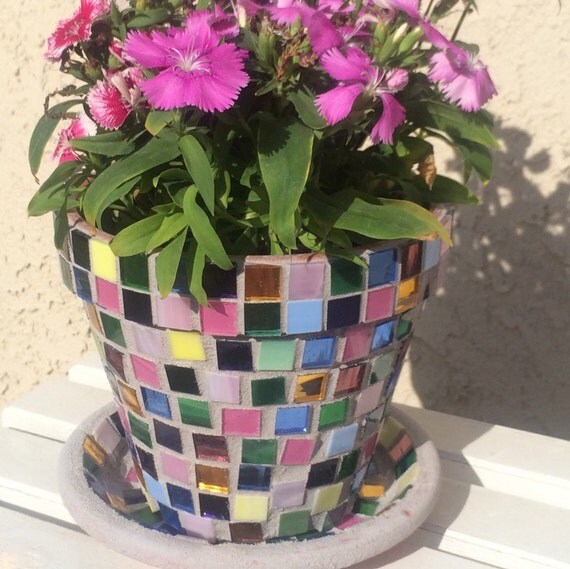 You can imagine many different types of mosaics and colors happening there. The bigger the pot, the more interesting the design.
Variation #5: The modern, minimalist pot
I would never have thought of flower pots as modern or minimalist, but I am once again surprised by the originality of the human mind when it comes to home decor. Many small spaces with modern decor have adopted geometrical, barely-there pots that seamlessly blend with the background.
Interesting geometrical shapes include pots opened on the slant, perfectly cylindrical pots and other basics of modern decor. Mix shapes and colors for interesting visual effects, or keep the whole matched and harmonious for a minimal, seamless style.
How do you plant?
As for me, I have two cheap plastic planters I got at Wal-Mart this summer, and I hope that my few herbs survive the summer on my barely-sunlit patio. (I've already lost the basil and the mint, sadly.) But what about you? Do these ideas and variations on the typical flower pot spark a gardening impulse in you?
Let us know in the comments!
---
---