Do you have an extra, unneeded closet? That extra space doesn't have to serve as the Jackie Gleason/Ralph Kramden closet — you can transform it into the coolest nook of the house with just a few simple steps. Most of these are quick weekend jobs, and some can be done in just a few hours.
1. Create A Book Nook
The trend of most modern authors seems to be creating a trilogy for every story where a single novel used to suffice. Some writers even tack on extra novelettes to the collection. Faced with too many books and nowhere else to stuff them, many homeowners are converting old closets into creative book nooks. Sure, you can pull out the clothing bar and stick in some shelves, but consider a more creative design, such as diagonal shelves or adding a cozy reading bench and a lamp.
2. Build an Extra Pantry
There isn't a rule anywhere that states you must keep all food items in the kitchen and dining areas. You can keep canned goods, unopened boxed foods, seasonings and spices, and other items in a closet pantry anywhere in the home.
This is especially handy if you enjoy shopping bulk, can food from your garden, or are stocking up in case of emergency. Add generous shelving to accommodate large quantities instead of cramming it full of smaller shelves.
3. Set Up a Cozy Vanity
Need a quiet place to get ready in the mornings away from other members of the household? Creating a secret vanity is an excellent way for moms and teenage daughters to get privacy from pestering younger siblings or nosey hubbies.
Pull out the clothing hanger and shelf and tuck in a glass or wooden vanity. Add adequate lighting for applying makeup, and decorate it with über feminine drapery and accessories. Or, build the vanity shelving directly into the closet.
4. DIY Wet Bar or Wine Cellar
An unused closet is the ideal place to set up a tucked-away wet bar or wine cellar. You can purchase a wine rack or wine cooler and put it in the closet, or just build shelving into the closet to accommodate your favorite beverages.
For a super setup, consider installing a sink and mini fridge for storing and mixing a wide variety of cocktails and specialty drinks. Install shelves and hangars over the top of the bar for wine glasses, flutes, flasks, and mixing equipment. A mini fridge is ideal for storing lemons, limes, olives, and other drink mixing essentials.
5. Create a designated charging station
To keep cords and devices out of sight, and charge them up for later use, a closet space (or part of one) can serve as a central hub for the whole family.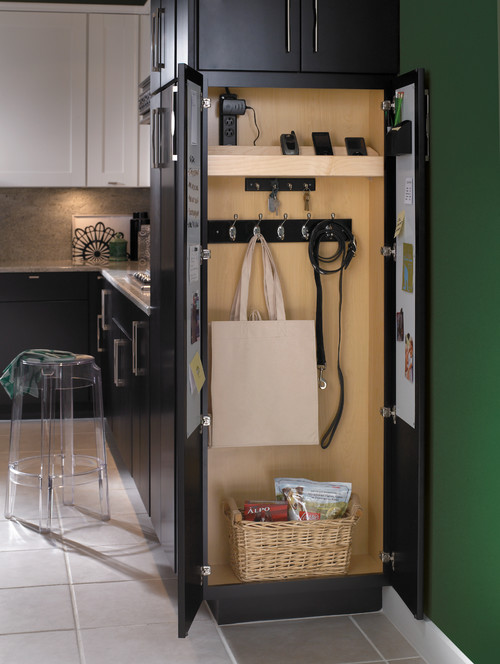 And you'll never hear the words "WHERE'D I LEAVE MY CHARGER??" echoing through your home ever again.
Re-inventing closet space
This all ties back to that ruling principle when it comes to life at home; make your own rules. You get to decide what storage looks like in your home, because you are the one setting the agenda. It stands to reason. With that in mind, how have you converted closet space in your home? Share your ideas in the comments section of this post!
---
---