15 DIY Projects to Do This Winter Break
Reading Time:
4
minutes
Last month we discussed DIY projects you could do over the Thanksgiving long weekend. Between Christmas and New Year is a whole week that could be spent relaxing and enjoying your new gifts, or it could be spent improving your home. Consider the following 15 projects to improve your home that you can get done over the winter break.
An Easy Guide on Projects to Improve Your Home
1. Add a Medicine Cabinet to Your Bathroom
This is a quick job that shouldn't take more than a couple of hours. All you need for this project is a stud finder, level, and a drill. Choose your spot above the bathroom sink, find the studs, and install. The level will help make sure that the cabinet is hung perfectly straight.
2. Swap Out Sinks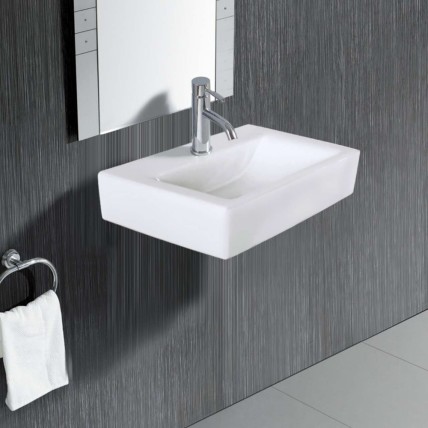 Though a full bathroom remodel might not be in your future, you can add new life to a bathroom's tired decor with a new bathroom sink. Choose something that is more modern and yet doesn't stand out from the rest of your decor like a sore thumb. You'll also want to think practically. Is the new sink big enough, without taking up too much counter space?
3. Add Something New to Your Fireplace
A new mantle around your fireplace can transform your fireplace into a centerpiece in your living room. An easy DIY hack for building a mantle is to simply add wall paneling or manufactured stone veneer siding in the area surrounding your fireplace. If you already have an existing mantel, but you're looking to spruce it up, consider painting and refinishing any wood areas, or adding crown molding for a new finishing touch.
4. Create Drama on Your Stairways
If the side of your stairway shows, consider adding new design elements to add some spice to the location. There are a ton of designs to choose from. Take a look at some ideas on Pinterest and other resources and then check out reuse centers for supplies to help save money.
5. Convert Lights to Dimmers
This job takes about an hour or two. Just note that you can't use dimmable switches with ceiling fans or fluorescent lights. Adding a dimmer switch makes it possible to turn the lights down. This might be useful if you're planning a romantic dinner or to help settle your kids down before bed.
6. Get a New Appliance
New appliances offer increased efficiency, which means you'll save money. If your refrigerator, ranges, or dishwasher has seen better days, why not consider a new one? Not only can you get a new trendy color, but you will save money and enjoy new high-tech features, such as smart appliances that can connect to your phone.
7. Replace Your Showerhead
There's something so luxurious about a new showerhead. If your bathroom has the showerhead that's installed as standard with most showers, it's time for an upgrade! Choose a showerhead that has different flow settings, so you can pick the one you like best. If you want to save on water, replace with a low-flow showerhead that will help you save while still getting you clean and as an easy project to improve your home.
8. Refinish Wood Cabinets
By taking the current finish off your wood cabinets and replacing it with something new, the space will look new again, especially if you also add new hardware. Wipe the cabinets down with mineral spirits to remove any grease and dirt. Next, apply a gel stripper to remove the stain. Sand the wood and then apply the new stain. Seal with polyurethane for increased durability.
9. Add a Splash of Color to Your Kitchen
If the backsplash in your kitchen is tired, consider replacing it with a new trendy backsplash could be one of the projects to improve your home. Today, consumers want a backsplash that goes all the way up, rather than just including a few rows of tile. Choose a bold color of ceramic or glass and it will be like having a whole new kitchen. It's a fun project, from picking out the tile to installation to standing back and enjoying the view.
10. Upgrade Your Floors
A week isn't long enough to replace the flooring in your house, but if you choose a room or two, or part of one floor, you should be able to get it done. You just need to choose an easy-to-install material such as vinyl planks, sheet vinyl, or anything with a click-and-lock installation.
11. Add New Light
Have you ever been trying to read and realized that it's too dark? If so, it's easy to add a new light fixture. Maybe the main light isn't cutting it and you want something new. Or maybe you just want to add a new fixture to your favorite reading spot. Whatever the reason, you just have to run some wires through the ceiling joists to a new circuit and add in the new fixture. You'll get to enjoy your new lighted area by New Year's!
12. Install Grab Bars
If you have guests who need a more accessible bathroom, you can add grab bars, making it easier to use the shower, tub, and toilet. Make sure you install the bars directly into the studs for added stability.
13. Choose Some New Interior Doors
Most interior doors have a "blah-ness" that at best adds nothing to your home. At worst, they can detract from it. Maybe replace your pantry door with one that includes a glass panel and the word "Pantry", or consider replacing your office door with mirrored French doors.
14. Revamp Kitchen Cabinets With New Door Inserts
If you have kitchen cabinets with door inserts, it's a quick job to replace them with something new. Maybe you'll choose stainless steel, glass, wood, or stamped tin. The new design will bring a little something extra to your kitchen and you'll be excited to get cooking!
15. Install a Ceiling Fan
Ceiling fans help move air around a room making the room feel cooler. This might not seem as helpful in winter as summer, but by doing it now, you'll be ready when the warm weather hits. Plus you might find some great deals on ceiling fans because it's the off season.
With so many options of projects to improve you home , you might have a hard time choosing what you want to do over your winter break. Whatever you choose, your home will look more fabulous for your efforts.
Resources:
http://www.bhg.com/home-improvement/remodeling/budget-remodels/weekend-home-projects/?slideId=529205d0-1b45-4ac0-bcdd-3b7026589b70
http://mashable.com/2016/01/05/samsung-fridge-amazon-alexa/#nClecFgNK8qZ
http://www.hgtv.com/design/decorating/design-101/10-inspiring-interior-doors-pictures
---
---