6 Ways To Get Your Shed Ready For Spring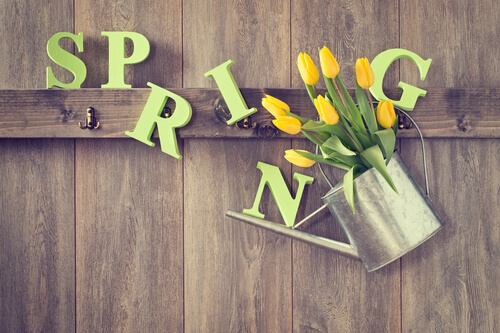 ***
While it's difficult to believe some days, spring is right around the corner. Soon you'll be out in the garden, enjoying the sun, and planting the seeds that will grow into summer's delight. But before you can sit down to daydreams of putting on your garden hat and running your hands through the soil, you must prepare your shed. Here are a few tips to get you garden ready.
1. Beautify the outside
If you've experienced a particularly rough winter, or if it's been several years since you tended to the outside maintenance of your shed, the first few days of warmer weather is an excellent time to give the outside of your shed a little TLC. This could include updating the paint, patching holes or leaks, or power washing the exterior.
2. Keep the critters at bay
No one likes cold weather, that includes rodents, insects, and other creepy crawlies. Unless you want to come face-to-face with a creature who thinks of your shed as its home, set out traps long before you see any varmints.
Ideally you should keep traps and pesticide in your shed throughout the year and keep clutter down. There's no reason to make it any more inviting than it already is. It's also easier to keep them out, than get them out once they're there.
3. Check the roof
While you may not see the need to visit your shed in the middle of winter, checking for leaks periodically will save you a lot of headache come spring. If you wait until after the first frost to open up your shed for the season you may have an unwanted surprise if you lost any shingles or sprung any leaks during the winter.
It's a good habit to check the shed throughout the year, particularly after hard storms, prolonged freezes, or excessive snowfall.
4. Clear leaves and debris
Always leave a few inches around the foundation of your shed. This allows it to breathe and makes it less prone to rot or other damage around the base. Clear leaves and debris as needed so that nothing is able to decompose around the foundation.
5. Rotate your equipment
Before gardening season begins you'll need all of your lawn equipment moved to a more accessible place, while your snow shovels will find their preferred place against the back wall. Doing this before planting season means you'll have more time to enjoy the gardening and less time spent organizing once the weather breaks.
6. Check your hooks
Cold weather causes things to contract. Warm weather makes them expand. If you've had seasons filled with temperatures that go up and down like a roller coaster, your wall hooks, screws, and nails may have come loose. In order to avoid injury to yourself or any of your tools or materials, check the hardware to make sure it still holds weight and is firmly embedded in the walls.
In top condition
The key to getting the most out of your shed and spring planting season is to ensure your shed is in top condition after the long winter. These tips will help you spend more time enjoying your shed and less time worrying about it.
---
---