7 Areas Of The Home To Renovate First To Add Re-Sale Value
Reading Time:
4
minutes

For creating home resale value, and for creating comfort in your home, consider these 7 areas for where to start in home renovation.
***
Like many homeowners, you want to make your home the best living space possible, for you right now and for potential buyers in the future. When you're considering making renovations to your home, where should you start when you see potential for creating resale value in your home?
Below are seven areas in your home that are the best places to start when it comes to home renovation projects. Sprucing up these areas first will allow you to renew and remodel for your own comfort while increasing the value of your home at the same time. Take a look.
1. The outdated kitchen
The kitchen has retaned its status as the nerve center of the average house. Cramped kitchens with bad lighting, outdated cabinetry, inefficient appliances, and ones with unusable counter space or storage areas can be dealbreakers for potential buyers.
To make your kitchen more user-friendly now and more attractive to future buyers later, consider reconfiguring the space. Make the space more functional by replacing and updating the cupboards, and adding new energy-efficient appliances. Think about ways to increase natural light, and about ways to create better storage solutions. Your kitchen is a vital component to how attractive and functional your home is as a whole.
2. The energy inefficiency trouble spots
Making your home more energy efficient can include improving your home's heat envelope, installing tankless water heaters, better insulated windows, and considering solar energy systems. Improving your home's insulation is a great place to start when it comes to energy efficiency. Look for areas where cool or warm air can easily escape. Re-insulating your attic and re-caulking your windows are relatively easy ways to go green without huge investments. Replacing them entirely may be worth it, too.
Other ways to conserve energy at home include adding ceiling fans for better air circulation or new double-paned windows for better insulation from outside temperatures. Choose cost-effective options and rest assured that making energy-efficient improvements are investments that will continue to pay off.
3. The ugly ceilings
Popcorn may be a welcome snack, but it's not a pleasant sight on your ceiling. Once upon a time, builders commonly used popcorn texture as a method for hiding cracks and unattractive seams. Unfortunately, this look ages your home by decades as a result, creating the look of a cavern rather than one of a modern attractive home.
While you can remove popcorn without tremendous effort, you may find that those original cracks or seams are hiding underneath their coverings. Consider placing drywall over those unsightly ceilings to make your home look younger instantly. When in doubt about the process, consult an expert to help you redefine your ceilings for the benefit of your home as a whole.
4. The single bathroom
For home value and a more attractive prospect for selling a home, the single bathroom can be looked on as a detriment to modern living. Decades ago, a single bathroom was the norm. But, not so in the twenty-first century. Even the presence of a small bathroom featuring just a sink and toilet can make all the difference when looking to create re-sale potential in a home. Adding a shower can help this along even more.
Extra bathrooms add functional value, which cannot be underestimated for those home buyers with children or extended family. But, they also add comfort of many kinds, including spaces for members of the family to unwind even if the family isn't a large one. Adding an extra bathroom is a worthy investment, even if you don't see yourself selling your house for a while.
5. The too-dark living space
This can be applied to any area of the house that suffers from a lack of light. Human beings love natural light. It affects our moods. It affects the way we perceive a space, including how big we think that space is.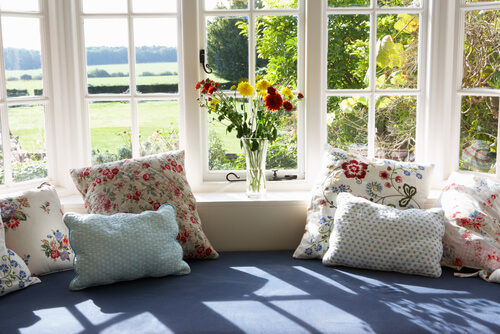 As such, getting more natural light into a space is a key strategy to make your home more attractive. This can be accomplished as simply as changing window coverings, adding reflective mirrors, and repainting rooms with brighter and more reflective color schemes.
It may take a more involved process like enlarging windows, removing or modifying walls, or installing skylights. For these, you'll need to employ the professionals who are familiar with local building codes. But, the flow of natural light may well be worth the time and trouble.
6. The bare backyard
Backyards are an integrated part of our homes as a whole, and can add a greater sense of scale to our living spaces. When backyards are underdeveloped, they have a negative impact on that potential. Creating a sense of continuity from our indoor spaces into our backyards is a vital value-add to our spaces.
With this aspect of things, sometimes overdeveloped backyards can hurt this potential just as much. When looking to refurbish a backyard for potential re-sale, stick to the basics of good natural light flow, low-maintenance plants and groundcover, and sturdy and durable outdoor surfaces for decks and patios. An investment in quality outdoor furniture can also help potential home buyers see the potential in a usable and comfortable outdoor living space.
7. The drab front yard
If you've already turned your backyard into a mini paradise where you can relax or kick back with friends and family, you may have neglected your front yard. Not only will a front-yard makeover give your home a fresh look instantly, but the space also tells your neighborhood, and potential buyers, that you care about your home.
Even better, this project can be one of the most inexpensive renovations you do. Check with friends or family who may be giving away plants that you can transplant into your own garden. Purchase some inexpensive flowers and decorative shrubs that will bloom year after year. With minimal effort, you'll have the best looking front yard on the block.
Creating potential and comfort, too
Your home should be both a comfortable living space and a worthy investment. Even if you aren't looking to sell right away, the definition of value can be applied to the present as well as to the future. These seven areas are great places to start!
---
---