7 Things You Need In Your Kitchen For The Holidays
Reading Time:
3
minutes
Fact: Holidays can sometimes get too predictable.
But, it does not mean that I would let this inescapable time of the year to dampen the preparations that I put in it since I moved into my small condo a few years back. The past weeks have been spent on meeting seemingly impossible deadlines at work, and crossing off my Christmas shopping list.
In between breaks, there's something therapeutic in hunting down kitchen finds and refreshing kitchen decors that would actually make me and my house guests stop and think or at very least, blink.
Whether you are a cook on your way to being the next Masterchef (like me), or a lover of quirky and functional pieces, these kitchen upgrades will surely keep your bustling and stressful holidays merrier and definitely brighter.
1. Maximalist Lamps for Conversation-Worthy Dinners
Lighten things up over casual or lavish Christmas dinners by changing your lamp. How about a traditional kettle that is designed in a maximalist way, for a change? The design in itself speaks so much about a sensible homeowner who is able to effortlessly bring together the old and the new. And oh, it's so easy to clean and maintain too.
2. Of Carols and Carousels
This does not involve a pony or a unicorn. This holiday calls for grand celebrations and grand organizational skills. Get some help from a carousel organizer to organize your kitchen and so that can store your pots and pans conveniently inside your cabinets. When you're in a rush, chances are you'd misplace a ladle, or forget where your once-a-year Christmas dishes are located.
Tip: Dedicate one carousel for all seasonal kitchenwares. This includes Christmas, Halloween, Valentine's and Thanksgiving.
3. Edible Garden in a Jar
Got spare jam jars or mason jars that seem to be taking up unnecessary shelf space? Take advantage of your vertical space right in your kitchen with a wall mounted with herbs. All you need is a wooden plank and and a number of iron rings that will depend on what herbs you love best or would want to experiment with.
My personal favorite is mint since it does not only bring a fresh burst in my dishes. All the more, I can count on it when I catch a cold or when I'm nursing a cough, especially on winter. Just make sure that this vertical indoor garden is out of your pets and kids' reach to avoid mess and accidents.

4. Kitchen Artwork
Since cooking is all about bringing happy tummies and happier times, I'm always looking for ways to make my kitchen more creative. There are actually a few dishes that have been inspired by my so-called favorite people list.
Just this year, I thought of putting together some of their artworks on my kitchen wall. At present, I have a little girl's abstract painting, a couch surfer's calligraphy, and my 7-year old spaniel's paw print. A little reminder: Don't get too many frames in one corner. There's a fine line that separates inspiration from distraction.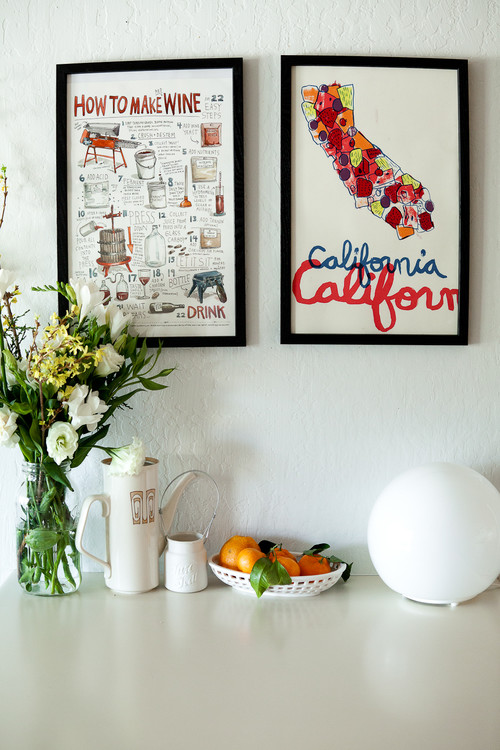 5. Futuristic Kitchen Picks
Want to put your smartphone to a smarter use this holiday? Get a kitchen scale that is synched with an app. When you turn the kitchen scale over, it morphs into a clock and a timer, instantly. Without having to wash your hand every time you need to reset or adjust the time, a few hand gestures will make you a futuristic, time-saver chef.
The best part though is that most likely, your friends and family don't have it yet, so, yes; getting this piece earns you subtle bragging rights.
6. Flexible, Fashionable Faucet
Some menial tasks like washing the dishes are essential to making holiday cheers possible. In between sighing and wishing for Santa's helper, you now have the access to a better, cheerfully colored flexible faucets that would go well with stark wall tiles and a classic granite kitchen countertop.
Flexible faucets are designed to adapt the array of things you do inside your kitchen like clearing out hard-to-reach spaces inside your teapot or tricky corners of your food storage. These faucets also come with eco-friendly cartridges that enables home chefs on-training use water more efficiently.
7. A Statement Kitchen Sofa
A kitchen brings people in a more intimate level while being able to accomplish something productive. Create a breathable space in your small condo that is meant for socialization and exploring different cultures and experiences through good food.
Kitchen sofa is widely popular in Sweden, but it is now making a comeback. Imagine all the time you can put to better use while waiting for the chocolate cake to be decadent; or for the Christmas roast to achieve golden brown Pinterest-worthy perfection. A roomy sofa can also be your reading corner or serve as a bed for an unexpected guest.
What's your perfect holiday kitchen find?
---
---