6 Free Plans For Kids' Playhouses
Kids' playhouses are where childhood memories are made. Thinking of creating your own kids playhouse? Take a look at these suggestions and follow the links to get free plans.
***
I'm 40 now, and I still remember our childhood playhouse with great fondness. There's something almost right-of-passage about a kid having a playhouse. It's like going down the rabbithole, you know? No grown-ups allowed!
One of my dearest friends finished his kids' playhouse last year, sacrificing weekend after weekend to get the thing made, and I think he doesn't regret a moment of it. It's something his kids will enjoy for years yet.
If you're thinking about giving your kids the ultimate gift, a playhouse, then here are some great free designs with full playhouse plans found online.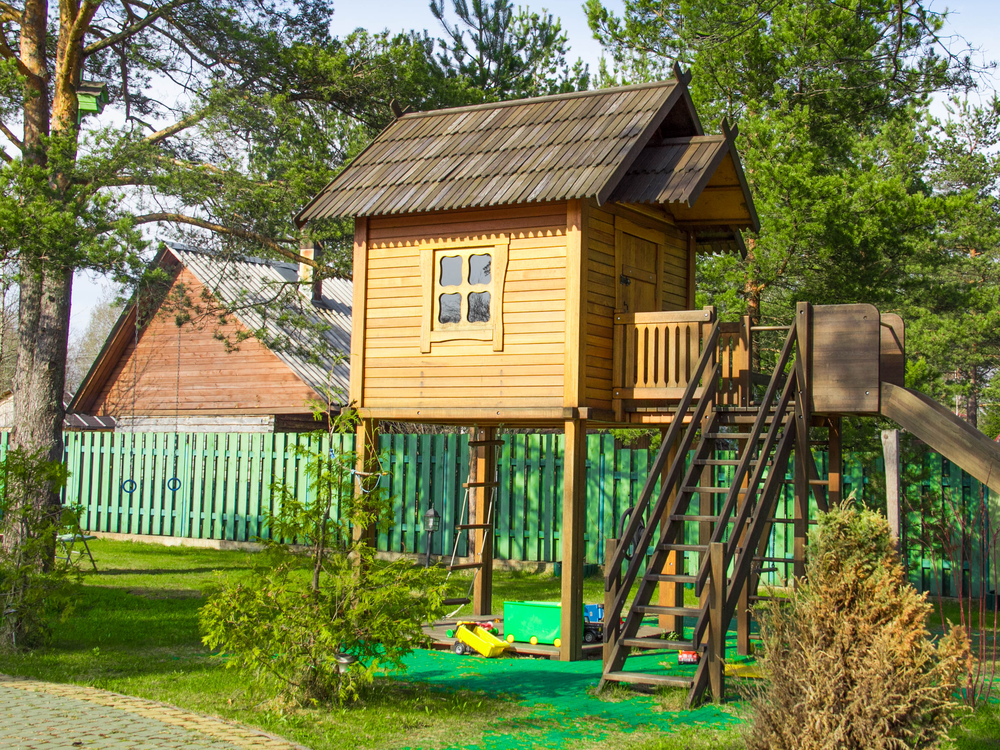 No Shortage of Ideas for Kids' Playhouse Plans
It's a big world of free designs on the internet, and this is just the start of it! Scour the web for your upcoming projects and you'll have no shortage of ideas. If you're looking for supplies for your project we have a large selection of good hardwood, cheap laminate planks and LVT tile that are perfect for a stylish kids' playhouse.
Free Kids' Playhouse Plans to Inspire You
1. Platform with Swings
If you're looking for something that's open and geared for younger play, this is a great plan. It includes two swings and is a large self-supporting platform designed to go around a tree. Without walls to hide the kids, this is a perfect place for a three-year-old to become a master climber and swinger!
2. Full-Meal Deal Playhouse
Complete with a slide and climbing wall, this is similar to the playhouse my friend's kids now love. With something this attractive, you'll never feel like the playhouse is a eyesore in the yard, and your kids will be proud of the beautiful space that's all their own.
3. A Tiny Little Playhouse
Little people like little spaces, so as small as this playhouse is, it's definitely going to be a hit with the little 'uns in your life. Unbelievably, this crafty Ana White project uses just a single sheet of plywood, ensuring this comes in at a steal, unlike my friend's $1,800 playhouse!
4. A Princess Playhouse
There's an unmistakably girly-feel to this design, but in the best way. If your daughter's looking for a perfect spot to play and serve tea and do all those things, this is a pretty good little place for that. Another small-footprint design, it's something that'll fit in yards of all sizes.
This was the kind of space I liked as a kid — where you could see for, um, 60 feet or so, but hey! It seemed like the kind of outpost fort you'd have in the Wild West, and that was my kind of deal. Imagine there's a wave of incoming attackers, or the ground is crawling with snakes — have no fear! The outpost is the perfect place to get a good look and form a plan of attack. To your posts!
5. The Pallet Playhouse
I've seen some pretty funny plans for pallet "playhouses" that look like the skidrow of playhouses, where you'd be as likely to find a streetkid living covered in cardboard for warmth. I'm all for upcycling, but it doesn't need to look like you hauled it out of the trash. Case in point is this absolutely fantastic little playhouse that is comprised only of pallets broken down and used as reclaimed wood. You wouldn't know it, would you? It's beautiful!
6. The Play Fort
A cross between a fort and a playhouse, this is a great little project. I love the corrugated plastic that makes the roof into a giant window, keeping the inside nice and bright for playing. When you're a bug-phobic little girl like I was, the dark corners can be frightening spaces! Not a problem here.
---
---