9 Ways To Master A Back To School Routine For Your Family
Reading Time:
7
minutes
Back to school isn't just a change of season; it's a change in organization and routine for the whole family. Here's 9 ways to reduce stress and boost excitement for the school year.
***
Summer is coming to an end and the start of the school year is just around the corner. Not only is transitioning back to school difficult for children, it's can be hard on their parents as well. Shifting gears can be tough when you're trying to maintain a household routine and a balanced work life.
So, how do you tackle this challenge, particularly if you've just moved into a new town, or your work situation has changed? Keep the following 9 tips in mind to enjoy a smooth switch from summer to school while reducing stress, maintaining balance, and enabling everyone to fully enjoy a new school year.
1. Decide on a division of labor
As with most things in life, balance is the key to happiness. When you're co-parenting with a partner, you've got at least two schedules to coordinate between you in relation to the third schedule of the school year. This can be tough if you're just going back to work this year for the first time in a while, or you've got a new job with new demands on your time.
So the first step under these kinds of circumstances is to sit down and map it all out between you. Sometimes, deciding who has the morning shift (getting the kids out of bed, clothed, cleaned, breakfasted, lunch-in-hand and out the door), and who has the afternoon shift (picking the kids up, liaising with the teacher, dropping off kids to activities, managing homework schedules, cooking dinner, etc) is a good split. Whatever works best for you according to your schedule and your work demands, do it. But, planning it out in advance will alleviate all kinds of grief.
2. Coordinate carpooling
One thing to consider here is that beyond a co-parenting partnership you're not alone in all this. There are a lot of people around this time of year that are facing the same process of back-to-school planning as you are. It's the perfect time to reach out to your neighbors and to pool resources of all kinds, maybe starting with your cars.
The beginning of the school year is the ideal time to connect with your neighbors. Before school starts, meet with other parents in the neighborhood to create a carpool schedule to reduce your consumption of fuel, and to even out your stress levels, too. It's also a good time to see how you can help your neighbors when it comes to getting their kids to school on time. Not only will this help everyone to share the burden. It's also a great way to build community and a sense of security to your street or building.
3. Organize walking groups to school
If you live close enough to the school, and your children are old enough, why not set up morning walking groups to school between the children on your street or in your building? Match your children to those of your neighbors and friends who are walking the same route to school, or to the school bus. Or, let your kids choose their walk-mates themselves, if they live close by.
Not only is this a more secure way to travel on foot, it also adds a bit of fresh air and exercise into the mix for the kids, helping them to shake off sleepiness, and be more ready to absorb all of that new knowledge once they get to school. If your schedule allows it, you can even join them to help you get the same (if being seen with their Mom or Dad isn't too embarrassing for them, of course …).
4. Rely on your support networks for after-school care
The school year and how it interacts with our own work can cause stress. This is particularly true when it comes to child care for working parents. Once again, a lot of the time, your network of friends, neighbors, and family members can be invaluable to help everyone enjoy the year as we should. People who care about you and your kids want to help. So let them!
To make sure your children are cared for until you can pick them up, coordinating with other family members or after school programs provided by the school is a logical step. It's also important to have a plan in place for snow days or sick days, too. Have conversations with your work colleagues and managers about your school-year schedule to see how much flexibility can be extended to you as far as when you come in and when you leave, or even with days spent working from home. Relying on personal support networks and good communication with employers are powerful tools to make your life less stressful.
5. Start the school routine early
Sleep routines are a huge part of the transition between summertime and the school year. Again, the key here is to minimize stress levels for everyone. And a good portion of that for everyone will involve a good night's sleep to face a new schedule in the morning.
The first day of school isn't the first day your child should start using an alarm to wake up early. If he or she has slept in during the summer, it will be a rough transition back to early mornings. About a week before school starts your child should start getting used to waking up early with an alarm. They should also start going to bed earlier so they get enough sleep at night. A rested child is a successful one when it comes to school, as well as one who enjoys their time there.
6. Plan the lunch menu
Just as sleep is an important aspect of a new routine, and of maximizing learning capacity too, a good diet is crucial to your children's success at school. What the kids eat will affect how well their brains can operate during the day. In this, your shopping routine and your children's report cards are linked! Think about the kinds of food they like that will offer them a balance between the food groups, and about how to mix it up a bit during the five days they'll be at school. There are all kinds of suggestions for tasty and nutritious lunches out there. Try some of these.
Every week, plan a lunch menu that can also double as a grocery list. This way, you're not trying to put together a lunch out of whatever you can find. To prevent unnecessary stress in the morning, make your child's lunch the night before so he or she can simply grab it on the way out the door. Make it a part of your nightly routine, maybe after you've loaded the dishwasher after dinner. Whatever works best for you, as long as it's not just as the wheels of the school bus, or your neighbor's car are pulling up to the house. Because who needs that stress? Not you!
7. Put together a study corner
Just like you do, your children need a sense of space to work that is separate from other distractions. Depending on the age of your child, what this looks like will vary. But, designating a place in the house for them to do their work demonstrates that you care enough about the work they are doing as students to make physical space for it in the home you share with them. This will go a long way to helping them own that work, and do their best at it.
The best spots for this kind of activity is an area that's free of distractions and is well lit.  It should also be a comfortable space with a good chair, a smooth surface, and with enough space for study materials and working space. Sometimes, a corner in your child's room will be enough. Otherwise, maybe a place in the kitchen might serve best. As always, it's your space, and your rules. Otherwise, a space that your child can see as their own, for their own work, makes the process of homework a little less of a grind for everyone!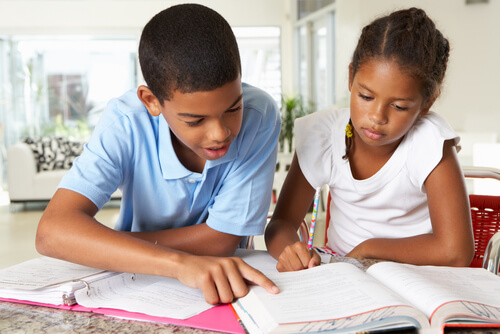 8. Designate "homes" for everything
Everything should have a home; books, backpacks, chargers for tablets, appropriate clothing for the journey to school and for activities afterwards, and even places in the refrigerator for lunches and lunch kits. A lot of the time, looking for items takes the lion's share of our time in the morning when getting the kids out of the door. But, when each item we need has a home, a place where it is always stored, that time is saved.
Cupboards, hooks, drawers, cubbys, and other storage solutions near to where you need them add a lot of functionality when it comes to this. Another good way to keep organized is to add a physical "in-box" for items that need your attention, also with a designated home; permission slips, notices for school events, school lunch information, and anything that your children are likely to bring home, and that are the most common misplaced items. No system is going to be perfect. Kids lose things and put things in the wrong place all the time. Flexibility and patience will be required, as always. But, having a system in place is better than chaos any (school) day of the week.
9. Gather school supplies
In some ways, this is actually the easy part! Every teacher will provide a list of supplies your child will need for the coming school year. Before you go shopping, take inventory of the supplies you already have so you're not buying more than necessary. Generally, and depending on your school district, the list you get will be pretty comprehensive anyway.Most children will need basics such as pencils, folders, notebooks, and paper. Younger children will typically need supplies such as glue sticks and scissors while older children will need supplies like a tablet and a calculator.
As your children get older, the list tends to get more and more involved. If your children are going into middle school for instance, it pays to adjust your expectations not only in terms of how much you're spending, but where you will be shopping, and for what. Once again, your neighbors and friends who have been there before you can be of tremendous help. Ask for advice. And if you're in a position to do so, give advice to others, too. As parents, we're all in this together!
School is exciting! And stressful
While going back to school is both exciting and stressful at the same time, a bit of planning can help make the transition smooth for everyone involved.
And remember; you're not the only one going through the whole back-to-school ritual. Your friends and neighbors can help! And you can help them. We all want our lives to be less stressful, more enjoyable, and for our kids to share in all of that. With this in mind, and with some planning, back to school will be a breeze!
What advice can you give?
So, what's your own story when it comes to planning for back to school? What are some strategies that were game-changers when it comes to a firm and flexible back to school routine? Which ones have you tried that didn't work out so well?
Tell us your stories and give us your advice in the comments section of this post!
---
---