A Breath Of Fresh Air: Why Good Airflow Is So Good For You
There's an unmistakable feeling of positivity that comes with the spring season. The warmer temperatures and the blooming flowers get rid of your winter blues and bring a breath of fresh air. It's no wonder spring is often the most popular choice when it comes to picking a favorite season.
Spring is the perfect time to bring a little more fresh air into your space. And it gets us thinking about how good air quality and airflow in our spaces is so important to how we feel while we're at home, and what kinds of things fresh air enables us to do, and even to feel, while we're there.
Mental/emotional clarity
Fresh air invites good, positive and uplifting thoughts  and helps us to avoid cluttered thinking and negative feelings. Creating an open space in our homes can bestow the same positive effects, making it easier for air to move in a space, and therefore creating a fresher atmosphere there for fresh and healthier mental states too.
That's why it's a  common experience  for us to feel better about stressful situations after they've had a chance  to get some fresh air. Breathing fresh air revives our minds and opens us up to possibilities that we may not have been able to see otherwise.
Windows, ceilings, and airflow
Use windows and high ceilings to your advantage, while giving new life to your space. A skylight in your living room with hinged windows for better airflow adds value to your home by letting in natural light (also an important ingredient to a healthy life) during the day and by opening the room for more ventilation.
Having the right windows can make all the difference. Good quality windows that are easy to access, and easy to open and close is also your best way to encourage the movement of air in your space, which has direct benefits when weather gets warmer.
More energy, better brain function
Good air quality makes use want to be more active. The reasons for sedentary lifestyles while at home are many. But, a lack of fresh air is certainly a big one. You can't be as active as you can be if you're not breathing good quality air. And you can't think properly either.
Have you ever noticed how hard it is to focus in a cluttered room? A study published in the June 2010 issue of Journal of Environmental Psychology suggests that fresh air and good airflow makes people feel more focused and alert. If you're having trouble focusing while at home, it may be because your space is too cluttered or boxed in for fresh air to flow through.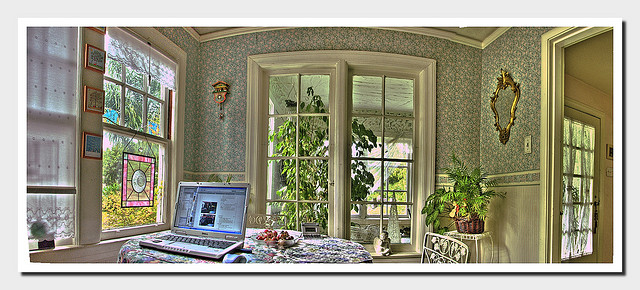 Incorporate good ventilation and air movement  in your home office, your family room, your recreation areas, and other places where you spend a lot of time indoors. It will make you feel better, and enable you to do more of what you love while you're there.
Takeaway tips for better airflow and air quality at home
Open the airflow of your home to bring mental clarity and better vitality in general. Here are some takeaway tips to check off your list to encourage better airflow in your home:
See about windows that are easy to get to, and to open and close
Change the window coverings if you need to in order to stimulate better airflow.
Make sure your air filter is in good working order.
Make sure your air ducts are properly sealed
De-clutter to open up the passages of your living space, so that you can open up your own passages as you breathe in better air.
Better air means better breathing and better living. So, here's to better living in your space this spring!
 Airflow in your space
What is airflow like in your space?
What projects have you taken on to try and improve it?
What have been the greatest challenges in your space when it comes to good quality air?
Tell us all about it in the comments section.
---
---