A De-Cluttering Story: In Praise of Helping a Hoarder
Reading Time:
4
minutes
A good, kind elderly neighbor of mine had a dark secret. He was a hoarder, for decades.
Faced with his imminent retirement from the military forces, some 35-years-plus of his life given to his country, he made drastic changes this past week, and asked those close to him to play a role in making it happen. So brave.
Seeing this parade of garbage exiting his home, I asked him if he'd had a flood, as suggested by the amount of mildew and stains on his furnishings, and he shook his head and said sadly, "No. Just 40 years of bachelor filth and clutter."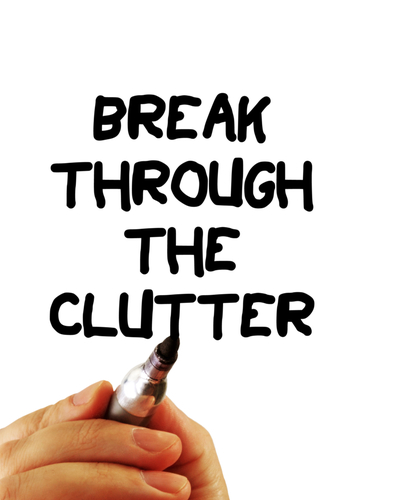 Out with the bad …
Bag after bag after bag after bag of trash was removed from his small 450-square-foot bachelor apartment. A filthy old La-Z-Boy recliner was trashed, soiled sofa, a gnatty old bed — everything was tossed. It broke my heart to imagine what living in that must have felt like.
He had the help of his grown children, on whose faces was etched sadness and emotional fatigue as they made trip after trip with the trash that had surrounded their father, probably far worse than they had realized, for so long.
In with the good
In the end, I saw happy, proud faces one his children knew what they'd accomplished. Today, his deck is clear. I imagine his home is completely different.
Yesterday, in passing his apartment door, I saw an old decal had been peeled off and a shiny new plaque mounted over his suite number — a frog on a lilypad, with the words "Welcome to my pad!"
I like to think that when I see this neighbor in a month or two, he will have lost his ashen, sad complexion. I hope there's a gleam in his eye. I have wistful thoughts of him searching for love and dating some nice widow. I imagine some wonderful new life coming to him, now that his career is ending, and his home has been purged of everything that represents a life spent working too much and caring too little about himself.
I want him to have discarded that air of secret-failure that hung over him, an omnipresent depression so many people living in hoarder-type scenarios display.
Freeing the space
His story isn't so unfamiliar. More elderly people live in these states than we'd like to imagine. Things can pile up quickly and become insurmountable not long after that, especially if stricken by physical limitations or illness.
Here at BuildDirect, we've always been big on de-cluttering. From a personal perspective, I know how life-changing it is to get rid of 30-40% of the things around you, how freeing it feels, and how life you regain, with less cleaning and maintaining needed at home.
When someone has spent years amassing clutter, even starting to undo it can be an emotionally crippling thing. Asking for help can feel shameful and pathetic, when it's actually a brave and confident thing to do, so if you know someone who's suffering a life of clutter and shame, you could be a hero to them by offering to help change their situation.
De-cluttering means seeing to your good health
But we wouldn't be so big on de-cluttering around the BuildDirect blog if we didn't know how unhealthy it was, or how unhappy it can make us, because it's also an environmental concern. Both because it means we keep buying more than we can use, and because such clutter can hide issues with the home that can lead to serious health afflictions, caused by infestations with pestilence, mold, dry rot, allergens, and more.
It's important to understand just how many health hazards can exist in a hoarder's home, and moving things around is exactly the way to kick dangerous mold spores and other contagions into the air. If you're going to attempt the radical end of someone's hoarding home, be sure to wear gloves, dust masks, and if you suspect serious issues, maybe even eye masks.
Helping a hoarder
Have a plan of attack. Start with just taking out any obvious garbage. Take all the furniture outside. Separate into keep/toss. Empty the place, figure out a floor plan, and put things back in a way that makes sense. It's just a long, arduous project, but the more you get rid of, the easier it becomes to make sense of it.
Whatever you do, make sure you keep it an empowering experience. Celebrate the braveness of the person you're helping for finally conquering this affliction, don't shame them for waiting so long. Don't cringe at what you find, but instead talk about how wonderful it'll be once all those things are eliminated from the living quarters. Make them excited about the future, help them realize this is now a part of their past.
Helping someone who's been over-collecting and hoarding for too many years is a gift you can't put a price tag on. It's a huge weight off their shoulders, a help to their health, and may even be the gift of years added onto their lives.
Don't be afraid to offer help without being asked. Sometimes people just don't know where to start, or how to ask. It doesn't mean they're not secretly wishing a good Samaritan would come and save the day, just like my good citizen lifetime-of-service neighbor who'd hidden his secret shame for the last three decades. Here's to his new chapter, and hopefully to others' new chapters too.
---
---