A to Z(zzz): A Guide for Different Bed Styles
Reading Time:
4
minutes
Today (March 16th) people around the world are celebrating World Sleep Day. The World Sleep Society works actively to decrease sleep problems through prevention and management. While there are many aspects to getting a good night's sleep, there is one part that's crucial — a good bed.
If you've had enough of your old bed, it's time to consider shopping for a new one. There are many different sizes, frames, and styles so you can make your bed style as unique as your personality while still finding the right one for a healthy sleep environment. Here are some ideas.
Different Types of Beds and Bed Frames
Metal Frames
Metal bed frames are a popular choice because of the value they offer.  They are designed with regular mattress sizes in mind so you won't have a problem fitting an existing mattress. Metal frames can be found in a range of styles from ornate and decorative to industrial minimalist or ultra modern. Plus they're designed to support box springs and/or mattresses–making it a great choice for shoppers that have one or both. For those in the market for a functional replacement bed frame at a great price, metal frames are an excellent option.
Bunk Beds
Children tend to love bunk beds for their fun style and sense of adventure. They're also great for guest rooms in case you have an unexpected visitor. If a room is small, bunk beds can be the perfect solution. Some people just sleep on the bottom bunk and use the top as storage space or as an added decor element for books and plants. Or, you can find multi functional bunks like the Woodcrest Heartland futon/sectional bunk bed combo that sleeps up to 3 comfortably, and doubles as a sofa during the day. Perfect for guest rooms, dens, and media rooms, multi functional bunks like these are a great space saver.
Platform Bed
A platform bed is a great style choice for anyone that likes to sleep on a firm mattress. The platform supports the mattress, so there is no need to invest in a box spring, making this a much more affordable bed option. The lack of springs also make platform beds an ideal choice for those with orthopedic mattresses. Most modern platform beds are low to the ground offering a trendy, minimalist look and are manufactured in a selection of materials.
Upholstered Bed
For a more luxurious feel in the bedroom, consider purchasing an upholstered bed. They're covered with fabric for a sumptuous and elegant look. A leather-covered bed is a good option if you're going for a refined, modern look. If you prefer the vintage look, seek out tufted cotton, tweed, or velvet.
Sofa Bed
If you want to save money, a sofa bed will be the right choice for you. It doubles as both a sofa during the day and somewhere for guests to sleep at night. There are a variety of sizes to choose from as well as add-ons, such as corner sofa beds and chair beds. Simply gather some pillows and blankets when everyone is ready to call it a night and your guests have the best of both worlds.
Trundle Bed
A trundle bed is another option when you want to take advantage of a small room. Perfect for maximizing space in guest or children's rooms, these are beds that have another bed hidden underneath that slides out for secondary sleeping space. These are perfect for kids that love to have sleepovers or family's that have frequent guests stop in for over-night or weekend visits. They're also a great option for cabins, cottages, or vacations home for the same reasons. There are many trundle beds that also have storage space underneath the bottom trundle, helping to save even more space.
Canopy Bed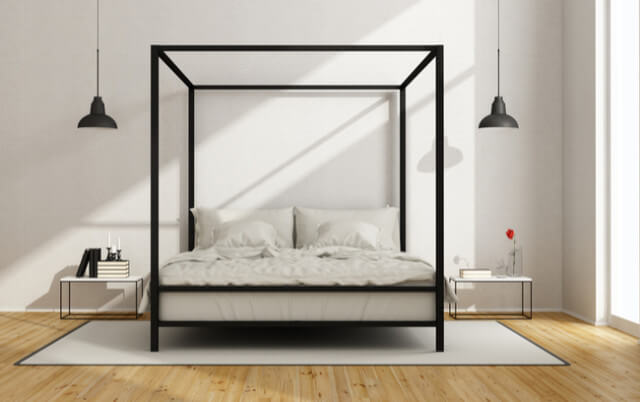 If you want your bed to also make a decor statement that reflects your dynamic style, a canopy bed is probably the best bet for you. They have four posts with rods connecting them at the top. Many people choose to put sheer fabrics across them for a dreamy and sometimes even romantic look. The ceiling will look higher and the bed will appear bigger, as the drapery and posts make the eye look upward. Canopy beds are usually made of wood or metal. You can even find junior versions for grade-school ages in fun colors like pink and yellow.
Sleigh Beds
If you're in the market for a bed style that make an elegant and traditional decor statement, the sleigh bed is perfect for you. They were very common in the 19th century, but are still popular due to their timeless look. Normally, the headboard will be higher than the footboard, and they both curve up and out, similar to–you guessed it–a sleigh.  Sleigh beds are often made from wood and may have rich finishes and embellishments or simple stains and contours.
Don't Sleep on Your Decision
At the end of the day, choosing the right bed style for you means choosing the right bed for your comfort, taste and space. For those that require a firm or orthopedic mattress, opt for a  metal frame or platform bed. If you don't require either, and would prefer to shop according to your tastes, make a statement with a canopy bed, sleigh bed, or upholstered bed with a rich texture of your choice. Those looking to save on space or share the space they have with frequent overnight guests can opt for versatile choices like bunk beds, sofa beds, or trundles. As long as you consider these three factors, you can be confident that you're making the right bed choice for your home–rest assured.
---
---