Your attic space has more potential than you give it credit for. It may be dusty, musty, and hot now, but that storage space for old clothes, toys, and junk from high school may just be the extra room you've always wanted in your house — from a home office to an extra bathroom. Check out our attic remodel guidelines to see if this is the right solution for you!
Checking Local Building Codes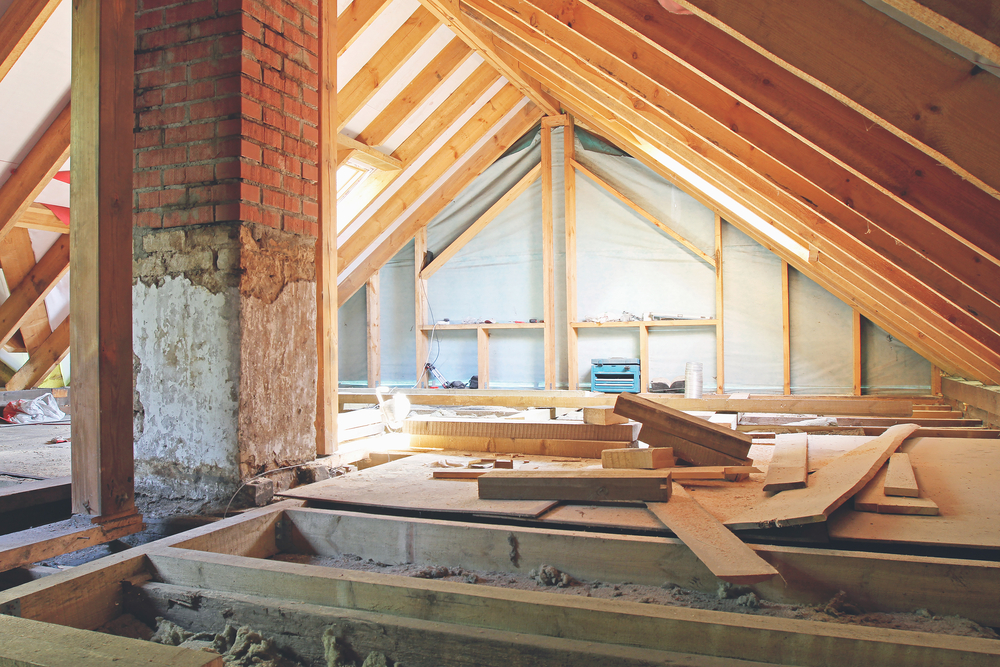 Before you start planning an attic remodel, you need to determine whether your attic is suitable for a remodel that will be up to residential building codes in your area. Though some codes differ at the local level, many building codes come from the International Code Council's International Residential Code for One- and Two-Family Dwellings. Your contractor is an asset during this process, because he or she will know the specifics of the codes you need to pay attention to.
You can check for some of the basics before you talk to a contractor. You need to have at least 70 square feet of space with a ceiling at least 5 feet high, which creates a basic habitable area. Sometimes installing gables or dormer windows is a good way to add extra qualifying square footage. On top of that, half of your habitable square footage has to be under a roof that's at least 7 feet high. So, if you have 70 square feet of space that count as habitable, 35 square feet (or more) of that space must have a ceiling 7 feet high or higher.
On top of roof height regulations, you'll have to assess your window coverage, your heating capacity, the attic floor's strength, and more. The regulations that apply to the rest of your home also apply to the attic.
Figuring Out the Staircase
If your attic already has a staircase, most of the work is already done for you. You'll want to include the staircase when you insulate, and think about carpeting the stairs to muffle the sounds of people going up and coming down. If your attic has a ladder or a staircase that pulls out of the ceiling, you'll need to find space to install a proper staircase. Though attics meant for storage often don't have staircases that conform to building codes, a finished space is going to need the right staircase.
If you don't have space for an angled staircase, ask your contractor if you have space for a switchback pattern or winding staircase. Most building codes permit these staircases as long as they follow the guidelines: that the staircase is at least 36 inches wide, has 80 inches of head space, has steps that are 9 inches deep, and has steps that aren't any taller than 7 3/4 inches.
Insulating Your Attic
You have two insulation options: batting, the kind that comes in a roll and is cut to fit between joists and rafters; and blown insulation, which comes out in a spray. Whichever type you choose, you want to be sure you choose the right R-value, which tells you how well the insulation blocks warm air from traveling through it. The government's Energy Star website recommends different R-values depending on where you live, so check the chart on their website to figure out what you need for the best attic insulation.
Choosing Flooring
Your bedrooms are likely on the second floor of the house, which means the attic is right above them. Remember that while you're doing the remodel, you don't want the sound of footsteps to wake you up or someone else's sleep cycle to dictate when you can and can't use the new attic room.
If your floor is old and creaky, think about installing a new one. Your attic floor is probably already insulated to keep heat from escaping the bedroom, but take this opportunity to ensure your floor is truly insulated properly. If you're installing a wood or engineered floor, find a soundproofing mat made of foam or cork to install on top of the subfloor and under the floor boards. Many similar options exist to fit comfortably under carpeting. If you're really worried about it, you can install an elevated floor with some serious soundproofing in the gaps.
Creating a New Room
One of the best parts of home renovation is when you create a new room or find a way to seriously increase your space. When you redo an attic, a basement, or a spare room, you have the chance to add an entirely new room to your house — like an office, a play room, or a gym — where you didn't have one before.
Take a look around your attic space. What you do with this new opportunity comes down to two things: what would be most useful in your current household and what you realistically can do with the space. If you only have the minimum 70 square feet, a home gym equipped with all the latest fitness technology probably isn't possible, but it might be perfect for a small playroom for the kids.
As far as painting and decorating goes, unless you're creating a home theater, don't paint the walls dark or bold colors. Because attic spaces are already smaller than normal, you want to create the illusion of more space by using light colors in your design scheme. Get creative with your lighting, too; you want fixtures that spread the light out, like track lighting or string lights. A single overhead light will just emphasize the shadows.
Taking Advantage of the Knee Walls
Most attics have sloped ceilings, which leave you with some awkward triangular spaces you can't use for much. Usually this space is hidden by knee walls. If you install cabinet doors or drawers in your knee walls, you create extra storage space in your attic, and you don't have to take up any of your precious usable square footage to do so.
Who doesn't want the chance to design and decorate an entirely new room of the house, without having to build an addition? Remodel your attic into the space you've dreamed about.
Let us know what you're planning on doing to your attic and we'll be happy to answer any questions.
---
---