Basement Remodeling: Practicality and Style Below Ground
Reading Time:
4
minutes
If your family needs more space to spread out, remodeling your basement is the ideal solution. This underground space has the potential to be much more than a storage room. But what does it take to transform a basement into a teenage retreat, a man cave, or another bedroom? This article will help you understand the factors you should think about when turning your basement into a functional, stylish, and comfortable space.
Key Considerations for Basement Remodeling
Since basements are below the ground, they tend to be dark, dank places. You'll need to overcome these characteristics to make your basement feel comfortable.
Damp
The damp feeling and off-putting smell often associated with basements tends to come from excess moisture in the air. Often it only takes adding a dehumidifier to the basement to fix this problem. If it does not, you may need to implement more permanent basement waterproofing solutions. Digging a perimeter drain inside the basement and installing a sump pump is a common way to remove water rising through the floor. Some basements may require additional pumps, especially those in flood zones. Extending downspouts and re-grading your land may also prevent water being funneled into your basement.
Mold
Moisture and mold often go hand in hand. Bleach and water can kill mold on nonporous surfaces, while other products claim to work on porous areas. Remember to wear a respiratory mask, gloves, and eye protection while eradicating mold to prevent infections and allergic reactions. If you're not confident dealing with mold, you can call the professionals.
Dark
Since basements are underground, lighting can be a concern. Adding lamps and lanterns can help brighten your basement up. Also think about adding mirrors, which reflect light around the room.
Acoustics
Basements can also be echoey spaces. Some flooring can help improve your basement's acoustics. Adding drywall, wood panels, or sheetrock to the walls can also help, as will adding soft drapes and floor rugs.
You may need to lay a subfloor before applying some flooring. Subfloors act as an insulating layer, keep moisture at bay, improving acoustics, and provide a flat, level surface for your final floor. You'll treat a wooden subfloor differently than a concrete subfloor before laying down your final flooring.
The Best Flooring for Basements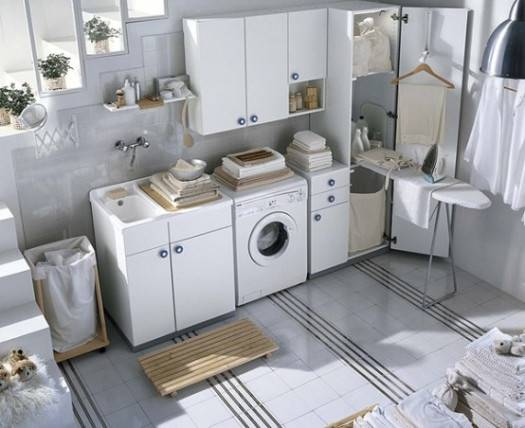 There are several excellent basement flooring options to suit all tastes and budgets.
Waterproof Engineered Flooring
Engineered wood floors can give basements the appealing look of hardwood without the risks of warping and other water damage. The latest engineered hardwood is completely waterproof, so there is no need to worry about water damage in a damp space like a basement. It also has preattached foam padding, which makes it more comfortable than many other flooring materials.
Laminate
Laminate flooring is hard wearing, affordable, and easy for home handymen to install thanks to its snap-together design. Conventional laminates will suit basements, but only if you've laid down a subfloor to prevent water damage. Modern waterproof laminates can be laid down over concrete slabs or subfloors. They can be more expensive, but you don't need to worry about spilled drinks and basement leaks damaging them.
Vinyl
Vinyl is another good choice. It's also inexpensive and, since it's made from plastic, it's very water-resistant. Vinyl used to have an image problem, but modern vinyl can be very stylish. It is available in sheets or tiles. Vinyl tiles can be prone to water seepage, but floor adhesives will minimize the risks.
Porcelain & Ceramic Tiles
Porcelain or ceramic tiles are some of the most waterproof options. Sealed porcelain tiles are more durable, as they can't crack or chip as ceramic tiles can. Porcelain and ceramic tiles are available in styles that emulate marble, slate and even wood.
Cork
Cork flooring is a great green option, as it comes from a renewable source. However, it's got more than sustainability on its side. The material naturally resists mildew, which makes it perfect for basements. It's also very durable with a natural warmth that feels great underfoot.
How to Choose the Right Flooring
With so many excellent options available, it can be difficult to choose the right flooring for your basement. Consider your basement's conditions. Is the air moist or the basement subject to dramatic temperature changes? These could affect your choice of materials.
Also, consider the budget you have to work with. Some flooring materials are more affordable than others. If your material can only be laid over a subfloor, this is an added expense you'll need to consider.
You'll also need to think about the surface you're covering, especially if you're not laying a subfloor. Some flooring materials need flat, even surfaces, while others are more forgiving.
Is your basement likely to experience high traffic? If so, you'll need flooring that's durable. The look you want and the way the flooring feels underfoot should also be considered.
Budgeting for Your Basement Remodeling
As basement sizes and the work required to transform them varies significantly, it is difficult to generalize about how much a basement remodel will cost. HomeAdvisor.com states Americans typically spend between $6,500 and $18,500 remodeling their basements. Angie's List gives a much higher range of $15,000 to $100,000, depending on the work needed. The 2017 Remodeling Magazine Report suggested a mid-range remodelling project for an average basement costs more than $71,000. Such significant differences in average costs reinforce that there's no such thing as a typical basement remodel. You'll need to consider your own situation to develop a realistic budget for your project.
What to Consider
Firstly, consider the changes you'd like to make in your basement. What elements can stay and what ones need revamping? Consider both necessary changes, like waterproofing and adding electrical switches, and the changes that will make you happiest in the space.
Then, consider the materials you'll need. This includes structural materials like lumber and insulation, wall finishing materials, flooring, doors, light fixtures, and more. Measure your spaces, get quotes on the materials, and tally the results.
Finally, calculate the cost of any necessary labor. Consider what you can do yourself and what you'll need contractors for when remodeling your basement. Get quotes from multiple licensed contractors to determine the best value. Don't forget, you'll also need to budget for building permits.
Remodels rarely go according to plan, so remember to leave a buffer for any unforeseen expenses. This will ensure you can keep working when the unexpected happens. Do your research and consider these factors carefully to ensure your basement remodel is a success.
---
---