Bathroom Renovations: All You need To Know On Where To Begin
Bathroom renovations are a go-to value-add for those seeking to open the possibilities for comfort, convenience, and pride of homeownership. Here are some ways to get started.
***
Bathroom renovations can be both a very exciting and fun project, but if not handled correctly it can also become a time consuming and costly undertake. It is important to plan on all levels of the renovation especially if you want to do-it-yourself to save some money. Luckily, if you are ready to finally take up that challenge, but are not sure where to start, this blog is the right place to learn!
A Guide to Bathroom Renovations
First off make sure you do some research on what kind of a vision you have for your bathroom. Think of your existing conditions and how much work you want to do on your project. Keep in mind where your plumbing and existing fixtures are! Depending on your budget, it may be a good idea to keep plumbing fixed in the same location, or moved along the joists of the flooring. Also, think about the resale value of your new bathroom, clean and modern spaces usually appeal to a larger crowd. Brainstorm ideas, collect inspiration images and make an idea board for yourself to make sure all your ideas flow together.
The next step will be measuring your existing conditions. It is important to take accurate measurements to know how much product you will need to buy (i.e. flooring or wall tile) and to see if any new furniture arrangements or fixtures will fit into your space. Follow the steps below on how to measure your bathroom accurately and easily!
5 steps on how to measure your bathroom accurately and easily.
Renovating can feel like a daunting task. Luckily the internet has countless resources on the subject to get you started. I've included a step by step guide here on how to properly measure your room, using a bathroom as an example.
Tools:
Pencil/Pen

Paper

Measuring tape or equivalent
Step 1: Start from the corner of your bathroom and measure the entire width of the wall. Continue doing this step until all of the walls have been measured.
Step 2: Be sure to add measurements of any openings including windows. Start by measuring the height from the floor to the window sill. Then measure the height and the width of your window including the window frame. 

Finally measure the distance of your window to the corner of the wall.
Step 3: Don't forget to measure the door and frame.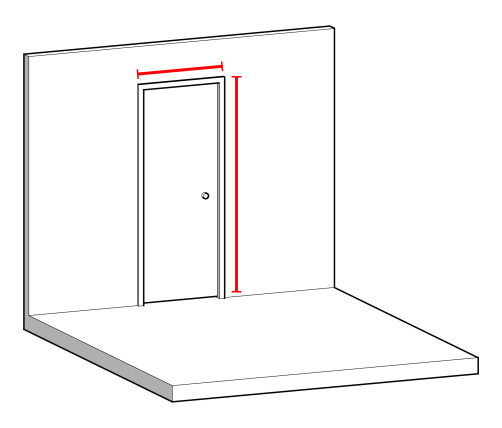 As shown on image number two, measure from the corner of the wall to the edge of your door. Then further measure the remainder of your door, and again from the other edge of your door to the opposite corner of the adjoining walls.
Step 4: Toilet measurements: Be sure to measure from the corner of the wall to the center of your toilet in order to obtain appropriate measurements for the design process. If you are not confident about the center of your toilet tank, measure the tank's width, divide by two and continue measuring to the corner of the wall.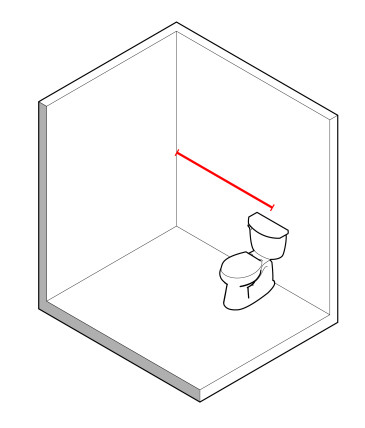 Step 5: In order to make sure all of your individual measurements are correct, add up the segments that belong to the same wall and compare against the overall wall measurement.
Once all of that is done you're finally ready to start designing. Don't forget to take a look at our Design Center to watch your vision come to life. 
Bathroom Renovations floor plan layout strategy
Now that you have all the information about the existing conditions, let's move to the fun part of laying out a floor plan! For this we recommend using the BuildDirect Design Center which will allow you to choose from a selection of generated layouts based on your existing conditions and building code restrictions.
On Step 1, input information about your space like wall lengths and locations of doors and windows. If you want to keep your toilet in the same location, specify it with an existing toilet under the plumbing tab. If you are open to moving your existing toilet, it is a good idea to find out what direction the floor joists in your bathroom are laid out and specifying it in the app. By moving the toilet along the floor joists you will be able to save money on the structural aspect of relocating plumbing.
Choosing bathroom fixtures
Next on Step 2, choose what kind of fixtures you would like to have in your space. You can choose between generic sizes and which fixtures you need. Based on this information the layout generator will give you a selection of floor plan possibilities.
Choose a couple that you like and move onto Step 3! In this last step you are able to style your renovation to your liking, switching between pre-existing style packages, or manually choosing materials and fixtures you can visualize your soon-to-be bathroom in 3D. Once you are happy with your design, save the project for reference.
It is important to secure a layout before buying any fixtures or materials because that way your design will be cohesive and ensure good circulation flow, your fixtures will fit  as planned and you will save time on trying to decide what you want on the spot at the store because you will already have a list of required products.
DIY bathroom remodel, or hire a contractor?
Now that you have your design ready, it's time to decide what you want to do yourself and what you want to leave to a professional. It can be fun and cost-saving to DIY however if you do not know what you are doing, some things can become cheaper in the long run if they are done by a professional.
If you have decided to reconfigure the location of a toilet, shower, tub or sink, it may be a good idea to hire a pro to deal with the plumbing of that task.

If you are running new electrical, please be safe and hire an electrician. All the outlets need to be GFCI, and you want to make sure that any wires running near water sources are safe checked.

If you need to install an exhaust fan because your bathroom actually doesn't have one, hire a professional especially because it may involve electrical work.
Other things like updating your vanity, swapping hardware or accessories or updating a shower head are good things to handle yourself.
If your project includes new painted wall, opt for semi-gloss to make sure it's easy to clean. Best option is to get a water-resistant paint that is purposed for spaces with lots of moisture.

If you are installing a new toilet fixture, make sure that the water is turned off and the tank is emptied before removing anything. Consult a professional if you have any doubts. A newly installed toilet will need a new wax ring to seal the plumbing.

You can tile your walls yourself as well, but need to have some patience when doing it. If you are tiling over an area that will not need water-sealing (like accent walls or backsplash over the sink) you can tile directly over drywall. If you want to have a tile in your shower however, it is better to start at the studs, adding a sealed vapour barrier and topping it will cement board. After sealing the joints in the board you can tile directly over the cement board with mortar and top off with grout.

In order to tile your floor you will need to strip away the existing flooring and most likely replace the subfloor as well. Remove the fixtures in the space like toilet and vanity in order to tile beneath them. Keep in mind that this process will take more than a couple days and your bathroom will be out of commission for  some time.
Making room to work
Other things to keep in mind is making sure you have extra space for preparing your material such as cutting tile. You will need special equipment for that, and there will be a lot of mess because of it, so think ahead and prep your space and isolate it from the rest of the house. It's also important to keep in mind that project tend to take up more time than anticipated especially if you are not an experienced DIY'er, so make sure you have additional lighting available if the job goes late into the night.
Above all, it is most important to have a budget set up for your project and to keep on doing "budget checks" along way of the renovation process. Almost every renovations includes surprise costs for fixing things that you never thought needed work even bathroom renovations. Especially if the previous work was not done properly, you may have mould and rotting issues in walls or floor. Keeping a contingency of about 10-25% of your budget for those surprises is the smartest way to go!
Be methodical and have fun
Now it's time to get to work! Remember,  bathroom renovations can be tricky but if you prepare well enough you can do a lot of the work yourself. Take it easy, shop around, brainstorm ideas and secure your layout before buying anything.
It can be tempting to buy a stock of tile when you randomly see it on sale, but do yourself a favour and first make sure it make sense with the vision you foresee for your project. Know exactly what materials and products you need to buy and how much you need of it. By staying organized this project will become a fun adventure of a well informed home owner.
Good luck and have fun!
For more tools and bathroom renovations ideas, visit BuildDirect Design Center to help you map and plan your space virtually for the bathroom renovation of your dreams.
***
Co-authors on this article: Laura Austin, Nitika Oberoi
---
---