You have lots of books. You're probably an awesome person, because people who love books are generally awesome. But maybe you're getting bored of all these ordinary birch bookshelves, which are cheap but not really original or visually interesting.
You want a way to keep your books that shows how much you love and value them. But you also want something that's great to look at! Well, with these ideas I found all over the web, you'll be able to display your how well-read you are to all your friends!
Invisible bookshelf
One of my favourite original book storage solutions is the invisible bookshelf.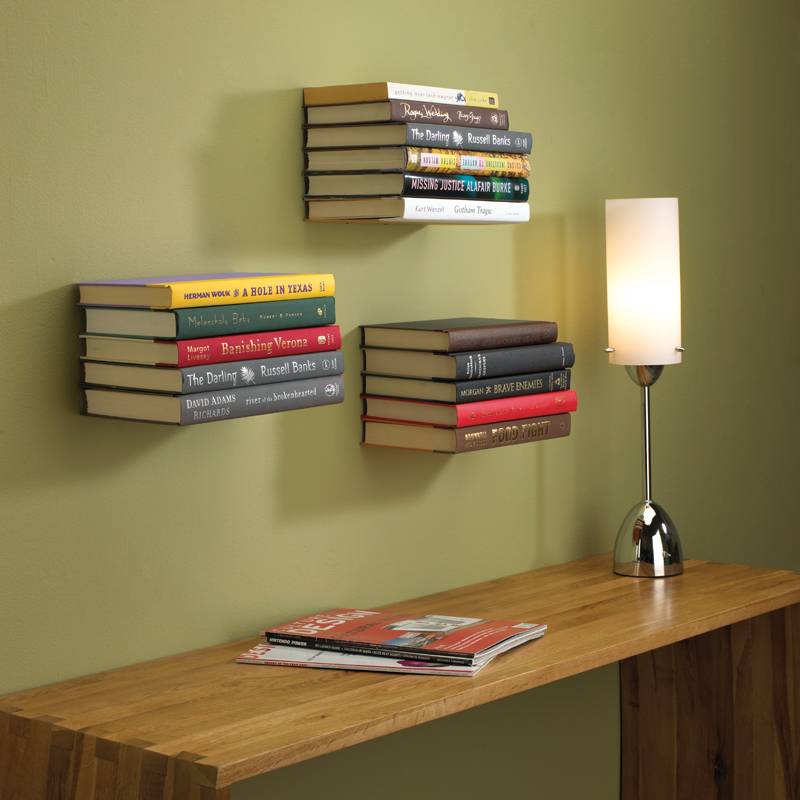 You need to be willing to give up at least one book per shelf (or at least the integrity of its bottom cover), but otherwise this is a really smart and visually stunning way to keep favourite books around–or just to impress visitors.
You can buy ready-made kits to make these bookshelves happen, but you can also check out this Instructables DIY invisible bookshelf tutorial.
The bookseat
Why have a bookshelf tucked away against a wall when you can have all your favourite books right next to you when you read? This space-saving idea uses the area under and around a chair to shelve books.
This is only one of the many interpretations of the bookseat–just Google the term (or "book chair") and you'll see many other designs that will inspire you.
Not only does this type of chair save space, but it's also the perfect reading spot for book addicts. All it needs is an automatic tea maker.
Pipe shelves
This idea comes from an Etsy designer (unfortunately gone now): using pipes close to a wall to hold books.
This design has a definitely industrial feel, and the twists and turns of the pipes make it visually interesting. The trick is to keep the pipes close enough to the wall so that your books don't fall through.
I imagine it would be easy for a DIYer to figure out how to install this type of shelving.
Another version from The Brickhouse adds some wood shelves to pipes for a more traditional (but still versatile and original) open-style bookshelf.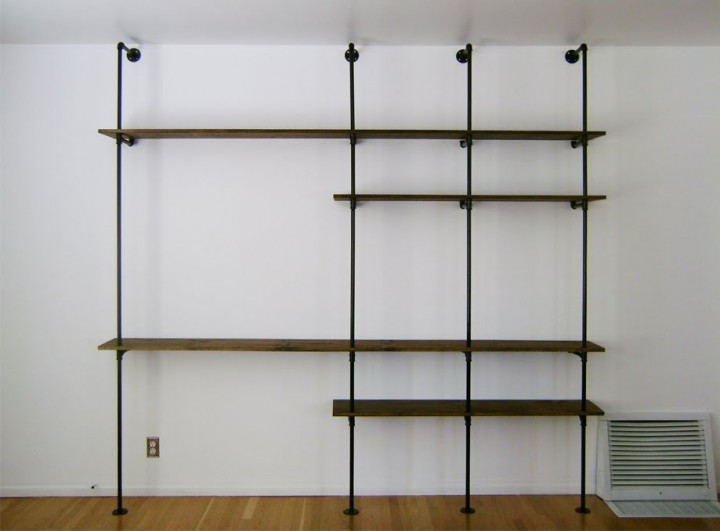 You can find the instructions here.
Old drawer shelf
Sometimes we inherit old pieces of furniture that we're not sure what to do with; Catherine Ivis from the Olive Bites blog has a great idea for something to do with old drawers from unused chests: bookshelves!
This old drawer was already sectioned off, but it would be easy to add sections with small pieces of wood as desired. You can add any kind of visuals to the bottom of the shelf: you favourite wallpaper, old maps like this example, or any kind of art you like.
You can find the tutorial for this project here.
Magnetic bookshelf
Designed by Nils Holger Moormann, this magnetic box bookshelf can be changed at will, giving you a new bookshelf anytime you want.
Depending on your space, the back metal strip can be installed horizontally or vertically. Extra-strong magnetic boxes cling to the metal strip in any way you like. Change the look anytime you want by moving the boxes around.
Old TV bookshelf
Smart and oh so retro: a hollowed out old TV used as a place to stack books.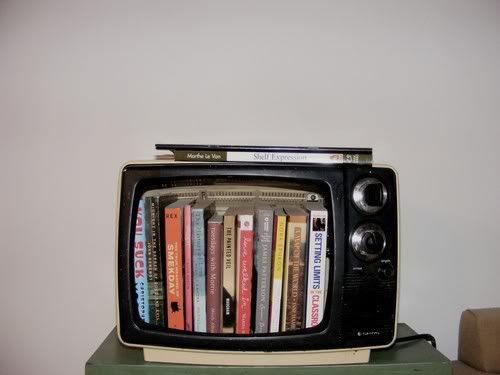 This easy project from DIY Gadgets uses the old TV sitting in your garage as a way to display books. Just remove the screen, hollow out its electronic innards, and add books instead.
Books are better for the brain that TV anyway.
We love books!
Because of my bohemian, "moving every year" life of the past 7 years, I have had to divest myself of most of my book collection (sad face). I now favour e-books because they take no more space than my devices and can be carried anywhere easily. But it doesn't mean that I've given up on building a great physical book collection–one day. These bookshelf ideas actually make me want to get more actual books to have enough to justify getting a beautiful bookshelf!
Your thoughts?
How about you? How do you keep your books? Did you come up with any original, upcycling or DIY ideas? Share your projects with us!
---
---