Snowboards and skateboards are built to withstand abuse from a pretty tough demographic, namely teenagers and extreme-sport enthusiasts.
Like everything these days, the technology behind these high-performance board sports is worlds away from where it began just a few decades ago.
First on the scene in the '80s with foam in the centre, snowboard cores today are filled with stuff like carbon, Kevlar, and aluminum. They have steel edges and layers of laminated hardwood and fibreglass, and steel edges. These things are tough. Like, tough. Skateboards too.
They're also easy to find tossed out, or for sale cheap at yard sales. They're cycled through as owners often upgrade to better, faster, stronger models.
Made to last by design
Skateboards don't wipe out on fluffy, powdery snow, but instead get thrashed and banged on metal and asphalt. They get mangled and chewed up, adding a special kind of character money can't buy, and it makes for a pretty cool look, especially if you varnish 'em for shine and protection.
Because of their durability and flexible uses, discarded boards have become popular for upcycling. They're engineered to last, and they're perfectly shaped to become anything from a bench to track lighting support.
We're big fans of recycling here at BuildDirect, but with creativity like these guys display, upcycling really gets our heart going pitter-patter.
Without adieu, here are some of our favorite ways to become unbored with your boards.
Totally rad shelving, chairs, clocks, more
Got a big collection of shoes needing a home? Designed by Some Dude Who Lived With The Dudes This Dude Lived With, this shelving project is pretty easy once you make a template and cut out a couple of planks with grooves to hold the boards. There's no reason you couldn't turn this into a floor-to-ceiling custom cabinet for anything from shoes to books to your bar.
As shelving, the skateboard uses are endless. I love these hanging shelves in principle. I think it could be done a little more swank depending on the cable design. 
Where skateboards are really mind-blowing is when they're repurposed as chairs. Whether they're constructed as a unupholstered simple framed chair or are padded and covered for an Danish-looking chaise lounge, skateboards are the perfect length to provide comfortable butt-wide seating for most of the population, and they're strong enough to take the weight.
I should point out, the same design house that created the amazing chaise lounge of skateboard decks also paid homage to a design classic, the sunburst-style ball clock, while using the awesome colorful polyurethane wheels popular on skateboards. I love this clock.
Speaking of clocks, with a skateboard or a snowboard you love the design of, a $10 clock kit and a drill, you can make a pretty sweet analog clock yourself. 
A couple incarnations of skateboards-as-stairs exist, and this is a custom-designed one by a fella named Marc Ollhauser who wanted to be thrifty yet cool, and came up with this nifty idea for a ladder/stair up to his apartment's loft.
While obviously made with new skateboards, I'd love this interlocked-boards-as-table-base idea for a glass-topped coffee table if it had less-pretty boards.
Skateboard lighting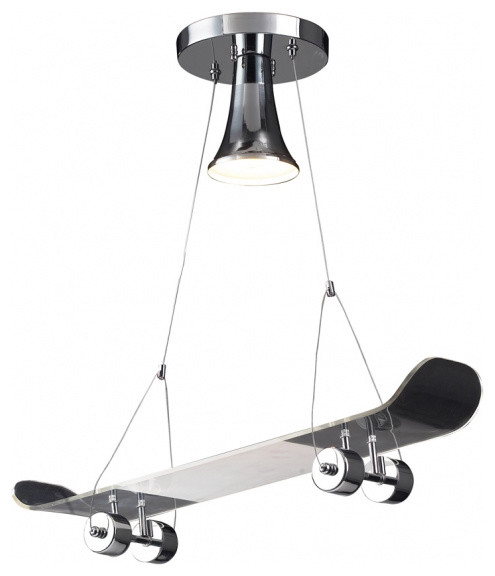 Here's an amazing snowboard kitted out with pot lights by the very cool German company SnowboardLampen.  But this dude has nailed a not-so-fancy version as a DIY project that costs very little.
Another take on this idea is a Burton "pendant" lamp using industrial lights, selling at a whopping $645, which, again, could be replicated by a crafty DIYer for a fraction of the price.
A very cool project was by artist Kev Munday when he was  asked to decorate a bar in Tignes for the Winter X Games a while back and he got creative, turning snowboards into sconce-style lighting for two rooms to add mood and a whole lot of cool to the spaces, again a doable project for the right crafty individual. Way less hip but still cool is this project by some Etsy vendors.
A last awesome rendition on the snowboard-as-lights idea comes from these crafty Etsy sellers.
What else ?
What else can you do with snowboards? A Canadian company called NRI decided they'd use broken snowboards as garden plot borders. Sounds like a great idea, since you'd think snowboards wouldn't rot like wood does. 
Vermont Redneck Crafts is another company using actual recycled snowboards to create a saleable product, in this case a 6-bottle wine rack. 
There's a whole world of snowboards-as-table ideas out there. I really love this idea for a funky picnic table made with an old table frame and topped with five old snowboards. It'd be great for a ski cabin, no? Obviously your snowboard table is only as cool as your base, so that's why this Etsy vendor has theirs selling for a whopping $2,800. But it's this double-decker modern, clean snowboard table by British designer Simon Collings that really speaks to me.
As you can see, from chairs to shelves to clocks and tables and more, there's a world of projects waiting for your old snowboards and skateboards — nevermind your skis or surfboards! Fire up your favorite search engine and start looking for projects that really strike your fancy.