4 min read
Stylish Hexagon Tile Ideas for Your Bathroom
July 20 | 4 min read | admin
Tile is the best wall and flooring choice for the bathroom, since it's waterproof, easy to maintain, and won't mold, mildew, scratch, or stain. The number of options available for bathroom tile is astonishing. Tile comes in countless shapes,...
read more
4 min read
The Purrr-fect Flooring for Your Felines
June 02 | 4 min read | admin
June fourth is National Hug Your Cat Day, as if you needed an excuse to cuddle with your favorite kitty. But cats aren't all cupcakes and rainbows. They can really do a number on your flooring, from claw marks...
read more
5 min read
Spring and Summer Home Decor Trends for 2019
May 15 | 5 min read | admin
Spring has sprung, and while many homeowners are commencing with spring cleaning, others are updating their décor to reflect the latest trends. For 2019, there's a shift toward sustainability and nature, and maximizing light is key. Here, we look...
read more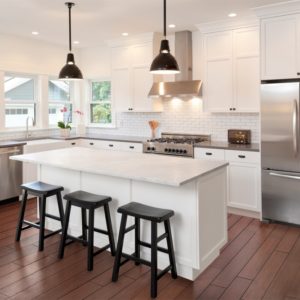 4 min read
7 Durable Kitchen Flooring Options to Inspire You
March 16 | 4 min read | admin
When it's time to remodel the kitchen, the possibilities are endless. That can make it tough to choose just the right materials and finishes, especially when it comes to the flooring, which has a major impact on the room's...
read more
4 min read
Checklist for Bringing Home a New Puppy
March 04 | 4 min read | admin
Monday, March 23rd is National Puppy Day in the United States. While there's nothing more adorable than a brand new puppy romping around your living room, adding a pet to your family is a great responsibility as well. You...
read more