One popular goal in undertaking a direction in interior design is the reflection of personality. And this often works best when that spark of personality is found in those who live in the space in question.
So, with that in mind, here's writer Maria Mathers on the subject of interior design, human personality, and how those ideas can intersect to make for a transformed interior.
***
When I think of people and their personalities, I've observed that their homes often reflect who they are and what they like. So what would a personality look like if you were invited inside for a chat? Let's take a look at a few personality types and peruse their décor.
Creative interior design personality
A fat calico cat is lounging on the rug in front of a stone fireplace when you enter into the creative personality's space. Bold colors like red, purple and yellow would catch your eye immediately in addition to walls that are covered in discovered art. Furthermore, you could expect to see a variety of furniture styles.
For example, a basic dining room table would be placed in the kitchen, but each dining room chair would be unique, after they were carefully located in different stores of separate towns. When asked to take a seat inside this personality, you would find yourself lounging on an overstuffed sofa with various throw pillows that must be rearranged for the proper back support.
Practical interior design personality
Leather furniture that is easily cleaned  can be one feature of this personality. Black and white artwork is hung in a straight line while the walls are painted grey.
Also, the floor beneath your feet is wood, stained in a dark shade, and you'll need to remove your shoes upon entering this personality's space. Moreover, you might need to leave the kids at home or bring your own disinfecting wipes and Windex.
Traditional interior design personality
You know there's a rice carved four poster bed in the master bedroom of this persona and the formal living room consists of hard fabric tapestry print sofas with cherry wood detailing. The walls are painted white with landscape art framed in solid wood frames embellished in an elaborate design.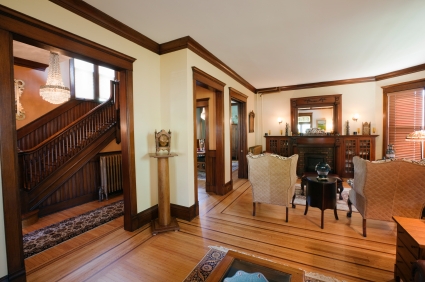 Also, if you're there for at least an hour, then you'll hear the grandfather clock chime and you'll probably be invited to enjoy a cup of tea.
Nostalgic interior design personality
You'll enjoy revisiting your childhood in this retro-styled personality. Or, if your childhood was more likely to include seeing your parents wearing legwarmers, then you may have fun visiting your grandparent's childhood.
You may even have the opportunity to relax in an art deco chair while your feet squish down into the orange shag carpeting. Upon looking up, you'll notice the Andy Warhol painting on the wall in addition to the bright green throw pillows and neon accents.
Modern interior design personality
Expect to receive a first-hand lesson in classic contemporary décor with glass topped tables, neutral wall colors and short fibered carpets.
If you decide to relax with a good book, then the track lighting will let you see the print clearly and when you bring a gift, avoid the tchotchkes as this element will not be suitable.
Well, now that you've had a chance to come in and have refreshments while appreciating a variety of personas, you can decide what yours is and decorate accordingly.
***
Thanks, Maria!
Maria Mathers writes about sustainable fashion & style for Martin and Macarthur. She sees koa wood as a great home furnishing option and koa wood ornaments are great gifts this year.    
Cheers,
Rob.
---
---