Reading Time:
2
minutes
There is a psychology behind colors, and a way to put them to use in your home. Here are some things to consider when painting or decorating your home to give you the most comfort out of each room.
Kickin' Kitchens
Image via Flickr by Sarah_Ackerman
There are several color hue choices you can use for painting your kitchen, depending on what feeling you would like to encourage while you spend time in it. Red and orange are commonly used tints in restaurants because they help to build appetite. If you love to cook and enjoy entertaining, try a shade of red close to the orange spectrum. If you prefer to keep your kitchen use to a minimum, blue suppresses appetite.
Yellow is popular because it catches sunlight through windows really well and creates a warm and inviting appeal. You can try any of these colors depending on the mood you wish to create, and have a fabulous cooking or dinning area.
Lovely Living Rooms
Warm tones such as pale yellow, beige, oranges are great to use in living rooms and foyers. Warm colors are welcoming and they are thought to stimulate conversation.
People want to sit and create a connection with one another. These colors are also great for a den, dining room, or any space that you wish to create an entertaining atmosphere. Try combing different shades like crimson, caramel, and chocolate that will really use the lighting in your home to create a soft and comfortable environment for both your family and guests.
Beautiful Bathrooms
Image via Flickr by Olga Ferrer Saladie
If you only use your bathroom to get ready and for personal hygiene, slow down the pace and create a room worth relaxing in. Pastels like buttercup and sea-foam are easy on the eyes and help you relax. These colors are good if you have a lot of natural light to play with. If you are lacking in windows, try colors that will look great in candlelight. A warm yellow or beige is perfect for the bathroom that gets used for bubble baths.
Balanced Bedrooms
Blues are great for bedrooms because they slow the heart rate down, making it easier to fall asleep.
Image via Flickr by Carolyn
Green brings a hint of nature to any room and induces a feeling of rest and relaxation. Yellow is also calming in the right hue, just try to keep it on the lighter side of the shade spectrum. If it is too bright, it is overpowering and distracting. Purple stimulates the brain and can look very artificial when used in paint. Studies show that people with purple rooms get the least sleep of any other color.
But, you can find balance by using accessories, trim pieces, and your favorite furniture pieces to offset any dominant color that you've got your heart set on.
Operational Offices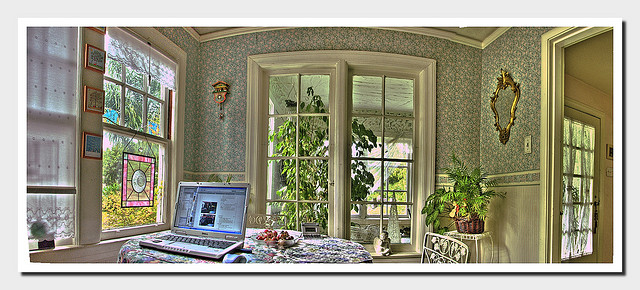 Image via Flickr by Bill Lim
Green is one of the best and the most unlikely color to use in an office. Green stimulates concentration and helps people focus better, plus dark greens like olive and forest look stunning with wood accents. Blue is good for being more productive, and yellow is optimistic which creates a better mood for a more enjoyable work station.
Creating a mood
Whether you're painting one room or all of them, choosing the right color helps create the mood and environment you desire for yourself, your family, and your guests. What are your plans for spaces when it comes to color? Tell me about it in the comments section.
---
---