Classy Halloween Dinner Party Ideas
Halloween is no longer a children's holiday focused on candy and mischief. Today, adults are also getting into the Halloween spirit with themed parties. If you'd like to host your own Halloween party this year, but you want to do something a little different, consider a classy Halloween dinner. Read on for all the food, drink, and décor ideas you need to bring this exciting party to life.
Experiment with Antiques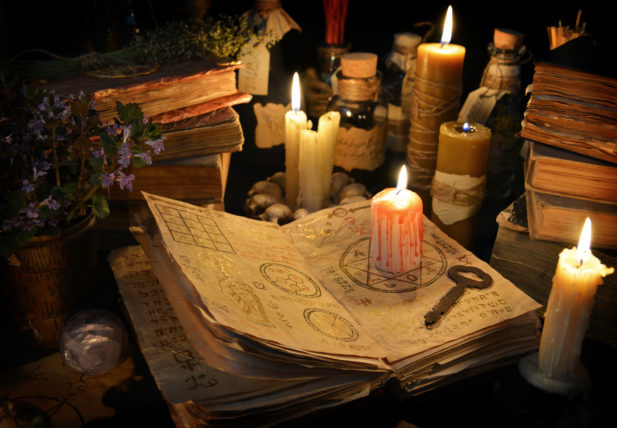 If you're looking for a way to create the perfect haunted atmosphere for your classy Halloween dinner, consider using antiques for your décor. Antiques are a wonderful option because you might have some in your home already. If not, you can likely find some great options at an affordable price at your local flea market. To create an eerie bookcase, look for antique books that have spooky titles, such as those by Edgar Allan Poe. You should also keep an eye out for books that have spiders, snakes, or bats on their covers or bindings.
If you're looking for some artwork to give your rooms a mysterious touch, old natural history books often have beautifully detailed scientific illustrations of bats, spiders, and other creepy creatures that you can frame and hang on your walls. Another option is gluing black silhouettes on some antique white plates. You can then use a wall plate hanger to display your creation.
Pewter candelabras are an excellent option for Halloween decorations because their dull finish blends in perfectly with other decorations. When you light some candles in your candelabras, let the wax drip down to give them a spookier feel. You can also use vintage cake stands to hold pumpkins or as serving trays during your dinner. Finally, pick up some antique apothecary jars to fill with anything from candy to miniature pumpkins.
Update the Bar Cart
A bar cart is always nice to have around for any party. When you're getting your bar cart ready for your classy Halloween dinner party, you have several options for decorating it. For a simple and elegant drink station, choose some faux flowers or leaves, pumpkins, and candlesticks for the décor. For cups, go with copper mugs to coordinate with the fall colors. You can also place a few drink bottles on top. On the second shelf of your bar cart, place a few more pumpkins, candlesticks, and any remaining drink bottles.
Another idea is to turn your bar cart into a candy bar. To create this look, use apothecary jars and beakers instead of candy bowls to showcase your sweets. If you have a color theme for your classy dinner, look for candy that coordinates. Otherwise, orange and black candy is always a classic choice. Finally, add some extra style to your candy cart by draping it in black tulle and cotton spider webs.
Pumpkins and Plaid
When you're looking for a classic way to decorate your table, consider pumpkins and plaids. For the centerpiece of your table, use bronze pumpkins surrounded by bronze candlestick holders and white candles. From there, go with gourds, leaves, and moss in bright and natural colors to spread over the rest of the table. Since your table's centerpiece will be so colorful, stick with white plates that won't distract. Bronze or gold utensils will also blend in nicely.

You have several options for incorporating the plaid into this design. A dark red or garnet plaid tablecloth will work nicely with the colors of the pumpkins and other decorations. You can also choose to stay within the color scheme and use orange plaid napkins. However, if you're interested in an unexpected pop of color that will really stand out on the table, go with blue plaid napkins.
Classy Candy Apples
For the perfect dessert that also makes an amazing decoration for your party, consider making some classy candy apples. What sets these apples apart from traditional candy apples is the glossy black coating. To create your own classy candy apples, stick some bamboo skewers into green apples. Next, combine sugar, water, corn syrup, and black gel food coloring in a bowl, and stir over medium heat until the mixture becomes smooth.
Once the caramel starts to boil, carefully dip the apples into the mixture. Finally, place them on baking paper, and let them cool for about an hour before serving. Once they cool, the coating on these candy apples will become hard. Therefore, it will be easier for your guests to crack and eat their apple if you give them a small black plate.
Serve the Right Booooos
No classy Halloween dinner is complete without a few drinks. To really help your guests get in the spooky spirit, serve them some easy-to-make Halloween cocktails. A pumpkin white Russian is a delicious drink that includes vodka, coffee liqueur, heavy cream, pumpkin puree, and a sprinkle of pumpkin pie spice on top. To make your own witches' brew, gently heat gin, Merlot, late-bottled vintage port, and sugar over a low flame. Once it's warm, you can serve it with a garnish of orange slices, lemon, and a cinnamon stick.
A jack-o-lantern is a bright and colorful drink that includes cognac, orange juice, ginger ale, and triple sec. To make it, simply combine the ingredients in a shaker, and then serve in an old-fashioned glass. Another colorful drink to consider is the Beetlejuice. To create this bright green drink, combine apple brandy, apple cider, rosemary simple syrup, and lemon juice in a shaker with ice. Then strain into a martini glass, and serve with a garnish of basil.
For something your guests won't forget, create a pumpkin spice Negroni. For this drink, you need to dry shake Campari, Frangelico, gin, pumpkin puree infused syrup, and egg white. Next, shake again with ice, and then strain into a small pumpkin. Finally, garnish it with cinnamon and pumpkin seeds.
When you're interested in putting together a classy Halloween dinner party that your guests will remember for years to come, these ideas will help you take care of everything from how to decorate to what to serve.
Resources:
https://antiquesdiva.com/antiques-diva/spooky-antiques
http://inhonorofdesign.com/2016/10/no-tricks-just-treats/
https://www.elledecor.com/life-culture/entertaining/g2660/fall-centerpieces/?slide=3
https://www.builddirect.com/blog/color-palette-of-the-week-pumpkin-time/
https://simply-delicious-food.com/poison-toffee-apples-halloween/
https://www.elledecor.com/life-culture/food-drink/g3159/halloween-cocktails/
---
---