Space, space, space.  I need my space!
Feeling at home means being contented in the space you're in, living in harmony with your surroundings, including with all of your worldly goods.   Spring cleans, garage sales, and trips down to your local thrift store to unload unwanted items are all great ideas when trying to control clutter and in trying to maximize space.
But, after these other measures are taken,  what's to be done about this singular problem of clutter, chaos, and being crowded out by your own belongings? Well, when you need more space, it could be time to rethink how you're currently using the space you've got.  As such, I've scoured the trusty World Wide Web to find some innovative ways of doing that.
Here are 12 examples that can be applied to large storage spaces, or simple innovations that make all the difference, even if the spaces being saved are relatively small.
Take a look
1. Storage Space Under the Stairs
Your staircase may be one of the most underused spaces in your home, with the potential to save you from the dark forces of clutter.  As a storage space, it could be out with the cobwebs and in with your books, boardgames, personal records, tools, or anything else that is currently taking up too much space.
For more ideas on staircase storage ideas, check out workbenchmagazine.com
2. Storage Space in Interior Windows and Windowsills
As long as they're letting light in, why not mulitask on your interior windowsills?  Hang up light-colored or white pockets of fabric on your windows for a verticle storage space that lets the sun shine in at the same time.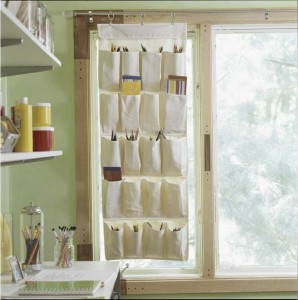 Get more ideas about creative storage in your study from diyideas.com
3. Shoe Storage Space
To avoid the jumbled mess that often typifies a bedroom or hall closet, with shoes of various sizes and design crashed together like the worst traffic jam in history, why not look at an alternative?  Here are some examples:
Take a look at a few more examples on fash-eccentric.com.
4. Storage Space 'Balconies'
In Europe, where homes are smaller on average, but where thinking outside of the (storage) box tends to be greater, necessity is indeed the mother of invention.  These storage 'balconies' are a sight to be seen in Frankfurt Germany, and sourced by way of a chain of stores which may be familiar – IKEA. For urban living, they save space, and add visual character to the whole block too.
For more information on these unique storage containers designed for residential storage, check out theinspirationroom.com
5. Bike Storage Space in the Garage
Now we turn to another problem area of many homes – the garage.  This location is notorious for being something of an 'anything' space, in that homeless items often find their way in here. Yet, your garage is a place where you need to be able to access important items on a daily basis – like your bikes.  But, in this example, the walls can save the floor space you need to be better able to control clutter, and still be able to get to your bike.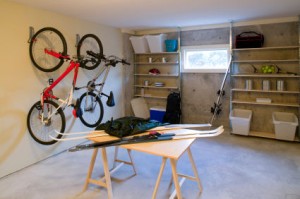 Learn more at life123.com
6. Storage Space Under the Stairs, Part 2
I don't know about you, but I find the presence of books in a home to be comforting.  Having said that, sometimes if a collection gets to become sizeable, overstuffed bookshelves can take away from the visual serenity of your home.  So, why not get creative, save space, and hang onto the comforting presence of your favourite novels, stories, cookbooks, etc?  Once again, the stairs come forward as a great untapped resource.  Take a look.
For more about storage under stairs and other ideas, take a look at danetti.com.
7. Storage Space in the Study
When in your study, being able to concentrate is paramount.  And with this in mind, having an efficient storage space is key in avoiding clutter, which is something that very easily disturbs that concentration.  So, in maximizing all vertical surfaces, like pockets in the exterior panels of desks, and generously spaced shelving, not only makes for less clutter, it makes for better work, too.
Take a look at these other ideas for efficient storage spaces.
8. Storage Space for Pens, Stationary, and Art Supplies
For such a common item, a pen when you need one can be as elusive as the Holy Grail.  Yet, sometimes the plethora of pens on hand can be equally troublesome, taking up desk space, and interfering with your concentration yet again.  So, when you've got a requirement for mulitple pens, or art supplies, properly compartmentalized storage for stationary can make all the difference to your peace of mind when getting things done, or engaged in expressing your creativity.
For more ideas on how to organize your stationary storage, check out missjeannemania.blogspot.com.
9. Storage Space in Kids' Rooms
These rooms are also notorious areas for clutter.  And yet "clean up this room!" can be more easily achieved when everything has a home to go to once an activity is over.  Wall units with cubbies are a great way to go.  I had one when my daughter was younger, and when the amount of toys rolling in from well-meaning, generous relatives meant having to make sure we weren't surrounded by space-gobbling stuffies.  The same goes for baskets (we had wicker ones that were very durable, and if I do say so myself, stylish too.).
For more ideas for kids' room storage, visit decorating-cool-kids-rooms.com
10. 'Magnetized' Storage Space
There have been a lot of innovation when it comes to storage in the kitchen, from lazy Susan-style cupboard storage, to ceiling rods that allow one to hang saucepans rather than fight them out from under the sink.  But, I thought this little innovation was WAY cool.  Even if not a lot of space is saved, it's certainly efficient.
For more ideas like this one, investigate the well-named site organization-makes-sense.com.
11. Floor-to-Ceiling Storage Space with 'facade'
Some (like me!) enjoy the presence of bookshelves and books in a space.  But, some don't.  So, consider this solution which incorporates a curtain that covers the jumble of color that a bookshelf represents, but still allows for storage.  Come to that, why not build a moving wall on a runner?  You'd be able to hang art, or create a wall mural, for when the bookshelf doesn't need to be accessed.
12. Storage Space in the Trunk of Your Car
Technically, this isn't a storage issue 'for your home' per se.  But, it kind of is.   After all, for those of you with cars, the trunk can become a mobile broom closet, a clutter magnet, a black hole of stuff. This impacts you in a lot of ways. First, it becomes a source of frustration when you go grocery shopping, and you can't fit all of the new things you've bought because they're being choked out by the old stuff.  Second, finding things you need can take up more time than you think when you have to be somewhere fast.  And third, letting the clutter pile up in your car means burning more fuel to account for the extra weight.
So, how do you manage clutter in your car? Take a look a trunk organizers, that only allow for the essential 'permanent residents' of your vehicle, leave room for your shopping, and allow you to access what you need faster.
So there you have it, everyone; 12 innovations to save you storage space, and make your life a little less cluttered. Have I missed any important ones?  Do you have links to share on this subject? Let me know in the comments section of this post.
Cheers,
Rob.
---
---