Reading Time:
3
minutes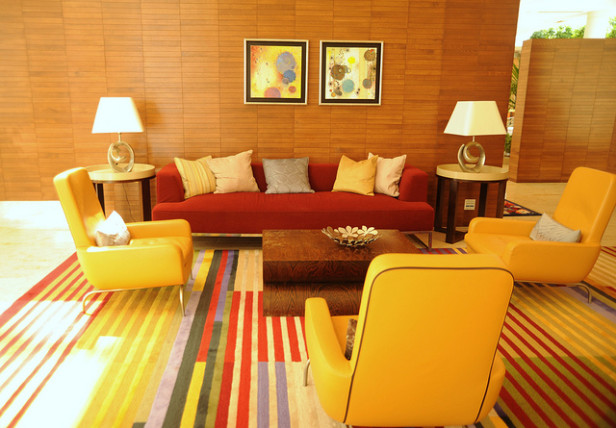 Warm and sunny home decor isn't just for summer. Here are some ways to create visual warmth with your home decor in more ways than one at any time of year.
Warmth isn't just a physical feeling you get when you snuggle up next to the fireplace. You can also create visual warmth with home decor and design in your living space. If you're looking to add some inviting visual warmth to your house, try incorporating a few of these home decor and design ideas.
The Key to Adding Visual Warmth with Home Decor
Use warm colors in the room
Adding color to your walls is the best way to change the look and feel of a room. Stay away from cool colors such as green, purple, and blue and go for warm colors like red, yellow, and orange. If four red walls feels a bit too much for your decorating tastes, you can also paint one accent wall or hang artwork that's primarily painted in those three warm colors.
Add some live plants to the room
Live plants are another great way to create visual warmth in a room. Plus, not only do you get to enjoy the visual warmth that live plants bring, you also get the added benefit of cleaner and fresher indoor air.
If you have a room that gets a lot of natural sunlight, opt for plants such as a dracaena, philodendron, and English Ivy. However, if you have a room that doesn't receive a good deal of light, it's better to go with plants like a rubber tree or snake plant since they don't require much light to survive.
Choose soft furniture
Nobody wants furniture that's lovely to look at but too nice to actually use. As an alternative, look for furniture that strikes the perfect balance between the two. Try out your furniture before you buy it and make sure that you like the way it looks and feels. When you're deciding on the right pieces, go for the ones you'll look forward to relaxing on after a long day at work.
Add accessories you want to touch
While that metal coffee table and those glass candlesticks look beautiful, they don't exactly offer a warm and inviting feel. Instead, add accessories to your room that look inviting to touch. A wood coffee table, a large wool throw, fluffy pillows, and a textured rug are all pieces that not only add warmth, they also add visual interest to the room.
Pick the perfect lighting
Lighting can work wonders when you're looking to achieve a warm interior design. Every room needs a different type of lighting depending on the tasks being completed in that room. The kitchen needs overhead lighting so you can see what you're doing. In the dining room, the table should be the brightest spot in the room.
In the bedroom, you want soft and cozy lighting that's pointed away from the bed, while the bathroom needs overhead lighting and sidelights. Finally, the living room needs a combination of floor lamps and table lamps so that the light shines both up and down.
Make your own rules, as always
While these design tips can help you achieve visual warmth in your home, it's also important to remember that making your own rules and surrounding yourself with things you love can also make your home cozy.
Resources:
http://www.realsimple.com/home-organizing/decorating/decorating-tips-techniques/interior-lighting/lighting-each-room
http://www.doityourself.com/stry/creative-ways-add-warmth-family-room#b
***
What warm color palettes attract your eye the most? Do you feel that a color combination has an effect on your emotional state? Tell us your thoughts and stories in the comments below.
---
---