Reading Time:
3
minutes
In this next installment of our color combination series, I want to cover a color that's a bit of a stranger to me: yellow. While I'm all for warm colors, yellow always seemed a bit… bright to me, and I never wear it. However, as a decor color, it can instantly light up a room, like indoor sunlight.
Yellow is particularly difficult to match, especially as a main color, but let's explore some of the more successful combinations.
Yellow and purple: opposites attract
As I was looking on my color wheel to determine the best combinations with yellow, the obvious first choice is its complementary (opposite) color, in this case purple. But on my wheel, it looked a bit strange. The bright, saturated yellow seemed to clash with the dark, moody purple. But when appropriately shaded and combined with clever neutrals like grey, yellow and purple actually do work well together and bring up a sense of joyfulness and femininity.
The combination works best when purple is a little more dominant, and when the shades are a little muted. However, the contrast is definitely pleasant to the eyes, and I can see it for a boudoir or a teenage girl's room, feminine but not too girly. The joy of yellow balances the moodiness of purple.
Yellow and red: light and warmth
I didn't cover this combination in my article about red combinations, but red and yellow, as primary colors, are meant to be with each other. It's a warm color combination that recalls fire, autumn leaves and even the multicolored skin of some apples.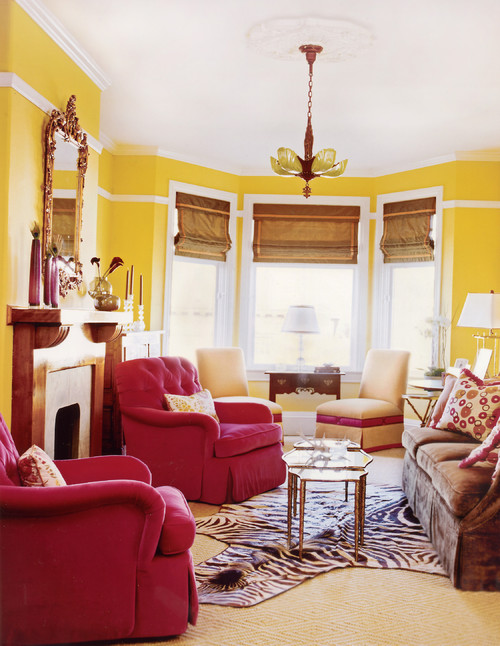 Eclectic Living Room design by San Francisco Interior Designer Kendall Wilkinson Design
This combination can easily be designed with an Eastern look in mind: think Indian saris and Chinese cheongsams, two pieces of clothing that often use this color combination. It can be made masculine or feminine depending on the patterns and lines: softer floral patterns and lots of cushions for a more feminine look, and angular lines and geometrical shapes for a more masculine approach. It's good for a warm, happy bedroom, but also for a welcoming kitchen or even a living room. White is the best neutral to keep the effect light and airy.
For a more feminine room, yellow and pink is a great combination derived from this combination of two basic colors. Shades of light pink and even fuchsia work well with yellow, and with a dash of orange, you've got the perfect warm-colored, bright teenage girl's bedroom!
Yellow and green: a trip to the cottage
Yellow and green is the kind of combination that instantly brings to mind one of two things: 60s decor or the floral, pastoral look of a country cottage guest room. Although you're not limited to these looks (there are tons of great modern designs using this color combination), you have to be weary of these visual clichés if you decide to use this scheme.
What I like about putting green and yellow together is the feeling of walking into a field covered in yellow flowers. It's an instantly comforting childhood fantasy, and brings up feelings of happiness, freedom and innocence. Although I personally wouldn't use it for my own bedroom, it's a perfect neutral-gendered scheme for guest bedrooms and cottage living rooms. With the right accessories, it will make anyone instantly feel welcomed and at home.
Yellow and orange: room on fire (figuratively)
Yellow and orange is another one of these 60s-or-Eastern color schemes, like yellow and red or red and orange. These three colors being analogous on the color wheel, it makes sense that they would work well together.Orange complements yellow by giving happy yellow a sense of action. Orange being the most visible of all colors, yellow tends to play second fiddle here by lighting up (and "happying up") the active orange.
Again, like yellow and green, it has the advantage of being gender-neutral (depending on the patterns and lines) and like yellow and red, it can also be used in a more feminine Eastern design with the right patterns and textures. A yellow and orange bedroom with lots of white will make for happy times, so it's a great combination for teenagers. In the dining room, yellow fabrics with orange dinnerware will make happy meals out of your family dinners.
Have you dared a yellow-combination room in your house? Tell us what color you think works best with that most happy and sunny of colors!

---
---