Commercial-Grade Ceramic and Porcelain Tile 101
While ceramic and porcelain are terms often used interchangeably when describing tile, there are actually differences between the two. Whether you're interested in tiles for outdoors or using tiles in a heavy foot traffic area in your home,  it's important to understand the differences so you choose the right one.
Main Difference Between Ceramic and Porcelain Tile
In simple terms, porcelain tile is a denser type of ceramic tile. When you're thinking about a tile for outdoor use, commercial use, or for areas in the home that receive a lot of foot traffic, porcelain tile is the type of tile to consider. When compared to ceramic tile, porcelain tile is denser, more durable, and more resistant to water.
Porcelain Tile for Outdoor Use
When you're trying to decide on a tiles for outdoors, porcelain is the best choice. Whether it's an outdoor porch at home where there's plenty of heavy foot traffic and furniture or grills dragged across the tile, or a commercial space like a restaurant patio where safety and beauty are important, porcelain tile stands up better than ceramic tile. Porcelain tile is denser than ceramic tile, so it's more resistant to damage from chips and scratches.
Even so, when you're looking for a porcelain tile for outdoor or heavy traffic use, consider one that has the color fired throughout instead of only on top. When you chip or scratch a ceramic tile, you'll see a different color under the top glaze, and that makes the damage more noticeable. However, if you chip or scratch a porcelain tile where the color keeps going, the damage is less noticeable because it blends in.
Standing Up to Moisture
Along with being denser, another reason porcelain tile stands up better for a choice for tiles to be used for outdoors because it has a low water absorption rate. In order for a manufacturer to call a tile certified porcelain, it must pass the American Society for Testing and Materials (ASTM) C373 test with a water absorption rate of 0.5 percent or less. To pass this test, a tile is weighed, boiled for five hours, and then left to sit in water for 24 hours. Finally, it's weighed again. If it gains less than half of 1 percent of water from its dry weight, it's considered strong enough to receive the porcelain title and a rating of impervious.
Manufacturing Process for Ceramic and Porcelain Tile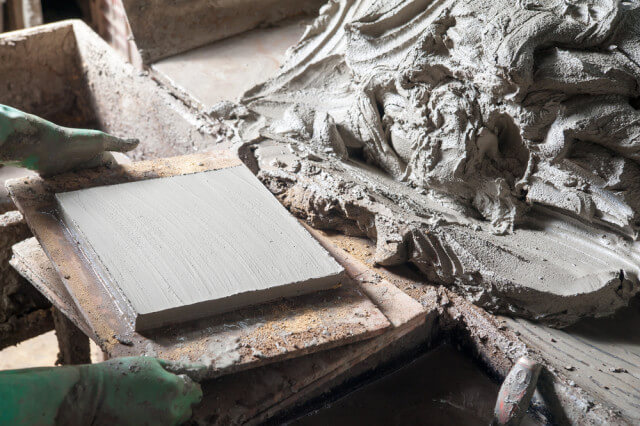 Whether porcelain or ceramic, both types of tile have similar manufacturing processes. Ceramic tiles are made with water, minerals, and clay. Manufacturers shape this mixture into tiles, and fire it in a kiln at high temperatures. Since ceramic tile is porous, it's sometimes glazed to give it added durability.
Porcelain tiles are made with a sand-like mixture that often contains clay, quartz, and feldspar. The tiles are also placed in a kiln and fired at high temperatures. However, where ceramic and porcelain tile differ is that porcelain tiles are heated at even higher temperatures. These high temperatures are what make porcelain tile stronger, more moisture resistant, and better able to withstand different weather conditions than ceramic tile.
What Is the PEI Rating System?
The Porcelain Enamel Institute (PEI) is a volunteer group of enamelers and companies that provide equipment, materials, and technology to make porcelain tiles. Founded in 1930, PEI is headquartered in Norcross, Georgia, and it seeks to advance and promote the porcelain tile industry. Part of this advancement is the PEI Class Rating, which gives you a better idea of where you can install a tile.
Group 0 – These tiles can't handle any foot traffic, and you should only use them on walls.
Group 1 – These tiles can handle very light foot traffic, like bare feet. This makes them good for residential bathrooms. They can also be used on commercial or residential walls.
Group 2 – These tiles are good for light traffic rooms like residential bedrooms or bathrooms.
Group 3 – These tiles can handle moderate foot traffic. Therefore, they're good for nearly any room of the house, except kitchens and foyers. They also hold up well enough for light commercial areas, such as reception areas and offices.
Group 4 – These tiles stand up to moderate and heavy traffic. They're ideal for parts of the home where foot traffic is high, such as a foyer or kitchen. They're also recommended for light to medium commercial use, like hotels, restaurants, lobbies, and corridors.
Group 5 – These are the highest-rated tiles available and can stand up to heavy foot traffic. As such, they're ideal for areas where you get a lot of people and an above average amount of dirt or moisture, like swimming pools, shopping malls, and building entrances.
While ceramic tiles can range from a PEI Group 0 all the way up to a PEI Group 5, most are on the lower end of the rating system. On the other hand, the majority of porcelain tiles tend to have a PEI rating around 4 or 5.
Additional Thoughts to Consider
If you plan on installing porcelain tiles in an outdoor or heavy traffic space yourself, there are a few additional considerations you need to keep in mind. Since porcelain tile is more durable and moisture resistant than ceramic tile, it's often more expensive.
Additionally, while the density of porcelain tile makes it perfect for heavy foot traffic, it also makes it difficult to cut. Therefore, you should also consider getting a wet saw that has a diamond blade. This type of saw is strong enough to cut through porcelain tile and reduces the amount of accidental breakage you might get with a regular tile saw.
It doesn't matter if you're deciding on a commercial-grade tile for your home or business, there are advantages to choosing porcelain over ceramic. No matter which type you choose, be sure to check the PEI rating so you know you're getting a tile that can stand up to the traffic it will receive.

Sources:
https://www.tcnatile.com/images/pdfs/Is%20It%20Really%20Porcelain.pdf
http://homerenovations.about.com/od/tiling/a/Porcelain-Tile-Vs-Ceramic-Tile.htm
https://www.builddirect.com/learning-center/flooring/porcelain-tile-rated-hardness/
http://www.porcelainenamel.com/About_PEI/
https://www.builddirect.com/learning-center/flooring/porcelain-ceramic-tile/
---
---