11 Craziest Halloween Decorated Homes
When it comes to the holiday spirit, it seems everyone saves their decorating energy for Christmas – it's not often that people go all out for any other occasion. Well, with Halloween just around the corner, we decided to prove that there are a few October diehards out there. Enjoy these impressive Halloween homes.
1. The Pumpkin Palace
This home is one of the subtler of the bunch but if you look closely, you'll see well over 100 neatly carved pumpkins lighting up the night. Though the other houses might be a bit more chaotic in their approach, imagine the time it took to carve each and every Jack-O-Lantern!?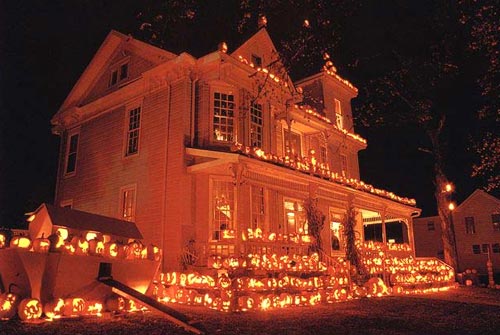 2. The Haunted House
While most of the homes on this list go for a more cartoon-ish appeal, this spooky place takes a legitimate crack at the classic haunted house. Sure, by day it's probably a nice suburban home but with some creative lighting, they've managed to turn their upper-middle-class home into an eerie site.
3. The Neighborhood Favorite
Here's a video of a lady in her neighborhood that has earned the reputation of dominating when it comes to Halloween decorations. Relaying mostly on lights and a few props, this is a pretty impressive display of holiday cheer.
4. The Casa de Cartoons
Speaking of cartoon-ish, the owners of this home definitely went for the novel look over the authentic. Showcasing a twelve-foot Homer Simpson, Sponge Bob Square Pants and a pair of life-sized Incredible Hulks (moonlighting as Frankenstein), there is nothing subtle about this Halloween home.
5. The Vegas Holiday
Whether this is a quaint suburban home or a tacky Vegas hotel, we may never know but it's impressive nonetheless. Who knows what flamingos and frogs have to do with Halloween but what is certain is that the decorating team behind this crazy Halloween house certainly left their shame at the door and went all out for the holiday.
6. The New York Nightmare
You know you've done a substantial job of decorating when you can't even see the house itself! Yep, this New York City residence definitely went all-in for the holiday when they slathered their tiny lot with more decorations than square footage.
7. The House of the Living Dead
It's probably a more impressive site by night but this place has done a great job of covering such a large lot with plenty to see. Aside from the impressive amount of skeletons, zombies and tombstones occupying the home, you have to wonder where they keep that 6-foot tarantula for the other eleven months of the year.
8. The Hungry House
Leading the Less is More campaign, this Halloween home doesn't have a lot going on but it's most definitely one of the more ominous of the bunch. Boasting nothing more than a couple stylish Jack-O-Lanterns, the fact that this home looks alive (and out to kill you) is reason enough to make this list.
9. The Tiny Terror
Judging by the picture, there's not a lot of room at this small home for extensive decorations but that doesn't seem to limit the visionaries. Getting the most bang for their buck, this humble home has enough Halloween eye candy to compete with the big hitters.
10 . The Suburban Graveyard
Making the list as the last private residence, this friendly home turned eerie graveyard is a site to see. Though it's nothing more than a collection of store-bought tombstones, you'd have to be pretty brave to be caught there after dark.
11. The Corvinestilor Castle
Of course, you can't have Halloween and haunted houses without Count Dracula and the iconic castle that started it all. Topping the list for most impressive Halloween decorations is the Corvinestilor Castle in Transylvania because it doesn't need decorations to make it any spookier than it already is – the legend and the architecture speak for themselves.
---
---