Take a corner of your yard, and turn it into a special secret garden. Here are some ideas that may be applied to your own outdoor living space.
***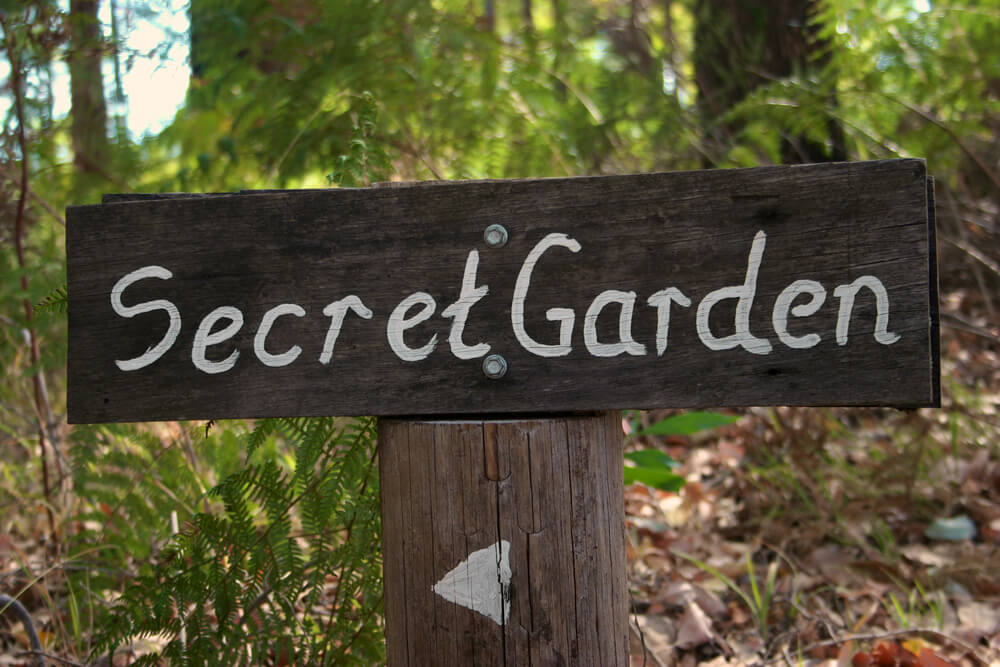 The holidays are long gone, and the days are noticeably longer. It's time to plan your garden and landscape projects for the upcoming year. Here's one of my ideas!
I have almost an acre of land, and about half of it is open and growing wild. There is a slight slope to the east, and I've always dreamt of putting a studio, yurt or dome near the bottom of it. There are some large deciduous trees and an irrigation ditch in one corner giving it a cozy feel.
Vital memories of gardens
Before I was born, my dad had planted a conifer grouping near our little brook. I don't know if his plan was to leave enough space in the center of them for us kids to play in, or if we wore that space by playing in it! Nevertheless, my friends and I spent a lot of time in there to hide from adults, other kids, and the road.
Those memories make me want to create a secret garden area under my trees, so the ideas have been flooding in.
Location considerations
I have great mountain views from the house, but the trees obscure them. The view in the other direction is a cluster of houses, which would need to be blocked. A complete enclosure seems like the best idea. I don't need to see out, and if it's a secret, I don't need others seeing in!
Instead of a straight walkway, I'd put in a serpentine pathway of cobblestone or crusher fines from the house. A border of various size native plants would keep that wild grown look and disguise it a bit. The path could disappear behind a grouping of evergreens to create mystery.
Garden ideas
This could be much like an outdoor room with walls for secrecy. Cedar lattice and a fast-growing vine, like Silver Lace, would cover it up in one growing season. Fragrant blooms, like Honeysuckle, would make it a dreamy place to relax.
A flagstone floor can accommodate a table and chairs and a couch making it an extra living room. Flowers can be planted around the inside perimeter for color, visual interest and more fragrance. A small gazebo can hold a seating area or have a hammock strung up in it. Vines could actually be grown right on it for privacy.
Play for children
Too bad my kids are grown and gone. What fun to create a secret place to stimulate their imaginations – sort of like an outdoor blanket fort!
I'd make the walls of lattice and vines with an archway and gate as the entrance. Inside, there would be a soft groundcover floor, fragrant plants, a large dead tree stump I have in one of my own gardens, a water feature, and small-scale table and chairs. A magical feel would come from whimsical decorations of fairies, elves, frogs, rabbits, mushrooms, colorful insects and birds, wind chimes, and brightly painted flowers. I'd even add a fairy garden or two in old clay pots. It makes me want to be 5 again!
Urban necessity
As these designs ran through my mind, I realized this is probably a good idea for urban and suburban yards. Privacy is an important part of city living, and it can be accomplished with walls of plants or a wooden fence.
The fence can be painted in fun colors and decorated with faux windows or art. Upcycle salvaged materials for a unique gate that passersby can enjoy. A visually interesting serpentine stone path can wind through ornamental and edible plantings to a seating area or hammock. An urban yard like this is an extension of the home. Consider eating and playing areas to get the most use out of it.
Planning
It's winter – time to get cozy and plan your projects for this year. Sketch it out, make a plan, figure a budget, and dream about your new secret garden. I am!
---
---