Creating Reading Nooks: Inspired Secret Spaces for Summertime
Reading Time:
2
minutes
If you're like me, than nothing beats a really, really good book. I'm always looking out for special places to read–little reading nooks and corners that are cozy and fun to read in. Sometimes I go to old favourites, like the bay window in my room or the sunny step on the stairs right under the skylight. Other times, a little bit of creativity is needed: I've thrown pillows into the empty bathtub, even read in the cool wine cellar during an especially scorching July.
I did some travelling with a whole bunch of book-lovers recently, and we found some truly enchanting places. A friend and I did some hiking in Glendalough, Ireland–one of the most naturally stunning places I've ever seen. It's an ancient monastic settlement situated in a glacial valley, with rolling emerald hills peppered with sheep. It used to be full of pilgrims, who believed seven trips to Glendalough was the equivalent of visiting Jerusaleum.
We did some hiking in Wicklow Park until we got a complete view of the Lower Lake and the forest. The first thing we did? Pulled out our books, of course…
Now, I'm inspired to find special reading nooks a little closer to home. One of my favourite summer searches is finding a place that's equal parts shade, sun, and soft. As Dorothy said, you don't have to go looking further than your own backyard. However, I can't help but daydream about outdoor reading nooks and cozy corners that are perfect for reading, eating, napping, or chatting–doing whatever it is for you that reading is to me. Take a look at some of these sweet snapshots, both for inspiration and for every day.
Treehouse magic and hanging chairs for the backyard
If this were my treehouse, I'd never spend time in my real house. Takashi Kobayashi makes every adventurer's dream a reality with the rickety wraparound staircase that offers the perfect lookout for treehouse thieves. Like a hybrid form of nest and egg, this original tree house is ruggedly cozy.
If you don't have the Japanese tree house designer's number in your contact book, then this hanging egg-shaped wicker chair will offer the same cozy atmosphere. The cushions bring the comfort of the indoors, while the wicker keeps this fun piece of furniture for an outdoor living space.
Canopies and umbrellas for the beach and backyard
Extravagant canopies and draping make this seaside setting surreal–a dining room without walls.
The famously bright umbrellas of Deauville, France keep the beach fun and casual (not to mention much cooler). Plus, it's nice that other beach goers don't see you, and you don't have to see them.
But for something in an outdoor living space with a more backyard-scale, or even something more portable, try this green-friendly umbrella. The pretty parasol is made of materials including bamboo and cotton.
Hammocks: Just Hanging Around
Tucked away in the corner of a garden, this wood and cloth hammock is simple and perfect for wasting away lazy summer days.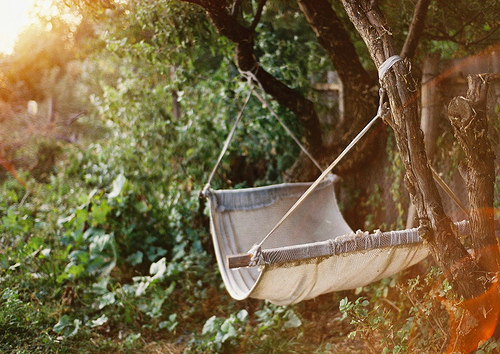 There's no danger of swinging upside down and falling out of your hammock if it looks like this. This will hold the whole family, plus the pets.
If you're interested, OutsideMom.com offers instructions on how to make a hammock for yourself.
These are just a few little spaces that could make a big difference in your backyard. Where are your favourite places to read (or picnic or nap) during the summer?
---
---