Creative Sleeping Arrangements For A Too-Full House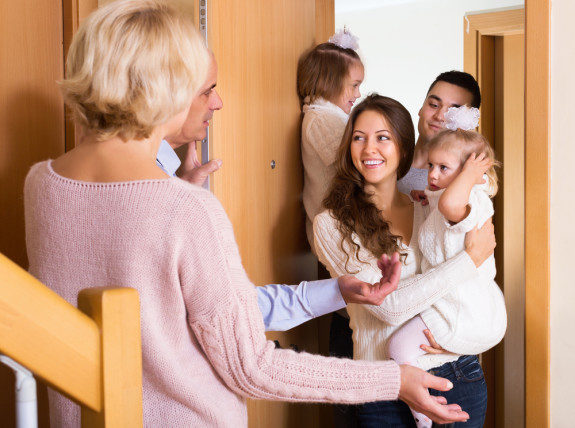 Your guests need a place to sleep, especially when visiting during the holidays. Why send them to a hotel when you can use these creative sleeping arrangements?
***
A few years ago, my best friend traveled more than halfway across the country to spend time with us. She flew in to our closest airport with her three awesome kids in tow, and we spent that day catching up, sipping good wine, taking hundreds of pictures and letting the kids have the run of the place. But when night came, we faced a dilemma: Where would everybody sleep?
At the time, we lived in a little apartment. There was barely enough room for us and our kids, much less four other people. But we got creative, and we all managed to get good sleep, and even have some fun while we were at it. Here are some ideas that worked for us, and some extras that just might work for you, too.
Convert the furniture
Obviously, a sleeper sofa is the easiest way to provide more space for more people. There are other options, too. One of the most comfortable nights of sleep I ever had was on a sleeper armchair. The enormous ottoman pushed right up against the chair and created an instant bed that felt like sleeping on feathers.
If you know that you will have guests over more than once in a blue moon, consider investing in a daybed rather than a sofa. This converts so easily that you won't give it a second thought. For kids rooms, a futon makes a great seating area and folds down to a perfect bed for their guests.
Sleep on air
Air mattresses used to be thin, flimsy things, but you might be surprised by just how durable and comfortable they are these days. Be sure to purchase a high-quality mattress. Plan on spending about $200 for a good one, more if you prefer the bells and whistles.
A powerful pump can get the mattress ready in no time. The really nice ones have down-like covers and sturdy sidewalls, so they don't collapse when someone sits on them. When your guests are gone, fold it up and slip it into a suitcase or underneath your own bed.
Camp out
This works especially well if some of your guests will be children. Set up a tent or two in the backyard (or the living room!), give them lots of blankets and flashlights, carry out a basket filled with fun snacks, and let them have fun.
They will absolutely love the thrill of spending so much time with their friends — and hey, it's camping! This also works for adventurous adults, especially if you stay up too late, roast s'mores and break out the good wine.
Make some creative moves
Though your house might seem like it doesn't have enough space, you probably have much more than you think. That's because we get so accustomed to way our furniture is set up that it's tough to think outside the box. But while your guests are there, it's okay to push a bed up against that bookcase, and it's time to slide the couch up against the desk. Sure, it makes it interesting to get around, but it also opens up significant floor space.
You can also look to places that you would never consider as a sleeping space. The floor of a big closet might make a cozy spot for a couple of little kids looking for an 'indoor camping' adventure. Speaking of indoor camping, why not create a fort underneath the kitchen table, complete with blankets and pillows, and let them sleep in their own little hideaway?
Remodel the place
Yes, this goes to extremes. But it might be worth it in the long run, especially if you don't plan on giving up your small space anytime soon and you will be having frequent guests. A murphy bed built into the wall can be a wonderful way to save space but give your guests a comfortable place to sleep.
Ask a contractor to build shelves into the bed, so that when the bed is tucked away into the wall, you've got an attractive bookcase. Want to make it even easier to fold down when the time comes? Instead of shelves, go with drawers that lock.
Give in and go out
If you have truly used up every available space, if your guests are stacked up like sardines, if you can't walk through the rooms for all the air mattresses, it's time to give up and do something different. Something very different, like renting a small RV and parking it right outside your door.
Not only will it give you more storage and sleeping space, it will feel like a fun vacation, right there at home. Just be sure to weigh the costs…sometimes, a hotel room really is the best option.
---
---