Curtains and window dressing of all kinds add a certain practicality to spaces. But, they are also a texture, a color accent, and have more to do with the visual effect of a room than we often think.
In this guest post by home decor writer Matt Chappell, the role of curtains, and including how to choose them, is revealed to have subtle, but important impact; a way to rejuvenate a space and bring out its charms as a whole.
***
There are many ways that you can create a sense of rejuvenation in a room that is used very often, such as a living rooom. Revitalizing  home décor can have a big impact.
Often, to achieve such an effect, only small alterations are necessary. The idea is not to entirely alter a room's décor but to introduce flashes of difference. One easy way of achieving this is with curtains.
You may have had the same set of curtains up for the entire time you have lived at your house. While there is absolutely nothing wrong with this, you may be surprised at how much of an impact a new pair may have. Before you do replace your curtains, there are a few key points to consider.
Choosing curtain colors
The biggest thing to consider when considering changing your curtains is color. We all know how much color can have an effect on your mood and so it makes sense to use this to your advantage – especially at such a potentially grey time of year!
Think of this as your chance to create an enlightening atmosphere right in your home. Lighter and brighter colours obviously have an uplifting effect, but darker colors of a tertiary pallet can also have a great impact on your perception of a room.
Curtain patterns and effects
Patterns create an interesting effect, or whimsy, which can detract from a sense of boredom in your room. They can also create visual effects that alter the appearance of your room and its dimensions. For example, curtains with vertical striping can serve to create the illusion of higher ceilings.
In a room of neutral décor, adding curtains with neutral backed patterns can introduce a sense of 'busyness' that livens up a room as well as introducing splashes of colour. The trick is to use a little to great effect instead of overcompensating and creating a room dominated by its curtains.
Texture
Pattern can be seen as a visual texture, but it makes sense to consider the impact your choice of material has. Velvet style materials can be luxurious and rich but may also seem dull as they have a tendency to absorb light, which is particularly apparent in darker colours.
The opposite can be said for sheer materials as they are more likely to reflect light and appear shiny. These varieties of materials have their allure and their properties can be used to great effect – it simply takes careful consideration as to what you would like the end result to be. Some patterned materials add an extra sensory dynamic by featuring raised detailing which can increase the impact and perceived intricacy of a design.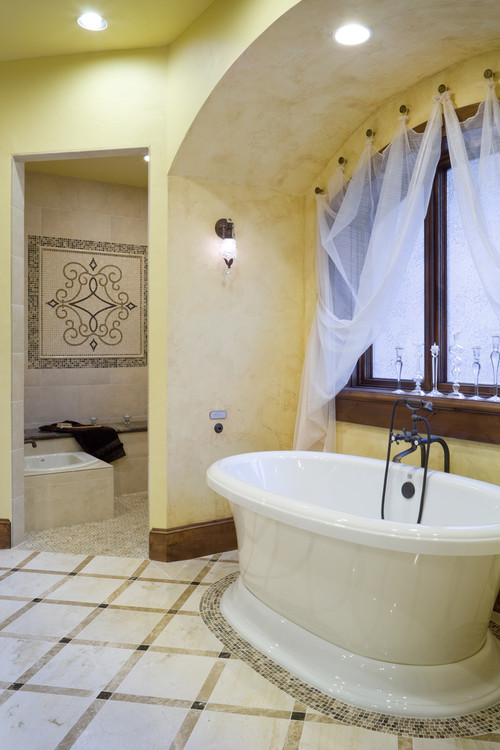 Practicalities of curtains
There is no sense installing curtains that are likely to require constant dusting or are too light to serve their function as light obscuring drapes. As mentioned before, materials such as velvet have a tendency to absorb light, but they also have an absorbent nature when it comes to dust.
If you are unlikely to be able to frequently dust your home or wash your curtains then a material of low maintenance should be considered. If the room is unlikely to be regularly used after dark then extensive light proofing is an unnecessary cost. Conversely, if they are to be used in a room such as a bedroom where a low level of light is highly desirable then lighter materials should be combined with a lining that blocks out the majority of light.
How to install new curtains
Once the appropriate material has been chosen there is one final element to consider – how to install the curtains. If you choose to keep your current method of hanging then this step is the simplest – simply attach the appropriate fixtures to your curtains and hang away!
Otherwise, there are several options and methods when it comes to hanging your curtains. Poles have long been popular and can work in traditional and contemporary decors. They have a tendency to be installed further away from a wall than plastic rails and so are prone to leaking light from the rail area.
Rails are more of a discreet method of hanging than curtain poles but create a ruffled or bunched effect at the top of the curtain which diffuses down the length of the material and gives shape to the curtain. This variety of attachment ensures the maximum amount of obscured light as they attach almost directly to the wall.
Another thing to consider is whether you will be using tie backs or simply leaving the material to hang. Traditionally tie backs were used to stop heavy curtains from hanging untidily as they were drawn and traipsed across the floor, although they are still used today to give shape to drawn curtains.
Simple addition, significant home decor impact
Curtains may seem like a fairly simple entity within a room, but their impact on a coherent and effective décor is significant and should certainly not be overlooked. Not only are they a way of expressing your personal tastes through colour, pattern and texture – they can also have a great impact on how you perceive you're the room they are in as well as how this subsequently affects your personal outlook. Remember, everyone prefers to be in a room that is comfortable both physically and visually.
***
Thanks, Matt!
Matt Chappell writes about interior design tips and furniture theory. He currently works on behalf of OKA Direct.
Cheers,
Rob.