Declare Your Independence Day with These Remodels
Are you tired of living in a house where very little of it is actually yours? It can be very easy to sacrifice your own space for other things. Did that space over the garage turn into a storage area? Did that neat little nook turn into a place to store books? Did the corner of the bedroom make way for the crib instead of the reading chair? Here's how to change up your rooms to assert your independence — and take back some of your space.
Install a bay window with a reading nook
Tired of looking for a place to read when every surface in the house seems to be occupied? Maybe you have dreams of sitting by the window and reading a book until the sun goes down. This clever remodel adds space and gives you the restful area you deserve, all while opening up the view even more.
Choose a window that you love to gaze through, and replace it with a bay or bow window. Make sure it has a deep seat that can accommodate you and your many books. Then tell everyone else to stay out of it — this is YOUR corner.
Swap storage for an office
If you look at that perfect room above the garage and cringe at the boxes lined up there, or see the lovely low eaves of the attic and wish it was used for more than keeping the Christmas ornaments off-season, you're in luck. Pare down the storage, or invest in a small storage shed to move those boxes out.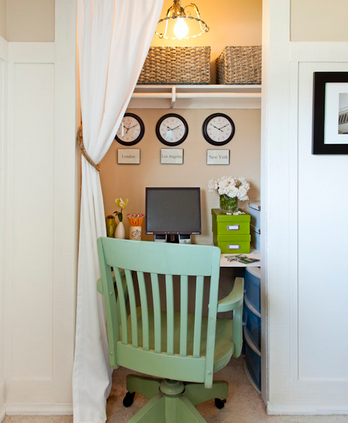 Then spruce up the area with paint, new wiring (to accommodate your computer and other necessities), invest in a nice desk and chair, and you suddenly have an office where those boxes used to be.
Create a desk in the kitchen
No space to create an office, but you need a desk anyway? Consider your kitchen. Many kitchen counters can be installed with an overhang that allows you to use the space as a breakfast far or makeshift office. Not enough room to do something like that with the countertop?
Look to furniture that will sit in the open areas. For example, a pretty fold-down secretary desk can close up the clutter when not in use, but can fold down to create an ample writing (or typing) space when it's needed.
Turn your bathroom into a spa
If there is anything in this world that we all need more of, it's bubble baths, massages, sauna time and spa relaxation. Get at least some of that by taking charge of your bathroom and turning it into the space you deserve. Start with installing a new tub, preferably one with jets that pushes the relaxation to new heights.
Invest in a spa shower with at least two showerheads, the better to luxuriate under the water. Then spruce it all up even more with spa amenities, the kind of little features that make you smile — like heated towel racks, the fluffiest towels you can imagine and shampoos and soaps that transport you with the thrill of aromatherapy.
Turn the guest room into an oasis
Does that guest room just sit there most of the time, waiting for the occasional guest? Your guests will be just as happy in a room that is designed with you in mind. Use that space as your semi-blank canvas for creating whatever it is you crave.
Need more room in there? Add a daybed instead of a full bed, and use the rest of the space for you. Want all of it to yourself? Your guests will be happy with a plush, luxurious air mattress– and it can be folded away during the days when no one is visiting. Now that the space is all yours, what will you do with it? This is true remodeling independence! Indulge yourself!
Find an outdoor corner just for you
Want to get out of the house to find your space? Your backyard can offer some of the most enticing opportunities. Take those books out to the hammock and read in peace. Set up a pergola with a sunshade, put a comfy table underneath, and you have a makeshift office with plenty of fresh air and songbirds to keep your company.
Want to cook but tired of being cramped up inside? Now is the time to indulge in a nice grill, or go all-out and create an outdoor kitchen. You can even invest in a tiny house for the backyard, one that is all yours. From a picnic on the ground to a treehouse at the top of that majestic oak, don't discount the outdoors — there are so many options that it can seem impossible to decide on just one.
What remodeling project would mean independence for you?
Which home remodeling project would you undertake if budget were no object?
What kinds of ways would that project transform how you felt about your home as a whole?
Are you already planning out a project like one of the above?
Tell us all about it in the comments section of this post.
---
---