Who hasn't dreamed of spending a summer in a French Provençal chateau? The fresh, local cuisine, the local wines, the smell of lavender in the air, cycling to the market on Saturdays and enjoying a café au lait while writing your breakout novel… Oh, wait, that might just be me. But still, idyllic French country living has a mysterious attraction, especially for those of us who live in overpriced 500 square feet condos on the 15th floor.
Although, I must say that there is something to say for modern city life. Busy streets, nightlife, restaurants and easy access to cultural venues keep me coming back to urban living. Then I thought, why not bring a little of the French country in the city apartment… or a little modern taste to a country home?
Add metal
Sometimes, modernizing a French Country-style kitchen is as simple as adding a little metal.
Add a metal table and some industrial stools to a light and airy country kitchen, and you get a perfect blend of modern and French Country. The rooster is definitely French Country, and so is the backsplash tile. I love how accessible the pots and pans are–no need to search through drawers and cabinets! The rugged carpet brings a touch of handmade to the room.
Here's another example. The French Country-style wood cabinets meet modern marble countertops and professional kitchen appliances. The light fixtures are also on the modern side.
Furniture switch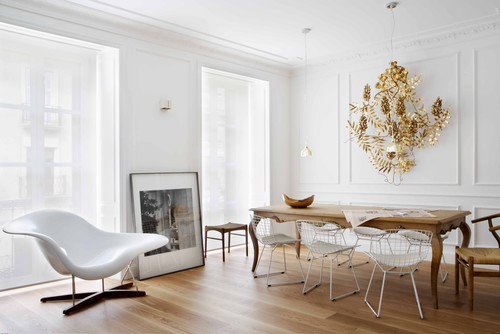 Here's something unexpected: A French Country table, chair and stool flanked by modern metal treillis and plastic chairs. The wall decoration also adds a touch of luxurious rustic (if such a thing exists) to the room. It's a fascinating juxtaposition that works just as well as it surprises.
And how about this bedroom? Antique bed frame and dresser are joined to sculptural light fixture and armchair (that's a GREAT armchair, but I wonder just how comfortable it is…). The artwork in the room is definitely modern (take a look at the reflection in the mirror) and yet the antique furniture just fits. What a bold choice of decor style!
Just a touch
I must admit: pure French Country style is comforting, welcoming and warm. But it doesn't mean it can't have some modern touches.
This looks a bit like the previous kitchen, but note the light fixtures in particular. They are very geometrical and modern in style. The colors are also on the dark side for French Country, which also modernizes the whole.
Here's another way to modernize a French Country kitchen: add bright, modern colors. I like the microwave in particular, but the variety of plate colors also adds to the effect.
Old is young
Really, when it comes to home decor, it's easy to make any "old" decor look young and fresh. Simply by using modern textures, colors and accessories, you can make any older, more traditional style more contemporary. Does the French Country style inspire you? How do you like juxtaposing ultra-modern with super traditional?
---
---