Gray is really in vogue right now. How can you decorate yourinterior with gray to allow it to work for you? Here are a few tips from an interior designer.
***
Move aside, ivory, beige, and taupe. Decorating with gray is the new "it color" for interiors. In all its edgy elegance, gray suits virtually every mood, taste, and design preference. Gray is like that reliable pair of shoes you can count on for comfort and style.
This popular shade upstages other neutrals and provides a great backdrop for color. Gray looks lovely swept across walls and design accents, and within vinyl flooring, stone tile flooring, and even gray hardwood floors.
Penelope Sloan, Interior Designer & Owner of Penelope Sloan Design, loves using gray for a variety of interiors.
"We're seeing gray everywhere because it's such a crisp backdrop for color. I like using gray because it's a rich neutral and adds more depth to a space than white."
Penelope and I caught up for a fireside (errr, computer-side) chat to discuss all things gray. How can you make this rich neutral sing in your home? Here are a few of Penelope's tips:
Say no to boring
Decorating with gray within your décor doesn't resign you to a lackluster life spent reading the dictionary or lawn bowling with your accountant. There are plenty of ways to add excitement to gray interiors. To take the "yawn factor" out of a gray design scheme, look at furniture, fabrics, and paint colors for inspiration.
You could add some feel-good accents in bright colors, or go for drama and paint your walls dark gray. You could play with graphics and geometric wallpaper in white and gray, for a modern Scandinavian Bohemian look. Or you could add a colored island within a gray kitchen. There are thousands of options. Find inspiration online, make a plan, get a few opinions on wall color, and go for it.
Browse for gray laminate flooring.
Avoid mixing tones
To avoid a gray interior that appears drab or "muddy," Penelope recommends that you stick to a warm or cool gray and steer clear of mixing tones. Sometimes warm and cool tones of gray suck the life out of a room (kind of like your accountant) and create a dreary look. (If anyone reading this is an accountant … my sincerest apologies.)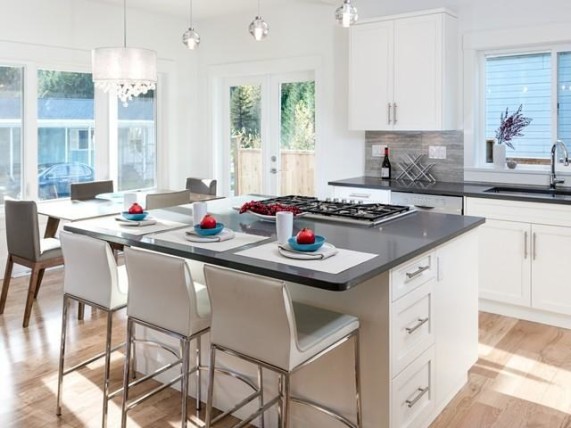 If you aren't working with a designer, a safe bet would be to stick to the same gray but in a different shade. Some color schemes contain gray and beige together—affectionately known as "greige" in the interior design community—but choosing a classic gray is a safer bet.
Decorate from the floors up
When most homeowners think of gray interiors, they picture gray furniture and dark-gray walls. But there are plenty of ways to play with this shade. When decorating with gray, you'll never look at your floors the same way.
To add contrast and depth to gray hardwood, stone tile flooring, or gray vinyl flooring, Penelope likes using wood accents (like walnut) and unexpected pops of color.
"With warm or gray-toned floors, white walls pop and walnut can look very chic. With cool-toned flooring, I like mixing in the clean lines and materials of modern furniture and adding an unexpected pop of color. Blue chair legs? Why not!"
Browse gray real wood flooring.
Add pops of color
Gray can be cold and sad when used all by its lonesome (cue the tiny violin). If you're into the "emo vibe" and wish to create a monotone space to wallow in, by all means, paint every surface gray and put Green Day on full blast.
If you're going for an energetic, feel-good vibe, add bold pops of color to happify your space. Penelope loves peach and gray, an elevating color combo. "I just painted my new boutique peach, which is a lovely, uplifting color that makes me smile," she said.
"I adore spaces that feel cozy, cool, and inviting. I can imagine cool gray walls with a dark-grey velvet sofa, a clean white coffee table, peach accents in pillows and drapes, and some black-and-white art. I also love the watery vibe that blue lends to gray spaces, with some yellow or orange accents to keep it happy and bright."
Browse gray wall tile and mosaics.
Gone gaga for gray?
What's your favorite way to decorate with this rich neutral? Be sure to leave a comment below!
***
*All images provided by Penelope Sloan at Penelope Sloan Design.
---
---