Difficult Gardening Conditions and What To Do About Them
Not everyone has a nice level yard with great soil, ample water and sun for a lush flowerbed. If you consider that all plants we grow in our yards originally came from the wild, then you will realize you can find plants for your difficult conditions.
Too much shade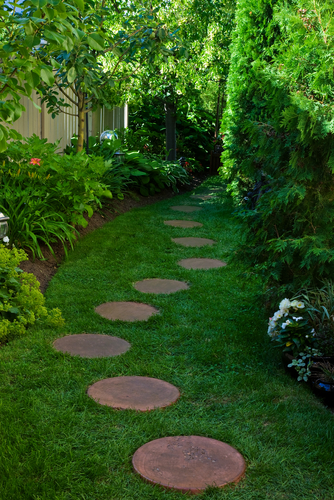 Don't fret if you have a lot of shade and want to grow plants. Maybe you bought a place with little sun, or maybe your trees have grown up and now shade the yard. No matter! Gardening is not all about sun!
Woodland environments provide a large variety of plants that thrive in anything from deep to dappled shade. If you have shade, grow things that naturally came from forests. Imitating the natural habitat is the only way to be successful.
Shady species are used to growing in the decomposing leaf litter of the forest so you need provide a rich soil. Continually adding compost will help provide nutrients as well as act as a mulch to retain water.
Shade-loving plants
Most shade loving plants do not flower profusely, so design elements of color, texture and shape are very important. Beautiful shades of green, blue green, yellow and silver are predominant in a shade garden. Add a few deep maroons of leaves and flowers for contrast. Textures from soft to spikey to feathery, and shapes of mounded, pyramidal and draping will create more visual interest.
My favorite shade plants are Columbine, Astilbe, Hosta, Sweet Woodruff, Vinca, Impatiens, Begonia, Heuchera, Violets, Ferns and Geranium (not your grandmother's geranium, which is actually a Pelargonium – true Geranium is a woodland plant). There are many more, so ask to see them at your local nursery!
Rocky, uneven ground
Most homeowners think of a slope as a negative aspect, but it can be transformed into a beautiful garden and prevent erosion with a rock garden.
Rock garden plants are originally from the high Alps of Europe. Subjected to wind and sun, they are low-growing flowering plants that get their nutrients from the sparse snowmelt run-off. They grow in pockets above boulders and in swales of run-off – wherever water runs and collects. Coming from such a harsh environment, they naturally are very hardy and low maintenance.
Pay attention to where water naturally runs down your slope, and place boulders near its path. Create a planting pocket on the uphill side of the boulder to collect water. Because alpine plants are low-growing sprawlers, they will eventually cover the slope and the rocks with soft carpets of bright colors.
Tiered gardens and walls using stones
Alternatively, if you have rocky soil, and you don't know what to do with all those rocks, consider building a tiered rock garden or a rock wall. Create tiers with levels of raised beds and soil, and plant in each one. Rock walls can be planted on the top and in spaces between rocks on the front. Planning ahead, you can make planting pockets with just enough room for soil and the root ball of a plant.
My favorite Alpine plants are Basket-of-Gold, Iberis, Creeping Baby's Breath, Creeping Phlox, Soapwort, Potentilla Verna, Mother of Thyme, Sea Pink, Arabis, Snow-in-Summer and a huge variety of sedums. Again, visit your local nursery to look at them. Find a place that has demonstration gardens, so you can see various planting ideas and plants in every season.
Shade, slopes and rocks do not have to be deterrents to having a beautiful yard! They key is to plant species appropriate to the environment in your yard. Start small if this is a new project, and watch what works and what doesn't. Anyone anywhere can have a visually interesting garden!
---
---