Do's and Don'ts of Hosting Outdoors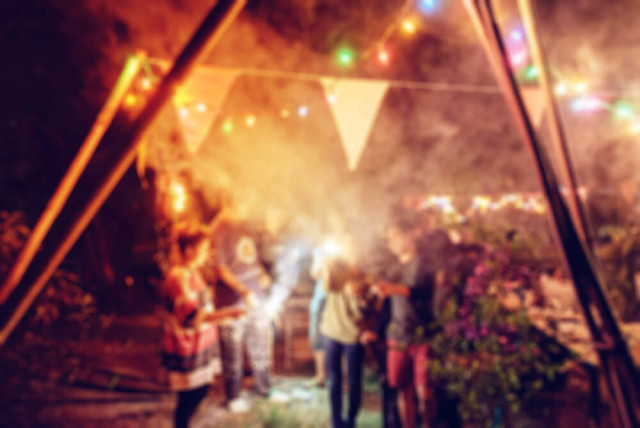 It's summertime, and nothing is better than gathering friends and family together to enjoy the outdoors. If you're planning an afternoon or evening of food, fun, and togetherness, here are some do's and don'ts you should keep in mind when hosting outdoor parties to help make it a success.
Do Create an Inviting Outdoor Space
No matter the time of your party, make sure the outdoor space will be a comfortable place for your friends to hang out when hosting outdoor parties. You don't want anyone leaving the party because he or she is sweating or freezing.
If your get-together is during the day, cover will be essential. To prevent the burning hot sun from scorching your guests, a shade, such as a gazebo with a curtain, is an ideal way to give your guests a cool and comfortable place to sit and enjoy the outdoors when the mercury rises. Of course, weather can be unpredictable, and when you're planning your party, ideally you'd be able to host rain or shine.  The show must go on, and it can with the right overhead covering.
If you typically host parties on the smaller, more intimate side, installing a retractable awning is the perfect overhead protection solution. It allows protection from summer rain, without taking up any ground space–keeping the expansive look and feel of your backyard intact.  With quality cover, you'll be protected against rain as well, so you don't have to cancel your party just because of a little drizzle.
If your get-together is in the evening, temperatures can turn chilly quickly, even in the middle of summer. A fire table or fire pit is the perfect addition to your backyard decor. Not only does it add a beautiful aesthetic, but it provides the perfect place to congregate when the sun goes down. Guests will enjoy gathering around the flames and chatting. Get some marshmallows and roasting sticks, and you can add s'mores to the party menu.
Don't Forget to Plan Some Activities
Though you don't want the party to be overly structured or to make guests feel they have to work in order to come, it's good to have some casual games that work as ice breakers. What you choose will depend on your space and what you have to work with, but it could include a pingpong table, a board game such as Cards Against Humanity or Apples to Apples, or a simple game like Do You Have …? It will get guests that don't know one another talking, making the party more fun.
Do Get Rid of Pests
Nothing ruins a party quite like uninvited, bloodsucking guests. No, we're not talking about vampires. We're talking about mosquitoes, which like to join in on the festivities during the evenings and on cloudy days. When hosting outdoor parties there are a few ways to keep these non-RSVPs out of the party. Get some Tiki torches and add citronella oil for the fuel. This will deter the bloodsuckers from coming and keep your invited guests from leaving.
Don't Forget Lighting
Especially essential when hosting outdoor parties for evening and night, lighting makes it possible for the party to continue on even when the sunlight fades. There are many options when it comes to outdoor lighting. Already mentioned are Tiki torches and fire pits, but you'll want lighting for tables and hanging around. One great idea for those going green is cordless solar lighting. You can stick them where light is needed without worrying about running wires, or turning them on and off–thanks to their automatic function.
Do Have Food Ready
If you're planning a big dinner, it may be tempting to wait to feed your guests until the big reveal, so they'll have lots of room for your oh-so-good meal. However, guests may arrive uncomfortably starved, and in case the meal takes longer to cook, it's a good idea to have some food out right away on a serving cart that's easy to keep replenished. Since it all might be sitting there for the length of the party, make sure it's non-perishable food such as chips, nuts, pesto and bread, or sweets like cookies or cake balls.
If any of the food is perishable, don't leave it out longer than two hours (less on hot days). Have more platters of food and switch them out regularly, or serve the food in a chafing dish or in bowls of ice to maintain the proper temperature. The last thing you want to do is make your guests sick!
Don't Stress Out
When the time of the party is nearing, it's easy to let small things get you upset. When the party is over and you can breathe a sigh of relief, you'll realize you didn't need to sweat the small stuff in the end. They didn't ruin your party or prevent your guests from having a good time. Therefore, here are a few tips for preventing this from happening:
Do as much ahead of time as possible. As you plan your party, highlight things that don't have to wait until the day of the party, and start working on them a few days before. It could include preparing food, buying supplies, and getting the party area set up, including cleaning, putting up lighting, and decorating.
Prioritize your to-do list. The day of the party, make a list of everything left to do. Do the essential items first, so if you run out of time, the less-essential items will be the ones not done.
Take a breath and smile. When you've run out of time, let go of whatever to-do items are left and put a smile on your face. In the end, it doesn't matter what wasn't done. Your guests are arriving, and it's all about having fun and enjoying your time. So close your eyes, take a deep breath, and expel the stress and negative emotions.
Hosting outdoor parties are a lot of fun, and they are a great way to bring friends and family together and thank them for being a part of your life. Planning ahead of time is the key to any good party. This will help you identify anything that you may be lacking, so you have time to order items online, if needed, and get them in time for the party. It will also help reduce stress and rushing around at the last minute. Do you have tips for planning an outdoor party? Tell us about them in the comments below.
---
---