Empowering Girls: Home Improvement Is For Boys AND Girls!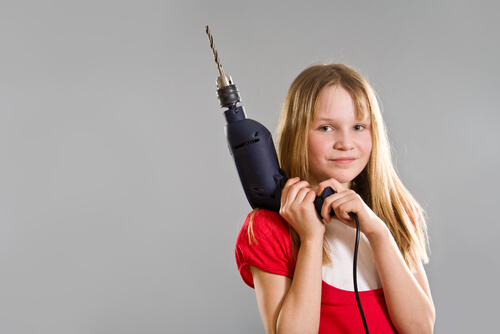 It's time more girls get involved on home improvement projects with both Mom and Dad, because it builds resourcefulness and confidence.
***
When International Women's Day passed recently, Canada's most popular home-repair king shared a blog post in the hopes of getting parents to involve their daughters in projects around the home.
Mike Holmes of the show Make It Right wrote, "The other day I saw an interesting post a dad made about his four-year-old daughter. She wanted a step stool for the sink. He said, "Let's go make one," and you know what she said? "Okay!" Next thing you know she's helping him choose materials, and even helped with the sanding."
Today, probably a third of my income, and equal parts of my confidence, likely stem from my parents doing exactly that.
Learning is empowering
My father didn't kick us out of the basement when he was working on projects. I probably could've been involved more actively, but that came soon enough. My mother also did a lot of home improvement around the home, and she definitely involved me because I was older by then. Between the two of them, I learned a lot.
It's so easy today to go out and buy ready-made solutions for closets, cupboards, and so much else around the home that many people are at a loss to how to DIY solutions. They get intimidated and feel like it's always a job for a professional, and that's unfortunate.
Little fixes = lotsa confidence
When I moved into this home, there was a towel rod that was hanging off the bathroom wall. It was installed poorly thanks to plaster walls, and I guess everyone who's lived here in the decade or so since its installation just kept tightening the screw rather than making it right. Me, being my father's daughter, I went out and got a wall anchor and did it right. It's been 18 months since that fix and the towel rack's as secure as the day I did the fix.
A $1 pack of wall anchors, five minutes of work, and I haven't had to think of it since. That's what happens when you learn how to fix things the proper way. It's one less "to do" on your list.
The importance of precision
Whether it's measuring for curtains or for a woodworking project, there's nothing like getting it wrong to help you learn why getting it right is important. "Measure twice, cut once" is a life-lesson that will never stop being important to live by.
Measurements don't lie, and when you get them wrong, it's always your fault. Accepting ownership for mistakes then doing what it takes to get it accurate will teach maturity and responsibility.
The glory of achievement
Making a cake or a painting is nice, but fixing a wobbly table leg is an achievement that your kid will appreciate every time dinner is served.
Being able to walk into a room and know you hung the curtains or painted the wall or fixed the table means walking into the room with pride and self-assurance. Saying "I did that" never gets old.
Overcoming fear
Power tools can be really intimidating if you're not shown how to use it. The older we get without having that experience, the more we become set in our tendency to fear it. If you're 40 and you've never used a power saw, it's easy to be terrified of starting to use it. People lose fingers! Yes, they do… when they're not careful or educated in its proper use. That's why it needs to be taught.
If you're 12 and scared to use it but are shown how to do so safely, it's likely to start a pattern of facing and overcoming fears. That's how kids gain confidence and derring-do.
Start early and make it an adventure
We're less likely to be daunted if we're taught how to do things young. We can always learn as we go, but we have excitement, passion, and curiosity as children that is at its zenith, and taking advantage of that might help you shape how versatile your kid becomes as an adult.
Power tools wow kids, and so do results. If you're starting projects around the home this summer, get your kids involved — boys and girls! Even if they're not that impressed at the idea of all the work it might involved, the odds are good that it'll turn into a skills-developing experience they'll never, ever get at school or anywhere else.
---
---