Future Kitchen: Technology You Won't Want To Live Without
Reading Time:
3
minutes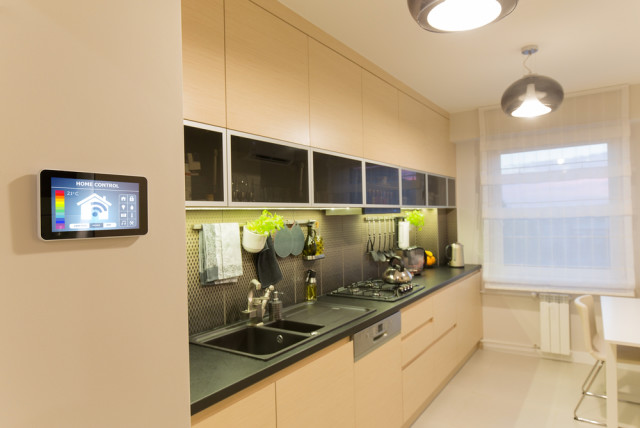 Home technology reflects our values of what life at home means to us. Here are some kitchen technology examples that may be indispensable in the future.
***
Advances in kitchen technology make it easier than ever to access recipes, find nutrition information, and monitor your appliances when you're not in the room (or the house). Whether you're a pro in the kitchen or prefer the take-out and microwave style of cooking, don't miss out on this great new technology.
GE Brillion app
Connect the newest GE ovens to your smart phone via a handy app. You don't need a wi-fi connection to monitor what's happening with your oven, which means you can start cooking a meal then run to the store to get extra ingredients, or finish up other errands.
The app lets you preheat the oven from far away, monitor its contents, and even keep a thermometer in your food to monitor its internal temperature. As long as you have one of the compatible oven models, you'll be able to make the app connection.
Precision One by Anova
The sous vide method of cooking is a little specific, but with Anova's new precision cooker, it becomes simpler than ever to do at home. If you don't know how to sous vide, you might want to learn, because Anova's cooker connects to bluetooth, which helps you monitor the entire process from your phone.
The temperatures and times necessary to cook different things in a precision cooker are all built into the app, which means you just select the food you're cooking and the cooker takes care of the rest.
Samsung's WiFi Fridge
The Samsung refrigerator that comes with WiFi also offers a lot of space, different cooling zones, and many drawers and compartments inside. But what makes it especially high-tech is the screen built into one of the doors.
It connects with your wi-fi, giving you access to apps as well as control of the fridge's internal temperatures. The most notable feature is the access to a frequently updated directory of recipes.
Prep Pad Scale
A scale that connects to an iPad app gives you information about the food you're preparing. Use the scale to weigh your food portions and the app to study nutritional info. The pad is great for people who have specific dietary needs; it gives you an amount of control in planning your meal that you didn't have before, by giving you all the information about the foods you're using in one easy interface.
Smartbin Compost
The technology of a smartbin gives you a compost bucket you can keep in your kitchen without flies, maggots, or the smell of rotting food. It presses your discarded food down and stays tightly closed. Every month or so you add a layer of compost that  your bin previously created, and after that, you have compost ready to use in your garden.
Next level in the kitchen
What are the activities you value most in the kitchen? Is it monitoring meals with ease, finding recipes at the touch of a button, or learn new cooking skills? Is it all of those? Are there ones you feel are missing? What else do you feel that technology could best enable in the kitchen of the near future.
Tell us all about it in the comments section, and let's talk about your ideas of what a kitchen of the mid-21st century (or sooner!) should look like.
***
Resources:
http://mashable.com/2014/03/04/high-tech-kitchen-gadgets/#wywtQKsEakqA
http://www.forbes.com/sites/michaelwolf/2014/11/19/in-the-smart-home-the-smart-kitchen-may-be-biggest-opportunity-of-all/
http://www.foodtechconnect.com/2014/01/14/8-smart-kitchen-innovations-from-ces-2014/
http://www.dwell.com/sponsored-post/article/7-new-kitchen-technologies-watch#5
http://mashable.com/2014/01/03/ge-wall-oven-remote-control/#pP4Q8zqkzOqG
http://www.seriouseats.com/2014/05/new-anova-precision-cooker-best-cheapest-sous-vide-circulator-on-the-market.html
http://www.pcmag.com/article2/0,2817,2460425,00.asp
http://www.williams-sonoma.com/products/orange-chef-prep-pad/
http://www.greentechlife.in/smartbin/
---
---