9 Ways To Get Your Home Ready For the Holidays
The holidays – those being Thanksgiving, Christmas, Chanukah, Kwanzaa, Festivus, and other 'Holy-Days' grouped roughly, and conveniently, around the Winter solstice – tend to be looked upon as a mixed blessing by many.  Holidays are a time to welcome the ones you love into the center of your world that is your home, right?  At the end of the day, it's also nice to be able to show it off. But, another consideration is all about preparations for visitors. That takes effort, and sometimes causes stress in an already busy life.
So, what's called for well in advance of the holiday season, and the impending en masse visit to your abode, is a strategy to prepare for the holidays well before the crunch date.  That's where this post comes in. I've scoured the Internet for expert opinions, or just opinions from people who've been there, to help you get a jump on a plan to welcome your loved ones to your estates for turkey, mulled wine, and general holiday cheer well before the late November-and-into-December rush.
Take a look!

***
1. Get the numbers early
It seems obvious, but getting a guest list in your mind and then down on paper as early as possible is a prime place to start when getting your home ready for the holidays.  You want to allow enough time to prepare your home (and your sanity!) for the volume of feet moving through it. You also want to respectfully give others a chance to organize their own lives in time to confirm that they're actually coming, and find out if they have special requirements (transportation, accommodation, etc).  It seems like a simple thing to mention.  But, it's vital, which is why it gets first place in this list.  You can also use this step in recruiting help to prepare the meal!
Despite how well you plan, of course, sometimes the numbers take on a life of their own. Take a read of this article from eHow.com about how to prepare for unexpected holiday visitors.
2. Order specialty items early
Remember, you're not alone when it comes to preparing for company.  During the holidays, a lot of people are after the same items that you are.  Ordering birds, cakes, trees, and other related items specific to your particular cultural traditions are best done early. This is not just for reasons of securing availability.  But, doing things early will help you to minimize stress, and allow for a generous lead time should problems with delivery occur.  Start a friendship with local butchers, bakers, candlestick makers (you get the idea), and ask their advice about when the best times to order specialty items are.
For one off-the-beaten-track option for ordering turkeys, check out this article on ordering turkeys online.
3. Stock your kitchen arsenal
The kitchen's role as the nerve center of your home is really ramped up when holiday visitors come to call.  So, making sure it's ready is a great strategy when getting your home ready for the holidays.  Clean your appliances thoroughly. If they're older models, have them inspected when in doubt since they've got a big job ahead of them.  Make sure you've got all of the pots, crockery, cutlery you need for the numbers, and for the meals, you've got in mind.
Clear out your pantry to make room for the items you're sure you're going to need for the oncoming season.  The same goes for your freezer, which may need to host larger items than usual, like turkeys, and (later on) leftovers in greater quantities than usual.
For more tips, take a look at this article about how to prepare your kitchen for a holiday feast.
4. Think about seating
This is related to how many numbers you think you're going to have.  Like that step, this one seems simple and obvious. But making sure your guests are seated comfortably whether at the holiday table, or in your living areas before the meal begins can really set the tone for your special event.  Sourcing fold up chairs, portable trays, and tables to serve as 'kid's tables', is generally pretty inexpensive prospects.  If you're planning a self-serve buffet, you can rent tables that will serve this purpose very well.
Take a look at this article about creating more table space for holiday guests for more ideas.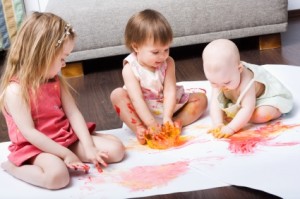 5. Create space for kids.
For many, incorporating kids into a holiday event is a key area in making sure that the holidays are enjoyed by the whole family.  Keeping children entertained, and making sure that your space is welcoming to children, is a great way to make sure that your holiday event is enjoyable for everyone.  This could mean that your basement, spare room, rec room, whichever room, is stocked with art supplies, games, dress-up clothes, story books, electronic devices in order to keep the young 'uns occupied and entertained.
Creating a place that is especially for the children gives them a sense that they are welcomed into your home, and have a literal place in your home while they're there.  The advantages of this is for your benefit, as well as for theirs of course, and for their parents too while they're guests in your home.
Read this article for ideas on setting up more permanent kid's play rooms in your home, whether for your own kids or for frequently visiting children in your life.
6. "CCC" (Clear Closets of Clutter)
While throwing coats on beds, and chucking footwear higgledy-piggledy onto the floor of a front hall closet is a staple experience for many during the holiday season, there is an alternative; no clutter, and plenty of room for all! One subtle addition to your holiday event is the visual presentation of your closet, one of the first impressions people will have of your space.
Making room for them on a literal level communications all kinds of positive messages about how welcome they are on a symbolic level, too.  So, "CCC" – clear your closets of clutter – and make sure that your guests know you've made a place for them.  Take those old boots and worn-out coats down to the thrift store, put seasonal clothes into storage, buy some shoe organizing units and boot mats, and let the lack of clutter in your closet be your ambassador when company comes.
To help you get started, take a look at these 5 ways to organize a hall closet.
7. Think about safety
Once you have a houseful of people, the need for safety while everyone is in close quarters rises. This doesn't mean that because of the holidays your house has become a potential death trap. But, it does mean making sure that cleaning products in the bathroom is put out of reach of visiting children.  It means making sure that glassware and knick-knacks are also safely tucked away to avoid breakage and potential injury. It means putting poisonous holiday plants out of reach of visiting cats and dogs.  And it means being mindful of open, festive flames too – candles, and sparks from the yuletide hearth.
For more considerations, read more home safety tips to prepare your home for the holidays.
8. Think about a mess-prevention/clean-up strategy
Not only do you want to avoid the kind of mess that makes you say 'never again!' once your guests have left, you want to make sure you've got some strategies in place before they even arrive.  For instance, red wine spills are exceptionally common.  So, make sure you've got the materials you need to see to them – bicarbonate of soda, soda water.  Think about a plastic dropsheet under children's tables, and under wet footwear to make moisture and food fragments easy to deal with. Think about asking your guests to volunteer for clean-up duties after the meals.  After all, many hands make light work at any time of the year.
For more tips on minimizing mess, check out Debbie Weiner's Slobproof post on this very blog.
9. Prepare guest accommodations
Traveling plays a big part in the autumn and winter holiday season.  So does bad weather.  In the light of both of these it may be, either expectedly or not,  that your guests may need to stay for a longer period of time.  Preparing a guest room, blow up matteresses, sleeping bags, linen, pillows, extra toothbrushes, towels, and other toiletries, may be a smart move especially if weather looks like it might be unforgiving.
Sometimes guests staying over a longer term should be entirely expected.  And sometimes, putting a mass of friends and relatives up at your own place just isn't practical. In this case, it might be a good idea to book rooms at your local bed & breakfast locations over the holiday period.  Also, see if local hotel chains in your area allow for reservations over this period a month or so in advance.
For more ideas, check out this article about preparing for overnight guests.
***
So, there you are. 9 ways to make sure your home is ready for the holidays, and that you're ready, too.
Did I miss any big ones?  Tell me your own success/horror stories in the comments section!
Cheers,
Rob.
---
---