Propaganda art is a fascinating invention of the 20th century. Beginning with the Russian Revolution in 1918, propaganda in the form of images has been used to influence the attitudes and actions of communities through a selective presentation of facts and powerful, emotional messages.
At its core, propaganda is a form of governmental advertising. Instead of selling you a product, it sells you beliefs and attitudes towards a variety of social elements: enemies during the war, the government, reforms, work, agriculture, etc. Mostly known in the form of war posters, propaganda art has remained a major theme in contemporary design. Adaptations, parodies and satire: the propaganda genre is visually distinctive and can be used to add a touch of edginess and nostalgia in any room.
Authentic propaganda: historical and nostalgic
Using authentic propaganda can be a risky choice in design. Some of it will offend, especially if it is linked with unsavoury historical events.
This home office features two authentic prints of Russian propaganda brought over in the 1970s by the owners. While some people may feel uncomfortable with the idea of posting these on a wall, they are historical and artistic artifacts that may well be worth displaying. Against the soft green wall and plush white carpet, the posters make a striking (borderline violent) contrast. Bold, yet inspiring.
This is a lovely, softer use of Chinese agricultural propaganda in a dining room. It is cleverly used in the context of food. The effect of the whole is nostalgic and remain soft, especially with the plush rug and the white decor elements. As a side note, this DIY chalkboard table is great for dinner parties!
This modern dining room uses Chinese propaganda art in a transitional space. The kitchen colors are neutral and cool and contrast deeply with the bright red in the corridor. These are displayed as artistic artifacts, just like the other pieces of art in this home.
The propaganda artwork in this dining room fits within the color scheme: brown, yellow and white highlight the predominantly red art. However, the designer made the smart choice of softening the violent images with a soft Zen symbol, butterflies and green plants.
Using authentic propaganda artwork is a bold decor choice, but it can be an effective way to display historical artifacts or inspire creativity.
Adaptations and parodies
Propaganda art isn't just the domain of authoritarian governments. Artists and designers today have used the propaganda style to adapt contemporary messages and even parody well-known WWII posters.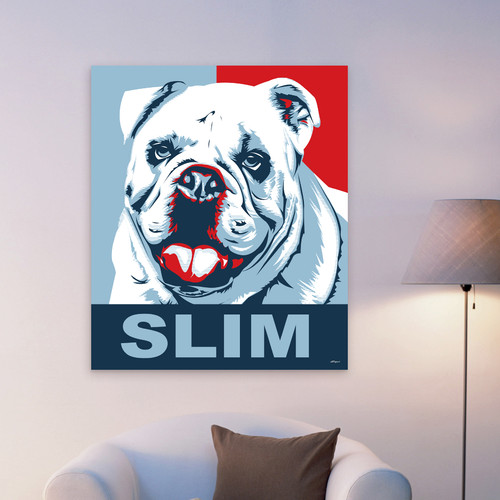 This custom artwork is based on famous propaganda images, but uses the photo of a beloved dog. Still a bold decor choice, but without all the potential political meaning underneath.
Dog propaganda seems like a popular adaptation of old war posters–here's another example using a Corgi. I love the red used throughout (I admit I have a weakness for red) and how the poster ads some homey cuteness to the kitchen.
You Can Do It!
Propaganda posters, especially authentic prints, are definitely part of our artistic and cultural history. But there is also plenty of contemporary designs and artwork that adapt or parody the propaganda style. Would you dare show Soviet or Maoist posters on your walls, or do you prefer the more neutered, parodic versions?
---
---