Hanging Out: 4 Kinds of Hanging Chairs for A Good Hang-Time
Reading Time:
3
minutes
Rest and relaxation are hard things to find in our ever-moving modern life. For some of us, it's not a thing to compromise. This means investing in comfort and surroundings that allow us to feel at home and at peace.
If you're on the quest for some serious hang-time, maybe you're due to consider some hanging seating. Fact is, from hammocks to basket chairs, the weightlessness that comes from being suspended in a chair is unbeatable on the relaxation scale. If you're stressed by day-to-day life haven't given "hanging out" a shot, you really should.
Indoors or out, the options are vast and so too is the budget, with some options ringing in at under $50. Check out these awesome hang-time ideas for your spaces.
The hammock
The variety of hammocks out there can suit any space or hanging situation. From freestanding hammocks with their own stands through to fancy two-person canvas types found in tropical resorts, all the way to the budget rope style you remember from the cabins on Gilligan's Island, there's a hammock to suit your space.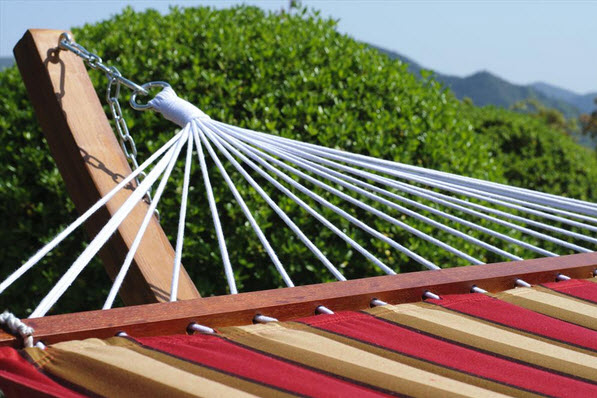 Don't let your inside space dissuade you from hanging a hammock. There's nothing wrong with it, even if it's a little unconventional. You don't even need a dedicated hammock space–you can set it up for the living room, just pull the table out of the way. Put indoor hooks in place and put your hammock up when you've got time to hang! Take it down when you don't.
And don't worry if you never took high school physics. The internets are there to help you. Check out this handy hammock-hanging calculator that'll help you get the right angle the first time!
Be a basketcase
The popular egg basket has always been a hit on patios and even in casual indoor rooms. It's perfectly cozy to lounge in and looks sharp in any number of styles. Something I love, the "Swingrest" by Daniel Pouzet is a giant platform basket perfect for one or two lazy people to while a day away in.
And this is possibly my most favorite hanging lounge space I've ever seen — Dedon's Nestrest. It's a magical reinvention of a shape designed by nature — the hanging bird's nest. From its soft filtering of light, ample shade, and generous interior space, there's nothing missing from this elegant invention.
Porch swings
Whether freestanding or hanging from your ceiling, we fall in love with swings as children and for most of us, the joy of swinging never really dies.
Making a swing can be an easy weekend project for any amateur woodworker, as I proved with this popular post in which I shared 7 great plans for easy swings and gliders. But don't get hung up on hanging your porch swing on the porch. Some creative homeowners hang swings indoors too.
Bubble chairs
You'd be forgiven to think that the seen-everywhere-now bubble chair is a more recent design, but the iconic hang-out space is nearly 50 years old. Designed in 1968 by Eero Aarnio. As they write on their site, architectural genius Ludwig Mies van der Rohe once said of it "Less is more! A masterpiece of reduction."
Whether in the yard or indoors, the bubble chair means you have unimpeded vision when all snugged up inside. Maybe a little high-maintenance to keep clean, but there's no space in which this classic of design can't make a statement while not speaking loudly.
Literal hanging "chairs"
Finally, there are all kinds of independent designers out there who are offering well-priced solutions to make sure you're hanging out in all the right ways. Take the Hangover Chair, for example. A smart solution that blends a chair's function with a hammock's feel, this one gives you some support while still being a slacker's paradise.
The Cacoon Hanging Nest is perfect for 440 pounds of slacking humans. Able to be hung anywhere there's support, it's a light, portable relaxation system. Naturally, doing a Google search for hanging chairs will result in all kinds of options for all kinds of budgets, including very literal interpretations of "hanging chairs," like this one on Amazon.
It's time to hang
Sure, you can get a lounger or something else that doesn't require scrounging up a stud-finger and putting a hole in the ceiling or taking a leap of faith that your oak's branch is mighty enough to hang out on, but why not get in touch with your inner child and experience a little weightlessness in your adult life? Lord knows you're carrying enough weight on your shoulders. It's time you let it all hang out.
---
---