Holiday Hazards: Christmas Safety Checklist
Reading Time:
4
minutes
The holidays are meant to be a time full of peace, love, and joy. Unfortunately, it also brings a few potential dangers that can create safety hazards in the home. If you want to keep yourself, your family, your guests, and your pets safe during the holiday season, it's important to take the proper precautions. Use this Christmas home safety checklist to ensure that your season is merry and bright.
Safe Trees and Lights
While setting up the Christmas tree is one of the highlights of the season for many families, it also marks the arrival of one of the biggest holiday hazards into your home. Whether you use a live tree, a fresh-cut tree, or an artificial tree, there are a few major safety issues that can arise if you're not careful. Here are the top tips for making sure your tree and your holiday lights are set up safely indoors:
Purchase an artificial tree labeled as "fire-resistant." This doesn't mean the tree can't catch fire, but it will resist burning, and if a fire should start, you will be able to put it out more quickly.
Place trees away from fireplaces and radiators. This is especially true for live trees, which will dry out faster next to a heat source and become more susceptible to igniting.
Before you place a pre-cut tree in water, cut a few inches off the bottom of the trunk. This helps the tree absorb water more effectively so it won't dry out and become a fire hazard.
Make sure all materials used to trim the tree are flame-resistant. Try to keep tinsel and plastic ornaments from touching the lights on the tree since bulbs can reach high temperatures and potentially melt the materials.
Never use lit candles on or near your Christmas tree. Make sure any nearby candles have the flame safely contained and are out of children's reach.
Don't use holiday lights that are in poor condition. Check every strand for broken or cracked sockets, loose connections, and frayed wires before you hang them up.
Don't use electric lights on a metallic tree. If one of the lights is faulty, this could potentially electrocute someone who touches a branch.
Use hooks or insulated staples to hang up holiday lights. Never place nails or tacks through the strands.
Turn off all the Christmas lights whenever you leave the house.
Friendly Fireplace
The fireplace is the perfect place to gather during the holidays. It provides a warm glow that makes your home feel even cozier as temperatures drop and the snow falls outside. However, it's important to make sure you're using the proper safety measures every time you use your fireplace. For instance, you should:
Install smoke and carbon monoxide detectors.
Make sure the flue or damper is open.
Remove any decorations from the fireplace.
Don't burn wrapping paper in the fireplace.
Keep a window cracked while the fire is burning, if possible.
Use dry wood (wet wood creates more smoke).
Use a fire screen and keep fireplace tools away from children.
Never leave a fire unattended.
Keep a fire extinguisher nearby.
Keep Your Pets Safe!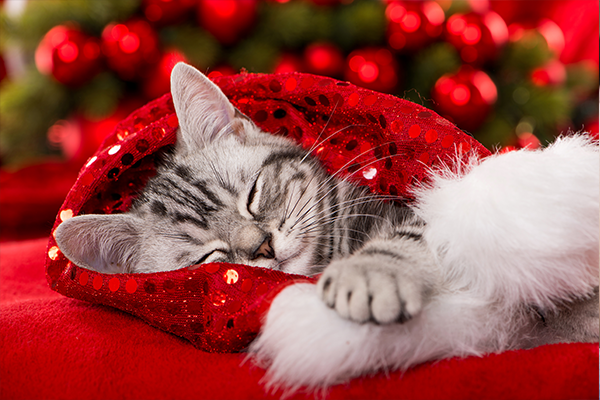 Unfortunately, your beloved pets may be exposed to some additional hazards during the holiday season. But with a little planning, you can easily keep your pets safe from these dangers.
Perhaps the biggest danger for pets at this time of the year is food. There are typically lots of chocolate baked goods and treats on hand. While that's good news for anyone with a sweet tooth, it's bad news for dogs. Chocolate contains a compound called theobromine that is toxic to dogs and could cause vomiting, diarrhea, and seizures. In serious cases, too much chocolate could kill your pet or put it into a coma.
In addition, never let your pets chew on cooked bones from chickens, turkeys or other meats. The bones can break into shards and cause a choking hazard or cause damage to their intestines.
Finally, watch out for unexpected temptations for pets like poinsettia plants, which are toxic to cats and dogs and may cause vomiting or diarrhea if ingested.
Snow Shoveling
Shoveling snow can be dangerous in more than one way. Slips and falls are the most common hazard of completing this household task. It's important to clear walkways and driveways to keep others from falling, but you may fall yourself while you complete the job. Make sure you work slowly and carefully to avoid a slip on the ice.
Although it's less common, the most-dangerous risk with snow shoveling is a heart attack. Unfortunately, dozens of people die in the U.S. each year during or just after shoveling snow. The risks increase with a deeper snowfall. If you try to do too much too fast, it can raise your heart rate and blood pressure dramatically in a short time. Be sure to take breaks as needed, and rest if you begin to feel short of breath or experience any chest pains.
Ladder Safety
Hanging the lights on the house is a great holiday tradition, but it's important to be safe when doing it. Getting up on a ladder to install holiday lights puts you at risk for a serious fall. It's not just slipping off the ladder that causes these falls, either. There are several things you can do to be safe while using a ladder to hang Christmas lights:
Ask someone to help you. That person can hold extra tools or lights and steady the ladder.
Make sure the ladder is level on the ground.
Don't overreach. Instead, move the ladder more frequently.
Never go up or down the ladder with your hands full.
Do not stand on either of the top two treads.
Close ladders when they are not in use.
You shouldn't have to deal with unexpected injuries or household damage during this festive season of the year. To make your holidays a happy time for your whole family, be sure to follow these Christmas safety precautions.
Resources:
https://www.rd.com/home/christmas-safety-checklist/
https://www.thisoldhouse.com/ideas/11-common-holiday-hazards-and-how-to-avoid-them
https://www.aap.org/en-us/about-the-aap/aap-press-room/news-features-and-safety-tips/Pages/Fireplace-Safety-Tips-from-the-American-Academy-of-Pediatrics.aspx
https://www.health.harvard.edu/blog/can-shoveling-snow-put-your-heart-at-risk-2017120612887
https://www.builddirect.com/blog/fireplace-safety-tips-for-a-safe-winter-wonderland/
https://www.builddirect.com/blog/christmas-tree-maintenance-tips/
---
---