Home Decor Rules: What is Right Is Often Wrong
Reading Time:
2
minutes
Over the next little while in the coming weeks, we'll be exploring an emerging theme when it comes to home decor in the 21st Century. That theme is about rules.
Well, it's more about rules that can, and sometimes should, be broken. Because as we know, being a modern homeowner means being happy in the space you're in. And making your own definitions for what that means should be reflected in the interior design choices you make.
So, to help flesh out this important thread, guest poster Maggie O'Neil is here to uncover a few pieces of conventional home decor wisdom, and to find some ways to break those conventions while she's at it. 
***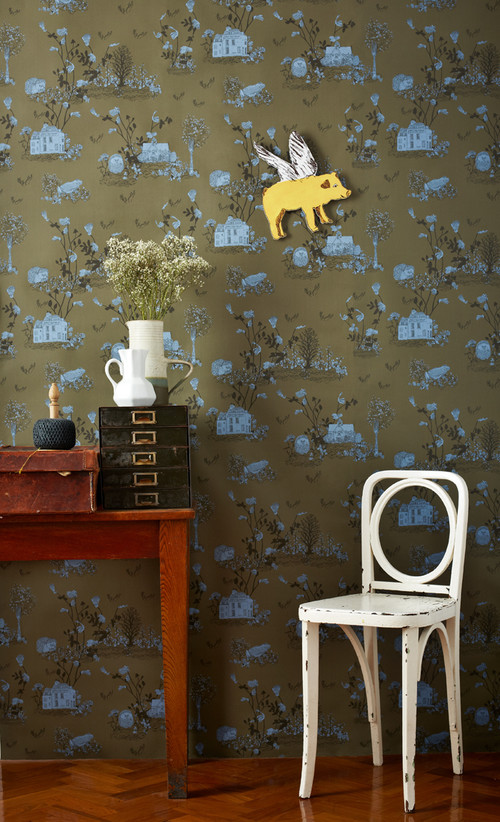 There are some standard rules of thumb in decorating that survive throughout the ages. There's the "57 inches on center" rule for hanging artwork; Chandeliers should be hung 33 inches above tables; always tape off a room before painting. Although these tips are tried and true, there are other decorating rules that are just begging to be broken:
Wallpaper Is for Walls
If you're one of many new homeowners who spent hours peeling old wallpaper off your walls, odds are you're not in any rush to re-wallpaper your home. However, wallpaper isn't just for the walls anymore. Use it to take a typical Ikea bookcase up a notch by covering the back panels in a fun pattern and accessorize the bookcase accordingly.
Curtains Hang Above Window Trim
Hanging window treatments above the window trim is a no brainer; but it's a rule that was made to be broken. Take the room to new heights with the illusion of taller ceilings. By hanging your curtains near the ceiling – or even from the ceiling instead of on the wall – you make a low ceiling appear higher.  You can also make a small window appear wider by positioning the curtains to the left and right of the windows instead of covering the windows.
Ceilings Are White
Sure, most ceilings are white, but it doesn't mean they have to stay white. Painting the ceiling a color brings another layer of visual interest into a room. You can even use it to make a room feel taller. For the best results, take the paint for your walls and have it mixed a shade or two lighter.
Furniture Should Match
It's easy to purchase furniture in sets since they're sold that way, but it's a rule that makes for dull décor. Instead of buying every piece in a set, mix and match. Have your old pieces reupholstered with a fabric in a pattern that complements your new sofa. Pick up a solid piece from a yard sale and re-stain it.  Whatever you do, mix and match your furniture for a refreshing feel in your home.
Serve creativity, not convention (unless you don't want to)
Some rules were made to be broken. Have fun with your home décor and don't let the rules stifle your creativity.
***
Thanks, Maggie!
Maggie is interested in all things home improvement, specifically various interior paint projects, and she backs up her resources with the experts from CertaPro Painters of Yorktown, for whom she wrote this particular post. Maggie contributes design ideas, as well as theories behind paint color. She is a recent contributor to Build Direct and hoping to become a regular.
Cheers!
Rob.
---
---