10 Home Improvement Gurus You Should Be Following On Twitter
Reading Time:
1
minute
When it comes to home improvement, there are a select few that know more than the rest – the gurus. Whether it be individuals like Bob Vila or cooperative publications like This Old House, these specialized experts know a thing or two about DIY home projects and openly share their knowledge via Twitter.
If you're interested in home improvement in the least, below is a list of those experts that you should be following on Twitter and therefore benefiting from their insider knowledge.
1. @BobVilacom
Bio: The Twitter home of BobVila.com, the leading site for the do-it-yourself community giving homeowners all the information they need to get the job done.
Followers: 1,233,444
2. @ImproveYourHome
Bio: Articles and tips to improve your home and garden, whether you want to fix up, decorate, nest, add on, remodel, DIY or go green
Followers: 10,127
3. @RenovationJunky
Bio: Witty little home improvement blog for the remodeling mavericks in the crowd!
Followers: 4,011
4. @HomeSavvi
Bio: Get home improvement advice from professionals about products and stores – in Seattle, Atlanta, Portland and San Francisco.
Followers: 4,345
5. @Handyguys
Bio: Podcast – Friendly Home Improvement advice, ask a question, call us, DIY
Followers: 2,813
6. @HappyHandyman
Bio News updates and articles about carpentry, plumbing, electrical, remodel, home improvement, rebuilding, house painting, kitchen, bathroom, tiling, floors, etc.
Followers: 2,727
7. @ThisOldHouse
Bio: Official Twitter account for ThisOldHouse.com, This Old House magazine, and @PBS television series.
Followers: 2,455
8. @OldHouseWeb
Bio: OldHouseWeb.com, a how-to site offering ideas, articles and resources to old-house enthusiasts.
Followers: 2,167
9. @myhomedesign
Bio Create your dream home today!!! Why wait?!
Followers: 2,107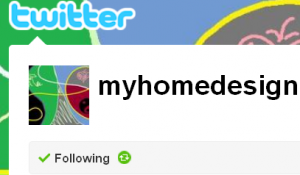 10 . @homeimprove
Bio Home Improvement Articles
Followers: 1,713
---
---